How To Book MINT CONDITION For Your Event!
Mint Condition may be available for your next special event!



Formed in the early '80s in Minneapolis and St. Paul, Mint Condition began as lead singer Stokley Williams, guitarist Homer O"Dell, keyboardist Larry Waddell, keyboardist/saxophonist Jeff Allen, keyboardist/guitarist Keri Lewis, and guitarist/bassist Rick Kinchen.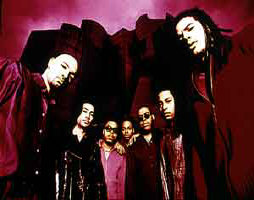 Mint Condition has built an enviable reputation in contemporary music as the rarest of artists: Incredible live musicians whose unique chemistry and ground breaking songwriting technique have influenced R&B, alterna and hip-hop. Says lead vocalist Stokley: "For us it's been an incredible journey since our first album (the acclaimed 1991 "Meant To Be Mint") where we were primarily known for our ballads."
The aforementioned debut LP yielded the intoxicating number 1 R&B gold smash "Breakin' My Heart (Pretty Brown Eyes)," and the now classic "Forever In Your Eyes." "We were literally driving around in a Winnebago touring, to break that song," laughs Stokley. "One of the ways we garnered our reputation as a great live band was by relentless touring. We did it the old fashioned way: tour and tour some more. We did everything, including driving the bus. Our motto was do whatever was necessary, play wherever they'll have you."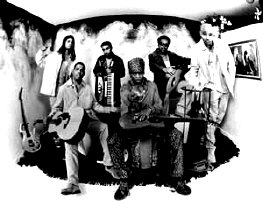 The group had already had solid reps as core musicians, essentially forming in the late 80's because they kept running into each other at various studio sessions around town. For Ricky Kinchen, the only non-twin cities native, live performance also taught them the kind of camaraderie needed to navigate the rollercoaster ride of the music industry.
"We've weathered a lot of challenges through the years – with our previous record company going through difficulties (Perspective / A&M), management changes and the general wear and tear of growing pains. Through it all Mint Condition has remained focused on two goals: to write and play music the way we know how, and to bring it as honestly as we can to our fans who luckily for us, have always remained loyal."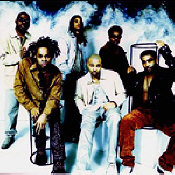 The unique mixture of styles for Mint Condition – everything from funk to salsa and jazz, to straight-ahead rock, and their fierce dedication to the song made them the new standard bearers of post-modern R&B. Infusing it with their own experimental elasticity has earned them critical acclaim from almost every corner of the music world. Their sophomore effort, "From The Mint Factory" continued their eclectic dynamics, melding the seductive thrust of "U Send Me Swingin'" with the smooth cool of "Nobody Does It Betta." The disc broadened Mint's already rich rhythmic scope. It also established the group as inventive producers and arrangers. "We wanted to bring the stage to the studio," says Stokley.
It's why the group gets kudos from legends such as Stevie Wonder, Gladys Knight and Rick James who have often touted the band as one of their favorite artists.
They also prove that they're one of the few groups from any genre to possess an almost spiritual understanding of R&B's historic past. "There was a time when you'd hear Earth, Wind & Fire, The Doobie Brothers, and Steely Dan all on the same station," says Stokley. "We're blessed to be able to play the kind of music that we feel has no boundaries."
"We've grown together. Our fans are a mixture of different cultures and different ages. We get young people at our shows and we get fans who were with us from the beginning. Our goal has always been to make music that is inclusive, with out compromising or pandering to any formula." For Mint Condition it has always meant being true to themselves first.
Hit songs include --
U Send Me Swingin'
What Kind of Man Would I Be?
Breaking My Heart (Pretty Brown Eyes)
If You Love Me
Forever In Your Eyes
You Don't Have To Hurt No More
Someone To Love
So Fine
Is This Pain Our Pleasure
I'm Ready
Are You Free
Caught My Eye
Mint Condition may be available for your next special event!
Watch videos:
YouTube

Genre: R&B
Styles:
.Hip-Hop. / HipHop
.Contemporary R&B. / ContemporaryR&B
.Urban. / xUrban
.New Jack Swing. / NewJackSwing
.Club/Dance. / ClubDance
.Adult Contemporary R&B. / AdultContemporaryR&B
.Funk. / xFunk
.Neo-Soul. / NeoSoul


Years active:
x90s, x00s, x10s, x20s

Formed: ..in Minnesota / formed nMinnesota
Formed: ..in Minneapolis / formed MinneapolisMN
Formed: in 1991

Based: ..in US
Based: ..in Minnesota / based nMinnesota
Based: ..in St. Paul / based StPaulMN
Based: and
Based: ..in Minneapolis / based MinneapolisMN