How To Book MISSY ELLIOTT For Your Event!
Missy Elliott may be available for your next special event!



Missy Elliott must hold some secret patent for what she does, always teetering on pop culture's precarious ledge – always wanting to surprise us with another mystifying delivery from her endless arsenal of musical weapons. She easily reigns as one of music's top ten influential talents. But what exactly is she? What will they inscribe on that lifetime Grammy she's no doubt going to receive one day:
Artist, producer, writer, arranger, rapper, singer, executive...Missy Elliott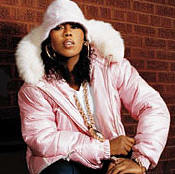 Not to worry. The important thing is she continues to astound fans and critics with her futuristic alterations of hip hop's landscape, all the while – as British pop bible NME put it – "reinventing pop music" along the way.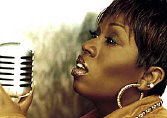 Missy admits to feeling "up against the wall" when she went to record 1999's "Da Real World," the follow-up to her acclaimed 1997 debut "Supa Dupa Fly." "You know, you worry about the sophomore jinx and all." Never the less, "Da Real World" went platinum, and landed Missy Elliott her most successful single ever with "Hot Boyz," but she was determined to "exhale deeply" before entering the studio for her third effort.
"I took a look around," says Missy. "I realized we went through years of 'I Hate You' records, and then we went through the 'Gimme My Money Records,' and we went through the 'Taking Care Of Business Records.' It was time to do some sexual healing music. You know, some Marvin-type stuff. I wanted to cross all boundaries. Not put any limits on myself. Where everybody else was being 'mad at their man' I wanted to do a sexy record. I didn't want to get up into what everyone else was singing about."
The tag-team of Missy and Timbaland has become one of hip hop's legendary duos, with Missy's hitmaker rep making her one of music's most sought-after producers. Born in Portsmouth Virginia, Missy Elliott dreamed of a music career from those very first days when she would sing and play-act for relatives.
She was first signed to Elektra, as part of the group Sista, in 1991 by Devante (of Jodeci) but the album was never released. It was one of those bizarre twists of fate, however, that would give Missy Elliott an opportunity to flourish behind the scenes as a producer and writer – and even sometimes guest-star. She graced platinum tracks for Jodeci and Aaliyah, landing a breakthrough rap stint on Gina Thompson's "The Things you Do." Her infectious rhyme garnered her the nickname the "hee haw girl," with Missy landing a production/label deal with Elektra soon after.
The launch of Missy's very own imprint, "The Goldmind Inc.," was ignited by the release of the groundbreaking "Supa Dupa Fly" in June of 1997. A genre-defying work that blurred your typical suppositions about black music, the album still reigns as one of the highest debuting discs from a female hip hop star on Billboard's Album chart, notching an incredible #3 in its first week of release. The mind-bending single "The Rain" was nominated for three MTV awards. Soon, Missy Elliott copycats were cropping up all over the music world.
But Missy kept 'em guessing. She began carefully constructing her empire around Gold Mind Inc., releasing the gold-plus effort from soulful vocalist Nicole, as well as continuing to produce and write a slew of diverse hits for other superstars, including Whitney Houston, Paula Cole, Destiny's Child, and Christina Aguilera. Missy Elliott also became the first female hip hop artist to perform on the renowned Lilith Fair tour.
In 1999 she released the much-anticipated "Da Real World." Not content with the industry's follow-the-leader mentality, Missy Elliott tricked everyone again with the darker, in-your-face-stomp of "She's A Bitch." It threw out all the previous ideas about Missy, dicing up provocative lyrics and razor-sharp beats designed to directly challenge hip hop fans.
By the time critics had stopped scratching their heads, Missy Elliott released the album's third single "Hot Boyz," re-writing the rules about the kind of impact one single could have on a hip hop audience. The single went platinum, remaining on the Billboard Rap Singles chart for almost an entire year, snagging the #1 spot for a mind boggling 18 weeks in a row, easily breaking the 11 week record held by Puff Daddy, Coolio, and Da Brat. In typical Missy 'genre defying' style, the single was also the #1 song on Billboard's R&B Singles chart for six weeks in a row. The platinum-plus "Da Real World" would eventually be nominated for a Soul Train Award and a Grammy.
A year later we find Missy Elliott happily poised on that ledge again, kicking off the all-important third album at the top of her game, both in body and spirit. "I'm feeling very positive about things," she smiles. "I feel blessed and I've learned so much. I just wanted to make a record where people can forget their troubles and go buckwild." But Missy also saved space for a gospel track to be put on the disc. "Moving On" finds her singing with gospel vocal sensation Yolanda Adams, members of the legendary Clark Sisters, and newcomers Mary Mary.
"I had a friend that passed and before she went she always asked me if I would do a gospel record. I wanted to show my appreciation for her always being there for me." Missy pauses. "But if you listen to all my records, you know I always take time out to give thanks. In this business you're always going to have to engage in a lot of things you might not want to, but it never takes away from my spirituality. No matter what happens, that will always be there."
Hit songs include --
Gossip Folks
Hot Boyz
Work It
Lose Control
Get Ur Freak On
Sock It 2 Me
One Minute Man
Teary Eyed
Pass That Dutch
Ching-A-Ling
All N My Grill
I'm Really Hot
Pass That Dutch
The Rain (Supa Dupa Fly)
She's A Bitch
We Run This
Lick Shots
Teary Eyed
Shake Your Pom Pom
Back In The Day
Missy Elliott may be available for your next special event!

Genre: Rap
Styles:
.Alternative Rap. / AlternativeRap
.Urban. / xUrban
.Pop-Rap. / PopRap
.Pop. / xPop
.Hip-Hop Soul. / HipHopSoul


Years active:
x90s, x00s, x10s, x20s

Born: ..in Virginia / born nVirginia
Born: ..in Portsmouth / born PortsmouthVA
Born: Jul 1, 1971

Based: ..in US