Visit new page >>>
moe.
How To Book moe. For Your Event!
moe. may be available for your next special event!



Hit songs include:
"I Bought That".
How to Hire moe. For Your Event!
Popular requests:
BOOKING FEE (booking price, booking cost).
moe. is an American jam rock band, formed at the University of Buffalo in 1989.
The band's first record, Fatboy (1992), established the band as a favorite of the 1990s jam band and improvisational rock scene, which grew in popularity with the rise of bands such as Phish and Widespread Panic.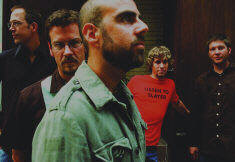 Hire moe. for your festival or concert plans.
In 1997, moe. toured with the Furthur Festival, appeared at Woodstock '99, played Summerstage at the Rumsey Playfield in Central Park, opened for The Allman Brothers and The Who, and performed at Radio City Music Hall on New Year's Eve 2006 and New Year's Eve 2007. They have also performed at the Bonnaroo Music Festival five times (2002, 2003, 2004, 2006, and 2009).
The band hosts the semi-annual festival, moe.down, at Snow Ridge Ski Area in Turin, New York. Started in 2000, the festival runs for three days and occurs every Labor Day weekend. The festival has attracted a wide variety of musical talent.
Acts range from newer bands just emerging onto the scene (such as Tea Leaf Green, Nellie McKay and Raq) to big-name acts and jam rock staples, such as Les Claypool, Blues Traveler, and Mike Gordon (of Phish), to pop rock icons such as Leo Kottke, The Flaming Lips, The Violent Femmes and Perry Farrell. Each year, the number of moe.down attendees has steadily increased.
On January 22, 2010, moe. held another benefit concert at the Roseland Ballroom in New York, raising funds for WHY (World Hunger Year). This show was also their first of 2010 and of the tour. Guests included Danny Barnes (banjo), Marco Benevento (keyboards), Jeff Austin (mandolin), Butch Trucks (drums), and David Sanborn (saxophone).
On April 3, 2019, moe. announced the lineup for their 2019 moe.down running July 4–6 at the Snow Ridge Ski Resort in Turin, NY.
Hire moe. for your party or event!
moe. may be available for your next special event!
Book moe., now!
For other great suggestions for booking music acts, look here.
Listen to music:
YouTube Music | Spotify

For more suggestions, proceed to the next page.
Click here --
Alternative Music Roster
Or, click on one of the below links --
Music Menu
Fast Index
Entertainers Directory
Home