How To Book MONICA For Your Event!
Monica may be available for your next special event!



Consider the year-by-year unfolding of the career of Monica, starting with her "discovery" at age twelve by Rowdy Records exec Dallas Austin at an Atlanta talent showcase. He brought her into New York to play for Arista Records President Clive Davis, signed her to his Arista-distributed label and produced her first recordings at age thirteen. She was fourteen when the first of these, "Don't Take It Personal (just one of dem days)" hit #1 on the Billboard Hot R&B Singles chart (June1995) and was certified RIAA platinum.

Monica was still fourteen when her second single was released, "Before You Walk Out Of My Life," which also went to the #1 R&B spot and took home the Platinum. This made her the youngest artist ever to have two consecutive #1 hits on the Billboard R&B chart. Her youth alone, in fact, puts Monica in rare company with the handful of legends whose #1 R&B debuts also happened while they were in puberty: Frankie Lymon (age 13), "Little" Stevie Wonder (also 13), and "Little" Esther Phillips (14) come immediately to mind.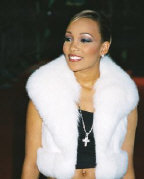 Monica commenced her first promotional tours that Summer of 1995 in support of her Platinum-plus album, "Miss Thang," which included those first two hits. By the time the third smash came out in mid-1996, "Why I Love You So Much/Ain't Nobody," Monica was fifteen, traveling with a full-time tutor, a road manager, a band, dancers and a concert itinerary (with the likes of TLC, Bone Thugs-N-Harmony, Keith Sweat and others) that kept her busy for more than a year. Touring didn't stop until sixteen year-old Monica returned home to graduate with her Atlanta Country Day School class on Friday the 13th of June, 1997 with a 4.0 GPA.
Confident and sassy, intelligent and "the most innately talented singer I've ever worked with" (as Dallas Austin attests), Monica is first and foremost her mother's daughter. A church singer, mom is the wellspring from whence Monica's style totally developed. Born in College Park (outside Atlanta) on October 24, 1980, Monica accompanied her mother to church and was singing in the choir at age two. Much has been written of her pop influences, Whitney Houston (Monica began publicly singing "The Greatest Love Of All" at age nine), Aretha Franklin and, much later on, Rachelle Ferrell.
But it was gospel music that most profoundly affected Monica's world, as she endlessly sang "Precious Lord," "Safe In His Arms," "Amazing Grace" and other spirituals to herself at home. By age ten she was the youngest voice in a traveling 12-member choir, Charles Thompson and the Majestics, that performed in different churches each Sunday. For nearly three years the choir was the focal point of Monica's life, and "Safe In His Arms" was her solo spotlight.
She was still in the choir when cousin Melinda Dancil (Monica's manager today) began to encourage the fifth grader to check out the talent shows at Center Stage Auditorium. Organized by local DJ Ryan Cameron and the West Coast female rapper Yo-Yo, the talent shows were the perfect place to showcase "The Greatest Love Of All," a consistent winner for Monica over the next two years. Local A&R representative Kevin Wales introduced Monica to Dallas Austin, known for his work with Madonna, TLC, Boyz II Men, Joi, Grace Jones, Highland Place Mobsters and others.
No one could have predicted how exciting and ground breaking Monica's career would be, or how unanimous the music industry acceptance would be. The success of "Miss Thang" and her singles track record brought Monica nominations for an American Music Award as "Best New Artist," a Billboard award as "Artist of the Year," a Soul Train music award for "Why I Love You So Much" as "Best R&B/Soul Single, Female," and a Soul Train Lady of Soul award as "Best R&B Female Artist."
Hit songs include --
Love All Over Me
Angel of Mine
Before You Walk Out of My Life
Don't Take It Personal (Just One of Dem Days)
So Gone
The First Night
For You I Will
Why I Love You So Much
Before You Walk Out of My Life
U Should've Known Better
Every Time Tha Beat Drop
Get It Off
Just Another Girl
All Eyez On Me
Knock Knock
Street Symphony
Get It Off
Sideline Ho
A Dozen Roses (You Remind Me)
Monica may be available for your next special event!

Genre: R&B
Styles:
.Club/Dance. / ClubDance
.Contemporary R&B. / ContemporaryR&B
.Hip-Hop Soul. / HipHopSoul


Years active:
x90s, x00s, x10s, x20s
1993-present

Born: ..in Georgia / born nGeorgia
Born: ..in Atlanta / born AtlantaGA
Born: Oct 24, 1980

Based: ..in US
Based: ..in Georgia / based nGeorgia
Based: ..in Atlanta / based AtlantaGA
Based: and
Based: ..in California / based nCalifornia
Based: ..in Los Angeles / based LosAngelesCA