Visit new page >>>
MORRISSEY
How To Book MORRISSEY For Your Event!
Morrissey may be available for your next special event!



Hits include: "In The Future When All's Well",
"The More You Ignore Me, The Closer I Get",
"Ouija Board", "Glamorous Glue",
"Tomorrow", "Piccadilly Palare",
"November Spawned a Monster",
"I Like You", "Interesting Drug",
"Irish Blood, English Heart",
"Our Frank", "You Have Killed Me",
"World Peace is None of Your Business",
"Sing Your Life", "Spend the Day in Bed."
How to Hire MORRISSEY For Your Event!
Popular requests:
BOOKING FEE (booking price, booking cost).
Steven Patrick Morrissey, known professionally as Morrissey, is an English singer, songwriter, and author.
He came to prominence as the frontman of rock band the Smiths, who were active from 1982 to 1987. Since then, he has pursued a successful solo career. Morrissey's music is characterized by his baritone voice and distinctive lyrics with recurring themes of emotional isolation, sexual longing, self-deprecating and dark humor, and anti-establishment stances.
Highly influential, Morrissey has been credited as a seminal figure in the emergence of indie rock and Britpop. Morrissey completed a Las Vegas residency in July 2022 titled "Viva Moz Vegas" for the second year in a row. Morrissey's vocals have been cited as having a particularly distinctive quality.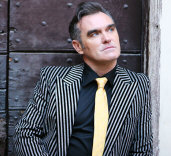 Hire Morrissey for your festival or concert plans!
He is regarded as an important innovator in the indie music scene. While in 2004, Pitchfork Media called him "one of the most singular figures in Western popular culture from the last 20 years." A Los Angeles Times critic wrote that Morrissey "patented the template for modern indie rock" and that many bands playing at the Coachella Valley Music and Arts Festival "would not be there—or at least, would not sound the same—were it not for him". Similarly, the critic Steven Wells called Morrissey "the man who more or less invented indie" and an artist "who more than anybody else personifies" indie culture. Stephen Thomas Erlewine of Allmusic writes that the Smiths and Morrissey "inspired every band of note" in the Britpop era, including Suede, Blur, Oasis, and Pulp. Other major artists including Jeff Buckley and Thom Yorke have also been influenced by Morrissey.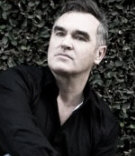 Hire Morrissey for your special event or occasion!
In 2004, to promote his seventh album, You Are the Quarry, Morrissey embarked on a world tour from April to November. He marked his 45th birthday with a concert at the Manchester Arena, supported by Franz Ferdinand; it was recorded for release as the DVD Who Put the M in Manchester. Morrissey was also invited to curate that year's Meltdown festival at London's Southbank Centre. Among the acts he secured were Sparks, Loudon Wainwright III, Ennio Marchetto, Nancy Sinatra, The Cockney Rejects, Lypsinka, The Ordinary Boys, The Libertines, and playwright Alan Bennett.
In June and July 2011, Morrissey played a UK tour, which included his 2011 performance at Glastonbury Festival, which included artists such as U2, Wu-Tang Clan, Coldplay, Beyoncé, Paul Simon, Primal Scream, Mumford and Sons, Fleet Foxes, The Chemical Brothers, Jimmy Eat World, The Kills, Queens of the Stone Age, Cold War Kids, Cage the Elephant and Foster the People.
On 29 October 2022, it was announced that Morrissey would release his fourteenth solo album, Bonfire of Teenagers, on Capitol Records. The album has eleven songs produced by Andrew Watt, and features Red Hot Chili Peppers alumn Josh Klinghoffer, Chad Smith, and Flea, with additional backing vocals from Miley Cyrus and Iggy Pop.
His discography includes 13 studio albums, two live albums, 15 compilation albums, two extended plays, 60 singles and seven video albums.

Hire Morrissey for your party or event!
Morrissey may be available for your next special event!
Book Morrissey, now!
For other great suggestions for booking music acts, look here.

For more suggestions, proceed to the next page.
Click here --
Alternative Music Roster
Or, click on one of the below links --
Music Menu
Fast Index
Entertainers Directory
Home