How To Book MUMFORD & SONS For Your Event!
Mumford & Sons may be available for your next special event!



Hits include: "Little Lion Man",
"Roll Away Your Stone", "I Will Wait",
"Whispers In The Dark", "Reminder",
"Not With Haste", "Hopeless Wanderer",
"Lover's Eyes", "Lover Of The Light",
"Believe", "Ghosts That We Knew",
"For Those Below", "Broken Crown",
"The Wolf", "Tompkins Square Park",
"Snake Eyes", "Only Love", "Monster",
"Just Smoke", "Ditmas", "Cold Arms",
"Wilder Mind", "There Will Be Time",
"Where Are You Now", "Hot Gates",
"Below My Feet", "Holland Road",
"The Cave", "Babel", "Guiding Light".
How to Hire MUMFORD & SONS For Your Event!
Popular requests:
BOOKING FEE (booking price, booking cost).
GRAMMY AWARD winning Mumford & Sons is a British folk rock band formed in London in 2007.
Mumford & Sons has won a number of music awards throughout their career, with Sigh No More earning the band the Brit Award for Best British Album in 2011, a Mercury Prize nomination and six overall Grammy Award nominations.
Hire Mumford & Sons for your festival or concert plans!
In 2011, their live performance at the Grammy Awards with Bob Dylan and The Avett Brothers led to a surge in popularity for the band in the US. The band received eight total Grammy nominations for Babel and won the Grammy Award for Album of the Year. The band also won the Brit Award for Best British Group in 2013 and an Ivor Novello Award for International Achievement.
In June 2013, Mumford & Sons headlined the Glastonbury Festival, and received acclaim for their performance. They performed with others, including Arctic Monkeys, The Rolling Stones, Portishead, The Smashing Pumpkins, Alt-J, Of Monsters and Men and The Lumineers.
On 14, January, 2015, the band announced they would headline at Bonnaroo. They performed with other artists, including Glass Animals, Alabama Shakes, Ben Harper, Tears For Fears, Kacey Musgraves, Ben Folds, Hozier, My Morning Jacket, X Ambassadors, Twenty-One Pilots, Florence and the Machine, Billy Joel and Brandi Carlile.
On 20, September 2018, Mumford & Sons released a new single, "Guiding Light", introducing their new album titled Delta on BBC Radio 1. The second single, "If I Say", was released on 25 October. Delta was released on 16 November 2018, with appearances from Maggie Rogers, Yebba, and Gill Landry.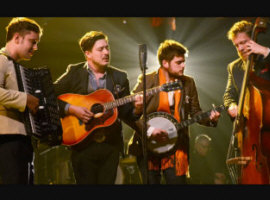 Hire Mumford & Sons for your company's special event!
Mumford & Sons have been described by The Hollywood Reporter and Forbes as a folk rock band. They began by using bluegrass and folk instrumentation, with the core instruments of acoustic guitar, banjo, piano and a double bass, played with a rhythmic style based in alternative rock and folk.
Their discography includes four studio albums, three live albums, six studio extended plays (three collaborations), seven live extended plays and twenty-one singles.
Hire Mumford & Sons for your party or event!
Mumford & Sons may be available for your next special event!
Book Mumford & Sons, now!
For other great suggestions for booking music acts, look here.

For more suggestions, proceed to the next page.
Click here --
Folk Music Roster or Alternative Music Roster
Or, click on one of the below links --
Music Menu
Fast Index
Entertainers Directory
Home