How To Book MUSE For Your Event!
Muse may be available for your next special event!



Hits include: "Dead Inside", "Madness",
"Resistance", "Uprising", "Panic Station",
"Starlight", "Undisclosed Desires",
"Supermassive Black Hole",
"Reapers", "Hysteria (I Want It Now)",
"Time Is Running Out", "Dead Inside",
"Knights of Cydonia", "Mercy",
"Psycho", "Follow Me", "Survival",
"Neutron Star Collision (Love Is Forever)",
"Stockholm Syndrome", "Supremacy",
"Thought Contagion", "Something Human",
"The Dark Side", "Pressure",
"Won't Stand Down".
GRAMMY AWARD winning Muse are an English rock band from Teignmouth, Devon, formed in 1994. The band consists of Matt Bellamy (lead vocals, guitar, keyboards), Chris Wolstenholme (bass guitar, backing vocals), and Dominic Howard (drums).

Muse released their debut album, Showbiz, in 1999, showcasing Bellamy's falsetto and a melancholic alternative rock style. Their second album, Origin of Symmetry (2001), incorporated wider instrumentation and romantic classical influences and earned them a reputation for energetic live performances. Absolution (2003) saw further classical influence, with strings on tracks such as "Butterflies and Hurricanes", and was the first of six consecutive UK number-one albums.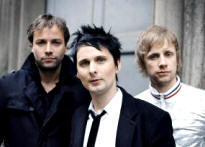 Muse have won numerous awards, including two Grammy Awards, two Brit Awards, five MTV Europe Music Awards and eight NME Awards. In 2012, they received the Ivor Novello Award for International Achievement from the British Academy of Songwriters, Composers and Authors. As of June 2016, they have sold more than 30 million albums worldwide.

The Muse musical style is described as an alternative rock, progressive rock, space rock, hard rock, art rock, electronic rock, progressive metal, and pop. Muse mix sounds from genres such as electronica, R&B, progressive metal, and art rock, and forms such as classical music, rock opera and many others.
Hire Muse for your party or event!
Muse may be available for your next special event!
Book Muse, now!
For other great suggestions for booking music acts,
look here.
Watch videos
YouTube

For more suggestions, proceed to the next page.
Click here --
Alternative Music Roster
Or, click on one of the below links --
Music Menu
Fast Index
Entertainers Directory
Home