Visit new page >>>
MUTEMATH
How To Book MUTEMATH For Your Event!
MuteMath may be available for your next special event!



Hits songs include:
"Typical", "Blood Pressure",
"Monument", "Peculiar People".
How to Hire MUTEMATH For Your Event!
Popular requests:
BOOKING FEE (booking price, booking cost).
Mutemath is an American alternative rock project founded by American singer-songwriter, multi-instrumentalist and record producer, Paul Meany. Mutemath was originally co-founded as a band with Darren King in 2002.
Mutemath draws heavily from influences in 1960s and 1970s soul, psychedelic rock, and jam band styles, utilizing vintage guitars and amplifiers as well as Rhodes keyboards, synthesizers, and other electronic instruments such as the keytar.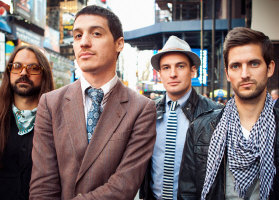 Hire Mutemath for your festival or concert plans.
In January 2006, the band set out on a tour in support of their self-titled debut album. The special edition of the album was only available as a "tour-only" release until it hit the Internet on Teleprompt's online store, selling more than 10,000 copies in its first month.
Mutemath landed on the covers of Billboard and Pollstar, being featured in Alternative Press, Paste, and Spin, as well as on the MTV News program, You Hear It First. The group continued to tour vigorously, playing shows to crowds of thousands at festivals, such as Bonnaroo, Lollapalooza, Van's Warped Tour, V Festival, CMJ Music Marathon in New York City, and Voodoo Music Experience in their hometown of New Orleans.
Mutemath appeared on Transformers: The Album, released on July 3, 2007, performing the "Transformers Theme" in conjunction with the live-action film directed by Michael Bay. The band made a television appearance on the Late Show with David Letterman on July 17.
In 2017, Meany decided to continue Mutemath as a solo project following King's departure. That same year, Mutemath performed at the Hangout Beach Festival along with others, including The Head and the Heart, Twenty-One Pilots, Major Lazer, Band of Horses, Local Natives, RÜFÜS DU SOL, Louis the Child, Cheat Codes and Rainbow Kitten Surprise.
On November 19, 2018, Paul Meany released a video for a new song, "Voice In the Silence", and a new four-song EP of the same name was released on December 5, 2018. This EP was the first Mutemath release as a solo project by Paul Meany.
Hire Mutemath for your party or event!
Mutemath may be available for your next special event!
Book Mutemath, now!
For other great suggestions for booking music acts, look here.
Listen to music:
YouTube Music | Spotify

For more suggestions, proceed to the next page.
Click here --
Alternative Music Roster
Or, click on one of the below links --
Music Menu
Fast Index
Entertainers Directory

Home