How To Book MY CHEMICAL ROMANCE For Your Event!
My Chemical Romance may be available for your next special event!


Hits include: "The Ghost of You",
"I'm Not Okay (I Promise)",
"Thank You for the Venom",
"Helena", "Under Pressure",
"Headfirst for Halos",
"Welcome to the Black Parade",
"Famous Last Words",
"I Don't Love You", "Teenagers",
"Desolation Road", "Na Na Na",
"The Only Hope For Me Is You",
"Sing", "Bulletproof Heart",
"Fake Your Death".
How to Hire MY CHEMICAL ROMANCE For Your Event!
Popular requests:
BOOKING FEE (booking price, booking cost)
.
My Chemical Romance (commonly abbreviated to MCR or My Chem) is an American rock band from Newark, New Jersey.
They are considered one of the most influential rock groups of the 2000s and a major act in the pop-punk and emo genres, despite the band rejecting the latter label.

Founded on 12 September 2001 by Gerard Way, Mikey Way, Ray Toro, and drummer Matt Pelissier (and later joined by Iero), the band signed with Eyeball Records and released their debut album, I Brought You My Bullets, You Brought Me Your Love, in 2002. They signed with Reprise Records the next year and released their major-label debut, Three Cheers for Sweet Revenge, in 2004. Shortly after the album's release, Pelissier was replaced by Bob Bryar. The album was a commercial success, and it attained platinum status more than a year later.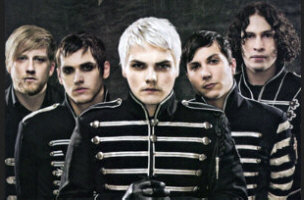 The success of the band's previous albums was eclipsed by that of their 2006 rock opera concept album, The Black Parade, which was a major commercial success, with lead single "Welcome to the Black Parade" topping the UK singles chart. The album solidified the band's following.

My Chemical Romance's music has been categorized as alternative rock, pop punk, post-hardcore, punk rock, emo pop, hard rock, hardcore punk, gothic rock, pop rock, arena rock, glam rock, heavy metal, and, most controversially, emo. The band's official website describes their music as simply "rock" or "violent, dangerous pop".

The band's sound usually has elements of punk rock, pop and alternative rock. Way's vocals have been described as "theatrical", and espousing "introspective, confessional lyrics".

Gerard Way has stated that the band is heavily influenced by Queen, Misfits, Black Flag, Iron Maiden, the Cure, Joy Division, Bauhaus, Siouxsie and the Banshees, the Smiths and Morrissey. Way has also said that his band patterns their career after that of the Smashing Pumpkins, another band they admire. Frank Iero cites the punk band Lifetime as a big influence. My Chemical Romance's other influences include the Stooges, Ramones, Sex Pistols, the Clash, Minor Threat, Nirvana, and Operation Ivy.
Hire My Chemical Romance for your party or event!
My Chemical Romance may be available for your next special event!
Book My Chemical Romance, now!
For other great suggestions for booking music acts, look here.

For more suggestions, proceed to the next page.
Click here --
Alternative Music Roster
Or, click on one of the below links --
Music Menu
Fast Index
Entertainers Directory
Home