How To Book MY MORNING JACKET For Your Event!
My Morning Jacket may be available for your next special event!



Hits include: "Acoustic Citsuoca",
"Holdin' On To Black Metal",
"It Makes No Difference",
"Outta My System", "Circuital",
"Compound Fracture",
"I'm Amazed", "Big Decisions",
"Friends Again", "Feel You",
"Run It", "Love Love Love".
How to Hire MY MORNING JACKET For Your Event!
Popular requests:
BOOKING FEE (booking price, booking cost).
My Morning Jacket is an American rock band formed in Louisville, Kentucky in 1998. The band consists of vocalist/guitarist Jim James, bassist Tom Blankenship, drummer Patrick Hallahan, guitarist Carl Broemel, and keyboardist Bo Koster. The band's sound, rooted in rock and country, is often experimental and psychedelic. The group amassed a following beginning in the 2000s in part due to their live performances.
Since their formation in 1998 Louisville, Kentucky, My Morning Jacket have grown from being one of America's most promising young bands to one of the world's most beloved rock bands. From their debut full-length (1999's The Tennessee Fire) through their Grammy-nominated fifth album (2008's Evil Urges) the band has taken risks with each release, always choosing the musically adventurous path.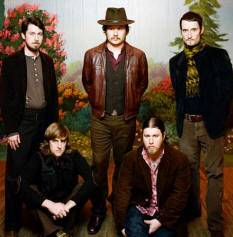 Hire My Morning Jacket for your festival or concert plans!
My Morning Jacket also have the rare quality of being as lauded for their studio albums as they are for their electrifying live shows. This reputation has led them to perform on shows, such as Saturday Night Live and The Tonight Show, as well as legendary venues such as Red Rocks and Madison Square Garden.
My Morning Jacket's eclectic reach and captivating shows have brought them to a wide array of festival stages, such as Bonnaroo, Coachella, and the New Orleans Jazz & Heritage Festival, and many others.
In May 1999, the band's debut album, The Tennessee Fire, was released. It was mildly successful in the U.S., though it became a surprise hit internationally, particularly in the Netherlands and Belgium
The band's second effort, At Dawn (2001), helped grow the group's fanbase in its home country. For the album, James recorded his vocals in a grain silo, creating a sound heavy on echo that became a hallmark of the band's early releases. In the early 2000s, the band toured heavily, often supporting bands such as Guided by Voices, Doves, and Foo Fighters. The group signed to independent label ATO Records in 2002 ahead of its third album, It Still Moves, which saw release in September 2003 to wide acclaim.
In 2005, Z was released and became the group's breakthrough album. It received positive critical reviews; in his review for Rolling Stone, critic David Fricke wrote, "America is a lot closer to getting its own Radiohead, and it isn't Wilco". The album was noticeable for a break from James' heavily reverbed vocals, and featured experimentation with dub, reggae and psychedelic rock. Okonokos, a live album captured while the band toured Z, was released in 2006.
In 2015 My Morning Jacket performed at the Newport Folk Festival along with others including Iron & Wine, The Decemberists, Brandi Carlile, Hozier, Lord Huron, and Jon Batiste.
On July 10, 2020, The Waterfall II was released. The band contributed a cover of the Metallica song, "Nothing Else Matters", to the charity tribute album The Metallica Blacklist, released in September 2021. The band's ninth studio album, the self-titled My Morning Jacket, was released on October 22, 2021. Its first single, "Regularly Scheduled Programming", debuted on August 24 along with an accompanying music video.
Their discography includes nine studio albums, 12 extended plays, 22 singles, five music videos, three compilation albums, seven live albums, and one video album.
Hire My Morning Jacket for your party or event!
My Morning Jacket may be available for your next special event!
Book My Morning Jacket, now!
For other great suggestions for booking music acts, look here.

For more suggestions, proceed to the next page.
Click here --
Alternative Music Roster
Or, click on one of the below links --
Music Menu
Fast Index
Entertainers Directory
Home