Richard De La Font Agency, Inc.
Legendary 5-Star Service and Reputation
Providing Excellence in Entertainment Since 1970

Booking Nappy Roots - book rap music artists
Book Nappy Roots
Skinny DeVille, B. Stille, Ron Clutch, Fish Scales
Southern Rap, Dirty South, Country-Rap,
Alternative Rap

Booking Information
About This Company
Rap Music Roster | Music Menu
Fast Index | Home | Search
Printable Page
---
How To Book NAPPY ROOTS For Your Event!
Nappy Roots may be available for your next special event!



When you think of Nappy, you think raw and untamed," says Nappy Roots member Scales, explaining the hip hop sextet's unique moniker. "But you also think pure and natural." "That's what we are," chimes in partner in rhyme, Skinny DeVille. "Our name signifies our unwillingness to conform with fads. Once the fads die out, you always come back to the roots."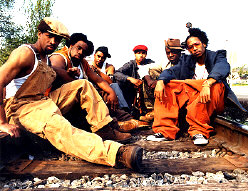 As for the group's roots, they trace back to Western Kentucky University, 1995. The group was drawn together by a simple love of music.
While carving out their own unique niche, the group parlayed their hustling instincts into a number of early entrepreneurial ventures – including the Nappy Roots T-shirts that quickly became the hottest-selling item on the WKU campus. However, their biggest venture came via the local ET's Music record shop (with ET short for ER'Thangs Tight). It was at ET's, which also doubled as a production studio, where the six would musically take shape with each Nappy Roots member bringing their own distinct flavor to the mix.
"You'd think it would be hard to get six guys moving in the same direction, but that's something more people bring to our attention than we actually think about ourselves," says Skinny DeVille. "We just be kickin' it, doing what we doing and not really thinking about the fact that 'okay, it's six people.' It is a matter of give and take."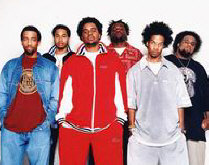 Of course, the Nappy Roots creative formula has been paying off for years now, giving rise to an underground following courted through tantalizingly belligerent flows, intuitive hood analysis, and PA-melting beats. Created and sold at ET's, the Nappy Roots 1998 indie album, "Country Fried Cess," flew off the retail shelves from the word go. In fact, NR garnered such a tremendous buzz with the album that representatives from Atlantic Records soon came a-knocking.
They're much happier with the simple things in life. "We're trying to make people realize that it's good to just be you," says Skinny DeVille, who, along with his five other mic cohorts, rhymes about "ballin' on a budget." "That's essentially what Nappy Roots is about. We're glamorizing being average."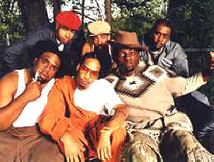 In shying from narcissistic, flashy images, "Watermelon, Chicken & Gritz" stands as the antithesis of the norm. "You ain't gotta be country to understand it," says Big V. of the album's title and overarching themes. "Our music is just like those foods – fresh of the earth, of the soul." Indeed, the Nappy collective serves up a hearty helping of soul food for thought with tracks like the pensively absorbing "Peanuts," a semi-autobiographical account of the group's ongoing struggles. Over the splatter funk of the Groove Chambers produced "Peanuts," the listener is hit straight up with introspective lines like "Ain't about thuggin'/it ain't about hustlin'/it's about seeing your kids go without strugglin'."
The Scales-composed "Life's a Risk" is equally as ruminating with such Skinny DeVille rhymes as "On the verge of losing my mind as well as my last nerve/I served my last dime standin' on this crack curb." In this way, the group places you on the frontlines of a future fraught with uncertainty. With production contributions from the likes of Carlos Broady and label-mate Jazze Pha, the album possesses an abundance of tracks sure to secure Nappy Roots among the game's most contemplative thinkers, as it also demonstrates their readiness to party crunk with the best of them – as they reveal on the block rattling "N-A-P-P-Y."
However, proving their musical muscle is only part of the challenge for Nappy Roots – there's also the responsibility of holding it down for their often over-looked hometurf. "It's like a plant," says Big V. "If there's no light to shine on Kentucky, it won't grow." "We do have a burden on our shoulders because a lot is riding on the success of Nappy Roots," adds Ron Clutch. "But we're not worried. Our music speaks for itself."
"Nappy Roots believes that you are the diamond. You should shine," said Big V, a Bowling Green native. "Why not you? It's OK to be a common person. Like if you don't get your jeans dirty today, which is a Tuesday, then Thursday you can put 'em on again, you know what I'm saying?
"Just be you, and it's all right to be common, cause there's more common people in the world than rich, so we cater to the common man. I don't want to tell people something they can't relate to. Everybody likes turnip greens and chicken somewhere or another, whether it's baked, fricasseed, rotisserie or deep-fried.
"So it's that way, you know, just talking in language so that people know how it is to have pocket lint and beer money, nothing more, nothing less."
Now that, my brother, is keeping it nappy.
Hit songs include --
Awnaw
Po' Folks
Roun' The Globe
Headz Up
Good Day
Sick And Tired
Hey Love
Nappy Roots may be available for your next special event!

Genre: Rap
Styles:
.Dirty South. / DirtySouth
.Southern Rap. / SouthernRap
.Country-Rap. / CountryRap
.Alternative Rap. / AlternativeRap


Years active:
x90s, x00s, x10s, x20s
1996-present

Formed: ..in Kentucky / formed nKentucky
Formed: ..in Bowling Green / formed BowlingGreenKY
Formed: in 1996

Based: ..in US
Based: ..in Georgia / based nGeorgia
Based: ..in Atlanta / based AtlantaGA
---
Concert Schedule – by Ticketmaster
Concert Schedule – by Live Nation

---

Booking Information
Music Menu
Fast Index | Home | Search
Frequently Asked Questions About Booking NAPPY ROOTS
HOW TO BOOK NAPPY ROOTS?
(i.e., how to hire NAPPY ROOTS for an event)
You are currently on the official site of the Richard De La Font Agency, Inc. For more than 50 years, we have successfully helped official talent buyers around the world secure quality talent.
We welcome the opportunity to be of service to you. Let's do this the right way! Let's save you time and frustration!
Simply click on the "Booking information" link found on this page. Then, send us your request for booking information.
Include information about your plans for your event and how hiring NAPPY ROOTS (or someone similar) might be of special interest.
If you decide you want to look at other names, simply include your talent-fee budget range and indicate that you want to see who else you might be able to afford with such a budget. We can send you a list of names that are affordable and in the style of music you prefer. We hope to save you time and frustration!
HOW MUCH DOES IT COST TO BOOK/HIRE NAPPY ROOTS?
(i.e., what is the fee of NAPPY ROOTS for an event?)
(i.e., what is NAPPY ROOTS charging to perform at an event?)
Official booking fees for NAPPY ROOTS, or any other celebrity, are determined based on a number of factors and may change at anytime without prior notice.

Factors influencing pricing vary and may include date, location, type of event, whether a private party or a public concert, the artist's calendar, whether the artist is on tour or not, how well tickets are selling at the artist's concerts, the current demand for the artist's music, market activity, etc.

As you might expect, the more in-demand the artist is, the more buyers are prepared to pay. Of course, this causes the artist's price to increase as the artist becomes more popular, or decrease when becoming less popular.

Exclusive agents with exclusive representation frequently quote a range instead of a specific price, since changes can occur at anytime. Generally, the artist's manager has a role in the decision to accept any particular offer from a talent buyer.

To learn the most current artist's pricing, or the estimated artist's fee for your particular event, simply click on the "Booking information" link found on this page. Then, send us your request for booking information.
IS NAPPY ROOTS AVAILABLE TO WORK MY EVENT?
(i.e., what is NAPPY ROOTS's availability?)
To learn the artist's current availability for your special event, simply click on the "Booking information" link found on this page. Then, send us your request for booking information.

Once we have your event/party information, we will be better able to assist you with putting your entertainment talent booking plans in place as your entertainment consultant. Let's get this done right! We look forward to working with you!
---