While carving out their own unique niche, the group parlayed their hustling instincts into a number of early entrepreneurial ventures – including the Nappy Roots T-shirts that quickly became the hottest-selling item on the WKU campus. However, their biggest venture came via the local ET's Music record shop (with ET short for ER'Thangs Tight). It was at ET's, which also doubled as a production studio, where the six would musically take shape with each Nappy Roots member bringing their own distinct flavor to the mix.
"You'd think it would be hard to get six guys moving in the same direction, but that's something more people bring to our attention than we actually think about ourselves," says Skinny DeVille. "We just be kickin' it, doing what we doing and not really thinking about the fact that 'okay, it's six people.' It is a matter of give and take."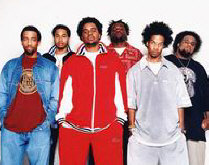 Of course, the Nappy Roots creative formula has been paying off for years now, giving rise to an underground following courted through tantalizingly belligerent flows, intuitive hood analysis, and PA-melting beats. Created and sold at ET's, the Nappy Roots 1998 indie album, "Country Fried Cess," flew off the retail shelves from the word go. In fact, NR garnered such a tremendous buzz with the album that representatives from Atlantic Records soon came a-knocking.
They're much happier with the simple things in life. "We're trying to make people realize that it's good to just be you," says Skinny DeVille, who, along with his five other mic cohorts, rhymes about "ballin' on a budget." "That's essentially what Nappy Roots is about. We're glamorizing being average."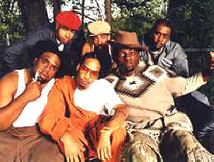 In shying from narcissistic, flashy images, "Watermelon, Chicken & Gritz" stands as the antithesis of the norm. "You ain't gotta be country to understand it," says Big V. of the album's title and overarching themes. "Our music is just like those foods – fresh of the earth, of the soul." Indeed, the Nappy collective serves up a hearty helping of soul food for thought with tracks like the pensively absorbing "Peanuts," a semi-autobiographical account of the group's ongoing struggles. Over the splatter funk of the Groove Chambers produced "Peanuts," the listener is hit straight up with introspective lines like "Ain't about thuggin'/it ain't about hustlin'/it's about seeing your kids go without strugglin'."
The Scales-composed "Life's a Risk" is equally as ruminating with such Skinny DeVille rhymes as "On the verge of losing my mind as well as my last nerve/I served my last dime standin' on this crack curb." In this way, the group places you on the frontlines of a future fraught with uncertainty. With production contributions from the likes of Carlos Broady and label-mate Jazze Pha, the album possesses an abundance of tracks sure to secure Nappy Roots among the game's most contemplative thinkers, as it also demonstrates their readiness to party crunk with the best of them – as they reveal on the block rattling "N-A-P-P-Y."
However, proving their musical muscle is only part of the challenge for Nappy Roots – there's also the responsibility of holding it down for their often over-looked hometurf. "It's like a plant," says Big V. "If there's no light to shine on Kentucky, it won't grow." "We do have a burden on our shoulders because a lot is riding on the success of Nappy Roots," adds Ron Clutch. "But we're not worried. Our music speaks for itself."
"Nappy Roots believes that you are the diamond. You should shine," said Big V, a Bowling Green native. "Why not you? It's OK to be a common person. Like if you don't get your jeans dirty today, which is a Tuesday, then Thursday you can put 'em on again, you know what I'm saying?
"Just be you, and it's all right to be common, cause there's more common people in the world than rich, so we cater to the common man. I don't want to tell people something they can't relate to. Everybody likes turnip greens and chicken somewhere or another, whether it's baked, fricasseed, rotisserie or deep-fried.
"So it's that way, you know, just talking in language so that people know how it is to have pocket lint and beer money, nothing more, nothing less."
Now that, my brother, is keeping it nappy.