How To Book THE NATIONAL For Your Event!
The National may be available for your next special event!



Hits include: "Abel",
"Bloodbuzz Ohio", "Demons",
"Anyone's Ghost", "Terrible Love",
"Sea of Love", "I Need My Girl",
"The System Only Dreams in Total Darkness",
"Rylan", "Tropic Morning News",
"You Had Your Soul With You",
"Day I Die", "Weird Goodbyes".
How to Hire THE NATIONAL For Your Event!
Popular requests:
BOOKING FEE (booking price, booking cost).
GRAMMY AWARD winning The National is an American rock band of Cincinnati, Ohio, natives, formed in Brooklyn, New York City, in 1999. The band consists of Matt Berninger (vocals), twin brothers Aaron Dessner (guitar, piano, keyboards) and Bryce Dessner (guitar, piano, keyboards), as well as brothers Scott Devendorf (bass) and Bryan Devendorf (drums). Carin Besser is not a band member, but has written lyrics for the band alongside her husband, Berninger, since its 2007 album, Boxer.
Founded by Matt Berninger, Aaron Dessner, Scott Devendorf and Bryan Devendorf, The National released their self-titled debut album, The National (2001), on Brassland Records, an independent record label founded by Aaron and his twin brother, Bryce Dessner.
Bryce, who had assisted in recording the album, soon joined the band, participating as a full member in the recording of its follow-up, Sad Songs for Dirty Lovers (2003).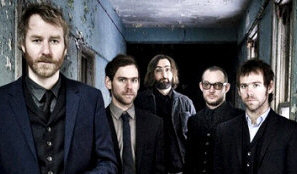 Hire The National for your festival or concert plans!
On February 17, 2009, Dark Was the Night, the twentieth Red Hot Organization compilation, was released. Curated by Aaron and Bryce Dessner, this album comprised songs by bands and artists such as Arcade Fire, Grizzly Bear, Beirut, David Byrne, Sufjan Stevens, Spoon, The Dirty Projectors, Feist and the National, among others. Over one million dollars of the proceeds from album sales were donated to the Red Hot Organization, an international organization dedicated to fighting AIDS.
On May 3, 2009, Aaron and Bryce Dessner curated a concert for Dark Was the Night at Radio City Music Hall in New York City. Other than the band, performers included David Byrne, The Dirty Projectors, Feist, and several other artists who contributed to the compilation.
In 2013, The National released its sixth studio album, Trouble Will Find Me, which was nominated for a Grammy Award. Four of the band's albums were included on NME's 2013 list of the NME's The 500 Greatest Albums of All Time.
On March 17, 2016 the band announced Day of the Dead, a Red Hot Organization charity tribute album to the Grateful Dead released on May 20, 2016. Day of the Dead was created, curated and produced by Aaron and Bryce. The compilation, which took four years to record, is a wide-ranging tribute to the songwriting and experimentalism of the band, and features more than 60 artists from varied musical backgrounds.
Day of the Dead features collaborations and recordings from a diverse group of artists including Wilco, Flaming Lips, Bruce Hornsby, Justin Vernon, the National, The War on Drugs, Kurt Vile, Lee Ranaldo of Sonic Youth, Ira Kaplan of Yo La Tengo, Jenny Lewis, The Tallest Man on Earth, Unknown Mortal Orchestra, Perfume Genius, and Jim James of My Morning Jacket.
In 2017, the band released the album, Sleep Well Beast, which won the band a Grammy Award.
On May 17, 2019, their eighth studio album, I Am Easy to Find, was released.
In May 2022, the band played their first show in two-and-a-half years at Baluarte in Pamplona, Spain. At the show, the band performed three new songs: "Grease in Your Hair (Birdie)", "Tropic Morning News (Haversham)" and "Weird Goodbyes" – then known as "Bathwater (Mount Auburn)". A fourth new song, "Ice Machines", was premiered in Paris; a fifth, "Space Invader (Threaded Gold)", was performed during the band's set at the Newport Folk Festival in July along with the Bleachers, Brandi Carlile, Courtney Barnett, Dinosaur Jr., and Trampled By Turtles.
The National has been compared to Joy Division, Leonard Cohen, Interpol, Wilco, Depeche Mode and Nick Cave & the Bad Seeds. The band's lyrics have been described as "dark, melancholy and difficult to interpret."
Their discography includes eight studio albums, two extended plays (EPs), thirteen singles and nine music videos. The band's first two albums were released by Brassland Records.
Hire The National for your party or event!
The National may be available for your next special event!
Book The National, now!
For other great suggestions for booking music acts, look here.
Listen to music:
YouTube Music | Spotify

For more suggestions, proceed to the next page.
Click here --
Alternative Music Roster
Or, click on one of the below links --
Music Menu
Fast Index
Entertainers Directory
Home