How To Book NEIL DIAMOND For Your Event!
Neil Diamond may be available for your next special event!



Songwriters Hall of Fame
-- inducted 1984
How to Hire NEIL DIAMOND For Your Event!
Popular requests:
BOOKING FEE (booking price, booking cost).
Neil Leslie Diamond (born January 24, 1941) is an American singer-songwriter. He has sold more than 130 million records worldwide, making him one of the best-selling musicians of all time.
Over the course of a career that kicked in with the adolescent rush of "Cherry Cherry" in 1966 and crescendoed thirty years later with the 3-CD retrospective "In My Lifetime," Neil Diamond has never failed to delight and surprise his fans with fresh approaches to the music that moves him the most deeply.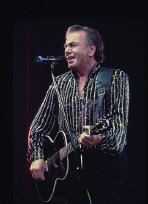 The happy saga of Neil Diamond, one of the most creatively bold – and prolific – singer-songwriters to emerge in the rock era, is one American tale well worth repeating. At age 16, he received a guitar as a birthday present, and soon he focused on lessons and, later, songwriting. He later attended NYU as a pre-med student on a fencing scholarship, but songwriting remained his first love. He left college six months before graduating to accept a songwriting position with a publishing company for $50 a week, and has never regretted the decision. Diamond eventually leased an office on Broadway for $35 a month where he could devote all his time to writing. After several lean years, he was approached by producers Jeff Barry and Ellie Greenwich. This meeting led to his eventual signing with Bang Records.
At his first Bang session in 1966, Neil recorded what would become his first three hit singles: "Solitary Man," "Cherry, Cherry," and "I Got The Feeling (Oh No, No)." He also scored his first #1 record as a writer with the Monkees' "I'm A Believer." Diamond's Bang Records catalog included the albums "The Feel of Neil Diamond" (his 1966 debut), "Just For You" (1967), "Neil Diamond's Greatest Hits" (1968) and "Shilo" (1970).
1969 brought him his biggest record of the early years, "Sweet Caroline," from the album "Brother Love's Traveling Salvation Show/Sweet Caroline," an album that combined gospel themes with pop formats. The following year, he released the albums "Touching You Touching Me," which included the hit single "Holly Holy," and "Tap Root Manuscript" (1970), which experimented with African-inspired arrangements. Other albums from this period include "Velvet Gloves" and "Spit" (1968), "Stones" (1971) and "Moods" (1972), with hits like the #1 "Cracklin' Rosie," "Song Sung Blue" (also #1), and "I Am...I Said." "Hot August Night," a double-album recorded live at the Greek Theater in 1972 is another immortal Diamond album of the period.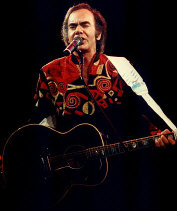 Diamond's reputation as a charismatic performer grew steadily in the 70s. In 1972, the Schubert Organization presented him in concert for a record-setting 20 performances of a one-man show at the Winter Garden Theater, making Neil the first rock-era superstar to headline on Broadway. At the height of his touring popularity, Diamond announced a sabbatical from the stage to devote more time to his family, but in 1976, he resumed performing with record-breaking tours of Australia and New Zealand.
In 1973, Neil Diamond signed with Columbia, with which he has enjoyed his greatest successes. His first release for the label, "Jonathan Livingston Seagull," became his #2 all-time best-seller and earned him Grammy and Golden Globe awards. In 1974 he released "Serenade," which yielded the hit, "Longfellow Serenade." In 1976 he recorded the platinum "Beautiful Noise" with producer Robbie Robertson.
The late 70s found Neil Diamond on both the radio and TV airwaves. In 1976, he returned to the Greek Theater for eight SRO shows, resulting in his first TV special and his second live LP, 1977's platinum "Love At The Greek." On the singles charts, his 1978 duet ballad with Barbra Streisand, "You Don't Bring Me Flowers," reached #1. "I'm Glad You're Here With Me Tonight" (1977), "You Don't Bring Me Flowers" (1978), and "September Morn" (1980) continued his streak of RIAA-certified platinum albums.
In 1980, Neil Diamond not only starred in the remake of the movie classic "The Jazz Singer," but he composed and performed the film's multi-platinum soundtrack album, which included hits "Love On The Rocks," "America," and "Hello Again." The title track to his 1982 album "Heartlight" was another monster hit, and in 1986 he followed his smash 1972 live double album "Hot August Night" with "Hot August Night II."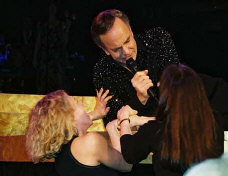 The 90's have served to further Diamond's standing as one of his generation's premier performers. A Christmas album spawned "Neil Diamond's Christmas Special," which premiered on HBO in 1992 and aired on ABC-TV the following year. A second holiday set, "The Christmas Album Vol II," was issued in 1994 and duplicated the success of the first volume.
In 1993, meanwhile, Neil returned to his roots with the album "Up On The Roof - Songs From The Brill Building." Featuring 16 of Diamond's favorite pop songs from the '50s and '60s, the disc showcased classics by such top songwriting teams as Goffin & King, Mann & Weill, Leiber & Stoller, Barry & Greenwich, and Bacharach & David – all of whom were closely identified with the Brill Building, the renowned songwriters and publishers headquarters located on Broadway in Midtown Manhattan.
In 1994, Neil Diamond released "Live In America," which documented his record-breaking two-year "Love In The Round" world tour, in which he performed on a 360-degree stage built in the middle of every arena he played. "The Tennessee Moon" project, which Diamond recorded in Nashville with the help of such stellar country artists as Waylon Jennings and The Mavericks' Raul Malo, followed in 1996, and included a companion TV special and home video.
Also in 1996 came the extraordinary 70-song "In My Lifetime" boxed-set containing 37 hit singles, 16 previously unissued early demos, alternative versions of well known classics, the newly written and recorded title track, and a full-color 72-page booklet with extensive liner notes including an interview with Diamond, scores of rare photos, a complete discography, and song-by-song annotations by Diamond. It was a fitting package for the enduring artist who has sold 115 million records and set box office records at major venues all over the world.
Neil Diamond won a Grammy in 1973 as composer of the Best Original Score Written For A Motion Picture ("Jonathan Livingston Seagull") and achieved one of his biggest successes with the soundtrack to the movie "The Jazz Singer," in which he starred opposite Sir Laurence Olivier. In 1998 Neil Diamond, the interpretive vocalist, returned to the movies as the inspiration for "The Movie Album – As Time Goes By," a two-disc collection of 20 classic songs from the treasure trove of motion picture music. True to the spirit and magic of Hollywood at its best, "The Movie Album – As Time Goes By" was recorded live on 20th Century Fox's Newman Scoring Stage and conducted by the legendary film composer/conductor Elmer Bernstein. The album received a Grammy nomination for Best Traditional Pop Vocal Performance.
Unchallenged as one of the rock era's greatest live solo performers, Diamond's last world tour began in October, 1998 and continued through 1999, performing 117 SRO shows in the U.S., Canada, Europe and Australia/New Zealand. Part of his spectacular New Year's Eve concert appearance in Denver was broadcast worldwide during ABC-TV's Millennium coverage. Amusement Business named Diamond the top solo concert artist of the 90's. On June 15, 2000, the Songwriters' Hall of Fame awarded Diamond the coveted "Sammy Cahn Lifetime Achievement Award," making him one of a select few composers to be honored twice by the organization. Recently, Diamond appeared in a cameo role in the motion picture "Saving Silverman" (released February 2001).
"Three Chord Opera" (release date July 24, 2001) is one of Diamond's most personal records, a song collection which meditates on love and loss while celebrating life's joy and glories through music. Interestingly, considering Diamond's formidable reputation as the quintessential singer-songwriter, "Three Chord Opera" marks the first time since 1974's "Serenade" in which all the words and music were written by Neil. Produced by Peter Asher and Alan Lindgren, the record is a revealing look at the inner life of Neil Diamond, an artist who continues to communicate the essential, universal experience.
"The Essential Neil Diamond," a comprehensive 2-CD collection representing Diamond's entire career to date, was released on December 4, 2001. This collection brings together releases on Bang Records (where his recording career began in 1966), Uni (1969-'72), Capitol ("The Jazz Singer" original motion picture soundtrack of 1980) and Columbia Records (home to Diamond since 1973).
Hit songs include --
America
Cracklin' Rose
Gitchy Goomy
God Only Knows
Heartlight
I've Been This Way Before
If You Know What I Mean
Longfellow Serenade
Song Sung Blue
Yesterday's Songs
You Don't Bring Me Flowers
Be Mine Tonight
I Am... I Said
Love On The Rocks
Play Me
September Morn
Stones
You've Got Your Troubles
Captain Sunshine
Diamond Girls
Hello Again
Say Maybe
Sweet Caroline
Holly Holy
Hire Neil Diamond for your party or event!
Neil Diamond may be available for your next special event!
Book Neil Diamond, now!
For other great suggestions for booking music acts, look here.

Genre: Rock 1
Styles:
.Adult Contemporary. / AdultContemporary
.Classic Rock. / ClassicRock
.Contemporary Pop/Rock. / ContemporaryPopRock
.Pop/Rock. / PopRock
.Soft Rock. / SoftRock
.Pop. / xPop
.Pianist. / xPianist


Years active:
x60s, x70s, x80s, x90s, x00s, x10s, x20s

Born: ..in New York / born nNewYork
Born: ..in New York City / born NewYorkNY
Born: ..in Brooklyn / born BrooklynNY
Born: Jan 24, 1941

Based: ..in US

Tag: Jewish Musical Artists, xJewish