How To Book Entertainment For Your Event
Neil Young may be available for your next special event!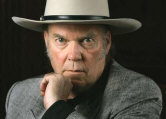 Hits include: "Heart of Gold",
"Cinnamon Girl", "No More",
"Rockin' in the Free World",
"Mansion on the Hill", "Let's Roll",
"Downtown", "Ten Men Workin'",
"War of Man", "Touch the Night",
"Little Thing Called Love",
"Long Walk Home", "Mr. Soul",
"Change Your Mind", "Big Time",
"This Note's For You",
"Southern Pacific", "Peace And Love",
"Only Love Can Break Your Heart",
"Weight Of The World",
"Crime In The City", "Old Man",
"Get Back To The Country",
"Love May You Run",
"Over And Over", "Unknown Legend".

Booking Neil Young:
Serious requests only.
For more suggestions, proceed to the next page.
Click here --
Rock Music Roster
Or, click on one of the below links --
Music Menu
Fast Index
Entertainers Directory
Home