How To Book NEIL YOUNG For Your Event!
Neil Young may be available for your next special event!



Hits include: "Heart of Gold",
"Cinnamon Girl", "No More",
"Rockin' in the Free World",
"Mansion on the Hill", "Let's Roll",
"Downtown", "Ten Men Workin'",
"War of Man", "Touch the Night",
"Little Thing Called Love",
"Long Walk Home", "Mr. Soul",
"Change Your Mind", "Big Time",
"This Note's For You",
"Southern Pacific", "Peace And Love",
"Only Love Can Break Your Heart",
"Weight Of The World",
"Crime In The City", "Old Man",
"Get Back To The Country",
"Love May You Run",
"Over And Over", "Unknown Legend".
How to Hire NEIL YOUNG For Your Event!
Popular requests:
BOOKING FEE (booking price, booking cost).
GRAMMY AWARD winning Neil Percival Young OC OM (born November 12, 1945) is a Canadian-American singer and songwriter.
After embarking on a music career in Winnipeg in the 1960s, Young moved to Los Angeles, joining Buffalo Springfield with Stephen Stills, Richie Furay and others.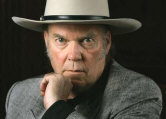 Hire Neil Young for your festival or concert plans!
Since the beginning of his solo career with his backing band, Crazy Horse, he has released many critically acclaimed and important albums, such as Everybody Knows This Is Nowhere, After the Gold Rush, Harvest, On the Beach and Rust Never Sleeps. He was a part-time member of Crosby, Stills, Nash & Young.
Neil Young has received several Grammy and Juno Awards. The Rock and Roll Hall of Fame inducted him twice: in 1995 as a solo artist and in 1997 as a member of Buffalo Springfield. In 2000, Rolling Stone named Young No. 34 on their list of the 100 greatest musical artists. According to Acclaimed Music, he is the seventh most celebrated artist in popular music history. 21 of his albums and singles have been certified Gold and Platinum in U.S. by RIAA certification. Young was awarded the Order of Manitoba in 2006 and was made an Officer of the Order of Canada in 2009.
In 1993, Neil Young collaborated with Booker T. and the M.G.s for a summer tour of Europe and North America, with Blues Traveler, Soundgarden, and Pearl Jam also on the bill.
In 1995, Young and his manager Elliot Roberts founded a record label, Vapor Records. It has released recordings by Tegan and Sara, Spoon, Jonathan Richman, Vic Chesnutt, Everest, Pegi Young, Jets Overhead, and Young himself, among others.
Rolling Stone magazine in 2000, ranked Neil Young thirty-fourth in its list of the 100 greatest artists of all time. In 2000, Young was inducted into Canada's Walk of Fame.
Young's political outspokenness and social awareness influenced artists such as Blind Melon, Phish, Pearl Jam, and Nirvana. Young is cited as being a significant influence on the experimental rock group Sonic Youth, and Thom Yorke of Radiohead.

Hire Neil Young for your party or event!
Neil Young may be available for your next special event!
Book Neil Young, now!
For other great suggestions for booking music acts, look here.

For more suggestions, proceed to the next page.
Click here --
Rock Music Roster
Or, click on one of the below links --
Music Menu
Fast Index
Entertainers Directory
Home