Visit new page >>>
NEW ORDER
How To Book NEW ORDER For Your Event!
New Order may be available for your next special event!



Hits include: "Confusion", "The Perfect Kiss",
"Shell Shock", "True Faith", "Round And Round",
"Crystal", "World In Motion", "Krafty", "Regret",
"World (The Price of Love)", "Ruined In A Day",
"Spooky", "Someone Like You", "Fine Time",
"Ceremony", "Waiting For The Sirens Call",
"Jetstream", "Guilt Is A Useless Emotion",
"Tutti Frutti".
How to Hire NEW ORDER For Your Event!
Popular requests:
BOOKING FEE (booking price, booking cost).
New Order are an English rock band formed in 1980 by vocalist and guitarist Bernard Sumner, bassist Peter Hook and drummer Stephen Morris.
The band formed after the demise of Joy Division, following the suicide of lead singer Ian Curtis. They were joined by Gillian Gilbert on keyboards later that year. New Order's integration of post-punk with electronic and dance music made them one of the most acclaimed and influential bands of the 1980s.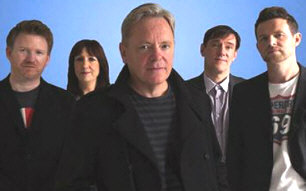 Hire New Order for your festival or concert plans!
In the 1980s, they released successful albums such as Power, Corruption & Lies (1983), Technique (1989), and the singles compilation Substance (1987).

New Order's music mixes rock with dance music, as can be seen on signature tracks such as 1982's "Temptation", 1983's "Blue Monday" and 1987's "True Faith". Founding member Hook stated that the band's shift from playing cold dark tracks from 1981 to producing electro/rock tracks from 1982 was inspired by the music of German electronic group Kraftwerk, US rock band Sparks who had produced disco/electro-rock music with producer Giorgio Moroder on their No. 1 in Heaven album, and also the Moroder/Donna Summer collaboration on "I Feel Love".
Along with Kraftwerk, the English bands Cabaret Voltaire, the Human League and Orchestral Manoeuvres in the Dark (OMD) educated singer Bernard Sumner that one "could make music without guitars".
At the 2005 NME Awards, New Order and Joy Division received the award for "Godlike Geniuses" (for lifetime achievement). Previous winners include Ozzy Osbourne, the Clash, and Happy Mondays. In 2006 the album track "Guilt Is a Useless Emotion" was nominated for a Grammy Award in the category of Best Dance Recording.
On 13 July 2017, New Order played a concert at Manchester International Festival with Liam Gillick. On 12 July 2019 the performance was released as a live album titled (New Order + Liam Gillick: So it goes.. (Live at MIF). The collaboration between Gillick and New Order was the subject of a documentary feature titled 'New Order: Decades', directed by Mike Christie and broadcast in the UK by Sky Arts and Showtime in the USA.
In August of 2019, New Order played the Lowlands festival along with Dermot Kennedy, Billie Eilish, Sharon Van Etten, IDLES, The National, Johnny Marr, Tamino, Franz Ferdinand, Marc Rebillet, and Tame Impala.

In January 2020, the band played a four-night residency in Florida, and in February 2020, they announced a co-headlining tour in North America with the Pet Shop Boys, and that the only concert in the UK in 2020 would be at The O2 on 10 October.

New Order have heavily influenced techno, rock, and pop musicians including Moby, and were themselves influenced by the likes of David Bowie and Neu!. They have also influenced electro, freestyle and house. They have also been labeled as synth-pop, post-punk, new wave, dance-rock and electronica.
Their discography includes 10 studio albums, 12 compilation albums, six live albums, five extended plays (EPs), 45 singles, 12 video releases, 40 music videos and a number of soundtrack appearances.
Hire New Order for your party or event!
New Order may be available for your next special event!
Book New Order, now!
For other great suggestions for booking music acts, look here.

For more suggestions, proceed to the next page.
Click here --
Alternative Music Roster or Electronica Music Roster
Or, click on one of the below links --
Music Menu
Fast Index
Entertainers Directory
Home