How To Book NEWSONG For Your Event!
NewSong may be available for your next special event!



After almost two decades in the studio, on the road and on stage, NewSong remains one of the most musically vibrant and evangelistically driven groups in Christian music today. Known for such classic songs as "Arise, My Love," "Miracles," and "Jesus To The World (Roaring Lambs)," the band has scored 17 #1 singles, six Gospel Music Association Dove Award nominations, numerous songwriting awards, and five of the Top 100 Christian radio singles of the past decade.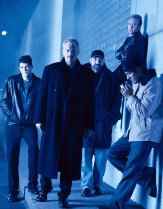 Few could have foreseen the widespread and poignant impact of their 2000 holiday hit, "The Christmas Shoes." The country's No. 1 song (topping Billboard's Jan. 6, 2001 Adult Contemporary Singles chart) brought tears to millions of listeners tuning into their local Christian and mainstream AC, pop and country radio stations. The success of that song led to the recording of their first Christmas album, 2001's hugely successful, "The Christmas Shoes."
The group that started out as a nine-man band singing in the members' Morningside Baptist Church in Valdosta, Georgia, gradually branched out to other churches. In 1981, four of the nine – Eddie Carswell, Billy Goodwin, Eddie Middleton and the late Bobby Apon – made the life-changing decision to pursue music and ministry full-time. "I don't think we ever thought we'd be doing this for 20 years," Goodwin comments on the group's longevity. "The commitment that we made was, 'God, we'll do this as long as Your hand is on it, as long as we see You working.' One of the joys in my walk has been learning that God is faithful even when things look impossible."
It was at a high school assembly, Goodwin says, when the four sensed the turning point. "In a real way, God sort of just showed up there," he recalls. "We just gave a concert and at the end, by a show of hands, virtually every student in the place had made a decision for Christ. We asked a coach if we could ask students to come forward, and suddenly there were 700 kids walking toward us. The whole community was changed. We knew it wasn't a question of 'if,' but rather 'when.'" The "when" came sooner than they thought, as the fledgling group resigned their jobs May 1, 1981, loaded up Goodwin's '73 Dodge Aspen station wagon and set out to carry the Gospel nationwide.
Years of experience have taught NewSong that being passionate about their calling requires them to be open to change, ready for growth. Perhaps the most obvious change in NewSong has been in the band itself. Not surprisingly, the past 20 years have brought several changes for the group. The current band is composed of five members, including founders Carswell and Goodwin. The transitions have given way to mentoring relationships as the veterans walk face to face with their younger counterparts. With a strong foundation beneath them, former NewSong members Russ Lee ('94-'99) and Charles Billingsley ('94) have moved on to successful solo careers and were replaced by Michael O'Brien (vocals, keyboards) and Steve Reischl (vocals, guitar, mandolin). Matt Butler (keyboards, violin, cello, vocals), the newest addition to the group, reflects on his NewSong experience: "I have grown a lot in the last year and in my walk with the Lord as I've watched these guys," he says. "I saw how the others live their lives as they're away from their wives and kids. I see the integrity. That's been the biggest influence on my life."
Always at the forefront, echo all five members, is the ministry of expressing their faith through the music. "One of the great things about NewSong is our diverse backgrounds and musical perspectives," says O'Brien. "Each member brings an individual style or component to what we do, and when it all comes together on stage, it's a wall of sound that seems to energize audiences."
Diversity and unity – and community building – keeps NewSong reaching new heights in music and ministry. "All these guys are such talented musicians. We're not really a band or a vocal group; we're a balance of both," Carswell says. "And it's exciting to see how God is still shaping and showing us what to do. Everything is working out according to God's time and His will."
Already firmly established as innovators in Christian music, NewSong wanted to broaden their sights and do something different with their touring ministry. The incredible growth of NewSong's "Jam" events is just one example of how the group has achieved that goal. What began as a couple of small multi-artist concerts has grown into one of the largest draws in Christian music. The "Winter Jam" and "Summer Jam" events are two of the industry's most exciting tours, having brought together a wide range of artists over the years, including Rebecca St. James, The Newsboys, Audio Adrenaline, Clay Crosse, and Big Tent Revival, among others, for an evening of music and ministry that reaches youth groups and families for a reasonable ticket price. To date, more than 12,000 individuals have made decisions for Christ through the "Jam" tours.
"It is our mission to open the doors wide to the community and remove the barrier of expensive tickets," says Carswell. "It's a risky endeavor, but God has been faithful and continues to meet our needs. We know this approach isn't right for every artist, but it is what God has called us to do."
NewSong has also continued to experience incredible response to their annual Winter and Summer "Xtreme Youth Conferences." An intensive two-day summit for youth, the conferences feature some of Christian music's top artists, including Jars of Clay, Steven Curtis Chapman and Point of Grace, as well as top youth speakers Josh McDowell and Dawson McAllister, among others.
But numbers don't tell the whole story. As rare as it may be, says Goodwin, the connection shared by the artists is a big factor in the success of these events. "Typically, in our line of work, everyone has his or her own ministry, and we tend to compare ourselves to others. But in working together at these 'Jam' events and 'Xtreme' Conferences, this Christian community becomes more connected. We have seen God do unbelievable things."
Another blessing accomplished through the ministry of NewSong is the sponsorship of thousands of children through their partnership with international relief organization World Vision. More than 22,000 children have been fed, clothed and given educational opportunities through NewSong's promotional efforts at each concert on behalf of World Vision.
Without ministry, without reaching out to touch the lives of others in word, in melody and in deed, NewSong believes music is meaningless. When the music carries the hope of the Gospel, there is no such thing as being too creative or too innovative in taking that message to the masses. After two decades, NewSong is reaching more people and making more of an impact than ever before.
Hit songs include --
The Christmas Shoes
When God Made You
Psalm 40
Life In My Day
Cherish
Rescue
One True God
The Same God
Other notable songs include --
Red Letter Day
Anything But You
Like Minded, Like Hearted
Rhythm of the World
Arise, My Love
My Heart's Already There
What Goes Around Comes Around
Got Me Going
Hope Changes Everything
NewSong may be available for your next special event!
Watch videos
YouTube

Genre: Gospel
Styles:
.CCM. / xCCM
.Christian Rock. / ChristianRock
.Inspirational. / xInspirational
.Contemporary Pop/Rock. / ContemporaryPopRock


Years active:
x80s, x90s, x00s, x10s, x20s
1981-present

Formed: ..in Georgia / formed nGeorgia
Formed: ..in Valdosta / formed ValdostaGA
Formed: in 1981

Based: ..in US
Based: ..in Georgia / based nGeorgia