How To Book NICK CARTER For Your Event!
Nick Carter may be available for your next special event!
(member of Backstreet Boys)



Hit songs include: "Help Me",
"Just One Kiss", "Kawaranu Omoi",
"Nothing's Gonna Change My Love For You",
"One More Time", "Love Can't Wait",
"I Got You".
How to Hire NICK CARTER For Your Event!
Popular requests:
BOOKING FEE (booking price, booking cost).
Nickolas Gene Carter (born January 28, 1980) is an American singer and a member of the vocal group, Backstreet Boys.
At 12 years old, Nick Carter auditioned for Disney's The Mickey Mouse Club and the Backstreet Boys. He was asked to join the group and was given the choice of either joining The Mickey Mouse Club with a $50,000 contract or this new music group. Carter chose to go with the group rather than the Mickey Mouse Club.
At 13 years old, Carter, AJ McLean, Brian Littrell, Howie Dorough, and Kevin Richardson formed the vocal group, the Backstreet Boys, on April 20, 1993. Carter is the youngest member. After he joined the group, he had his own personal tutor on tour.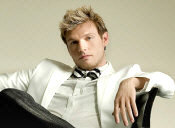 Hire Nick Carter for your festival or concert plans.
In January 2014, Nick Carter recorded a duet album with Jordan Knight from fellow boy band, New Kids on the Block. They both worked on a duet album and called their collaboration Nick & Knight, which debuted at #24 on the US Billboard 200 and #14 in Canada.
In 2013 or 2014, Carter received his GED, as shown on I Heart Nick Carter.
The Backstreet Boys have recorded several albums, beginning in the mid-1990s, the latest being 2019's DNA. In March 2016, the group announced that they would begin an exclusive headlining residency at Planet Hollywood in Las Vegas, called Backstreet Boys: Larger Than Life.
By October 14, 2022, their first-holiday album, A Very Backstreet Christmas, was released.
Nick Carter's musical style is a mix of pop, pop rock, R&B, and dance. He is known for his catchy melodies, his powerful vocals, and his energetic live performances.
Carter's early work with the Backstreet Boys was heavily influenced by pop and R&B music. Songs like "I Want It That Way," "Shape of My Heart," and "Everybody (Backstreet's Back)" showcase his ability to sing in a variety of styles. Carter's solo work has incorporated more rock and dance elements. His solo albums, Now or Never (2002) and I'm Taking Off (2011), feature songs like "Help Me," "Do I Have to Cry for You," and "I Got You."
Carter's music is often described as uplifting, inspiring, and romantic. He writes songs about love, relationships, and overcoming challenges. Nick Carter is also known for his commitment to using his music to make a difference in the world. He has supported a variety of charities and causes, including the United Nations Children's Fund (UNICEF) and the American Red Cross.
His discography includes three studio albums, one compilation album, eight singles (including one as a featured artist) and four music videos.
Hire Nick Carter for your party or event!
Nick Carter may be available for your next special event!
Book Nick Carter, now!
For other great suggestions for booking music acts, look here.
Listen to music:
YouTube Music | Spotify

For more suggestions, proceed to the next page.
Click here --
Rock Music Roster
Or, click on one of the below links --
Music Menu
Fast Index
Entertainers Directory
Home