How To Book NICKELBACK For Your Event!
Nickelback may be available for your next special event!



Nickelback is a phenomenally successful touring band whose tours have grossed in excess of $100 million and has sold more than 50 million albums worldwide.

Hits include: "Figured You Out",
"How You Remind Me", "Photograph",
"If Everyone Cared", "Gotta Be Somebody",
"Rockstar", "Savin' Me", "Someday",
"Far Away", "Something In Your Mouth",
"Too Bad", "If Today Was Your Last Day",
"Never Gonna Be Alone", "She Keeps Me Up",
"When We Stand Together", "Because Of You",
"Side Of A Bullet", "Leader Of Men", "Breathe",
"Bottoms Up", "What Are You Waiting For?",
"Feelin' Way Too Damn Good", "Animals",
"Edge Of A Revolution", "This Afternoon",
"I'd Come For You", "This Means War",
"Old Enough", "Shakin' Hands", "Lullaby",
"Never Again", "Burn It To The Ground".
Nickelback is a Canadian rock band formed in 1995 in Hanna, Alberta.
It is composed of guitarist and lead vocalist Chad Kroeger, guitarist, keyboardist and backing vocalist Ryan Peake, bassist Mike Kroeger, and drummer Daniel Adair. It went through several drummer changes between 1995 and 2005, achieving its current lineup when Adair replaced Ryan Vikedal.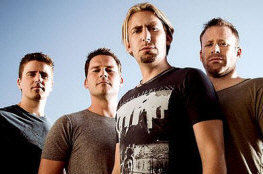 Nickelback is one of the most commercially successful Canadian rock bands, having sold more than 50 million albums worldwide. In 2009, Billboard ranked it the most successful rock group of that decade; "How You Remind Me" was the best-selling rock song and the fourth-best overall. The band ranked at No. 7 on the Billboard top artist of the decade list, with four albums among the publication's top albums of the decade.

Nickelback has been described as various genres, including post-grunge, hard rock, pop rock, alternative rock, heavy metal, alternative metal, and nu metal. Their earlier sound has been classified as grunge.

Nickelback have cited bands and musicians such as Creedence Clearwater Revival, Bob Marley, Metallica, Nirvana, Red Hot Chili Peppers, and U2 as influential or inspirational.
Hire Nickelback for your party or event!
Nickelback may be available for your next special event!
Book Nickelback, now!
For other great suggestions for booking music acts,
look here.
Watch videos
YouTube

For more suggestions, proceed to the next page.
Click here --
Alternative Music Roster or Metal Music Roster
Or, click on one of the below links --
Music Menu
Fast Index
Entertainers Directory
Home