How To Book NICKELBACK For Your Event!
Nickelback may be available for your next special event!





Hits include: "Figured You Out",
"How You Remind Me", "Photograph",
"If Everyone Cared", "Gotta Be Somebody",
"Rockstar", "Savin' Me", "Someday",
"Far Away", "Something In Your Mouth",
"Too Bad", "If Today Was Your Last Day",
"Never Gonna Be Alone", "She Keeps Me Up",
"When We Stand Together", "Because Of You",
"Side Of A Bullet", "Leader Of Men", "Breathe",
"Bottoms Up", "What Are You Waiting For?",
"Feelin' Way Too Damn Good", "Animals",
"Edge Of A Revolution", "This Afternoon",
"I'd Come For You", "This Means War",
"Old Enough", "Shakin' Hands", "Lullaby",
"Never Again", "Burn It To The Ground"
"I'd Come for You", "Never Gonna Be Alone",
"Shakin' Hands", "This Afternoon",
"Bottoms Up", "This Means War", "Lullaby",
"What Are You Waiting For?", "San Quentin"
"Million Miles an Hour", "She Keeps Me Up",
"Feed the Machine", "Must Be Nice".
How to Hire NICKELBACK For Your Event!
Popular requests:
BOOKING FEE (booking price, booking cost).
Nickelback is a Canadian rock band formed in 1995 in Hanna, Alberta.
Nickelback is a phenomenally successful touring band whose tours have grossed in excess of $100 million and has sold more than 50 million albums worldwide.
It is composed of guitarist and lead vocalist Chad Kroeger, guitarist, keyboardist and backing vocalist Ryan Peake, bassist Mike Kroeger, and drummer Daniel Adair. It went through several drummer changes between 1995 and 2005, achieving its current lineup when Adair replaced Ryan Vikedal.
Nickelback is one of the most commercially successful Canadian rock bands. In 2009, Billboard ranked it the most successful rock group of that decade; "How You Remind Me" was the best-selling rock song and the fourth-best overall. The band ranked at No. 7 on the Billboard top artist of the decade list, with four albums among the publication's top albums of the decade.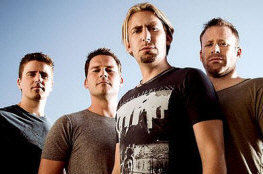 Hire Nickelback for your festival or concert plans!
In January 2005, drummer Ryan Vikedal was replaced by 3 Doors Down's drummer Daniel Adair. Nickelback promptly went into the studio with their new drummer from January through May 2005. The sessions resulted in their fifth studio album, All the Right Reasons which was released on October 3, 2005. It peaked at number one on the Billboard 200 with 323,350 copies in its first week in the United States, as well as producing five U.S. Hot 100 top 20 singles: "Photograph", "Savin' Me", "Far Away", "If Everyone Cared" and "Rockstar". Three of these became U.S. Hot 100 top 10 singles. It included appearances by Billy Gibbons of ZZ Top, who played a guitar solo on the song "Follow You Home" and sang backing vocals on "Rock Star".
The band spent much of 2006 and 2007 touring. In the fall of 2006, the band opened for Bon Jovi on the European leg of the Have a Nice Day Tour. Over 2 million fans attended Nickelback's shows during those two years.
On November 26, 2008, the band announced the tour for the support of the album, Dark Horse. Live Nation produced the tour and the band kicked off in Nashville, Tennessee, with Seether, and Saving Abel as their opening acts. The band then announced that they were about to tour in the UK with Black Stone Cherry as their opening act. The band then announced the second leg of the tour of North America with the opening acts being Hinder, Papa Roach, and once again, Saving Abel.
The band then went on tour around Australia and New Zealand with Sick Puppies as their supporting act. For the second leg of the Europe tour, the band played with their opening act Daughtry. The third leg of the North America tour kicked off with Breaking Benjamin, Sick Puppies and Shinedown opening up for the band. The band concluded their tour with the fourth leg in North America which included Buckcherry and Three Days Grace. The tour was very successful and the band sold more than 1.6 million tickets with 146 shows.
The No Fixed Address Tour was their fifth headlining concert tour, in support of No Fixed Address. The tour was announced on November 5, 2014, as well as The Pretty Reckless, Pop Evil, and Lifehouse as the support act for the majority of the shows in North American while Monster Truck was a support act in Australia and Europe (2016).
On August 19, 2016, Nickelback released a cover of Don Henley's song "Dirty Laundry" to streaming services.
On January 25, Nickelback signed with BMG Rights Management to release their ninth album, also titled Feed the Machine. The album was released on June 16, 2017. The band released their second single from the album, "Song on Fire", on April 28, 2017. Shortly after the release of the album, the band began a 44-city tour on June 23, 2017, in North America, co-headlined with Daughtry, Shaman's Harvest and Cheap Trick as supporting acts.
Nickelback has been described as various genres, including post-grunge, hard rock, pop rock, alternative rock, heavy metal, alternative metal, and nu metal. Their earlier sound has been classified as grunge.
Nickelback have cited bands and musicians such as Creedence Clearwater Revival, Bob Marley, Metallica, Nirvana, Red Hot Chili Peppers, and U2 as influential or inspirational. Various fellow musicians, like Chris Martin of Coldplay as well as producer Timbaland and singer Keyshia Cole, have publicly shown support for the band.
Nickelback's discography includes 10 studio albums, two compilation albums, one extended play (EP), 44 singles, five video albums and 32 music videos.
Hire Nickelback for your party or event!
Nickelback may be available for your next special event!
Book Nickelback, now!
For other great suggestions for booking music acts, look here.

For more suggestions, proceed to the next page.
Click here --
Alternative Music Roster or Metal Music Roster
Or, click on one of the below links --
Music Menu
Fast Index
Entertainers Directory
Home