How To Book Entertainment For Your Event
Nickelback may be available for your next special event!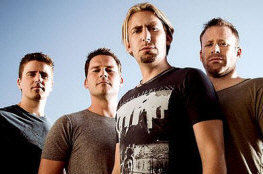 Nickelback is a phenomenally successful touring band whose tours have grossed in excess of $100 million and has sold more than 30 million albums worldwide.

Hits include: "Figured You Out",
"Gotta Be Somebody", "How You Remind Me",
"If Everyone Cared", "Photograph",
"Rockstar", "Savin' Me", "Someday",
"Far Away", "Something In Your Mouth",
"Too Bad", "If Today Was Your Last Day",
"Never Gonna Be Alone", "She Keeps Me Up",
"When We Stand Together", "Because Of You",
"Side Of A Bullet", "Leader Of Men", "Breathe",
"Bottoms Up", "What Are You Waiting For?",
"Feelin' Way Too Damn Good", "Animals",
"Edge Of A Revolution", "This Afternoon",
"I'd Come For You", "This Means War",
"Old Enough", "Shakin' Hands", "Lullaby",
"Never Again", "Burn It To The Ground".

Booking Nickelback:
Serious requests only.
For more suggestions, proceed to the next page.
Click here --
Alternative Music Roster or Metal Music Roster
Or, click on one of the below links --
Music Menu
Fast Index
Entertainers Directory
Home