How To Book NINA STOREY For Your Event!
Nina Storey may be available for your next special event!



Nina Storey released her first CD "Guilt and Honey" in 1993. This record reflected her growing talents as a singer/songwriter, combining acoustic rock, folk and blues. She began touring extensively throughout Colorado eventually branching out to other parts of the country. By the winter of 1994, Nina (ny'-nah) had toured Europe twice.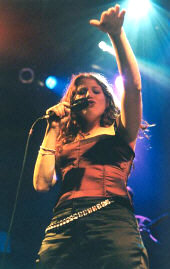 On her own independent label, Red Lady Records, she released the live CD "Bootleg." This second record showcased Nina's overwhelming ability to perform live and reflected her maturing musical style incorporating blues, funk, alternative rock and jazz.
Nina Storey then began to open for many nationally acclaimed artists such as Etta James, Earth, Wind and Fire, Keb' Mo', The Allman Brothers, Buddy Miles, Los Lobos, Joan Osborne and John Lee Hooker.
In the beginning of 1997, Nina Storey sang back-up vocals with INXS for VH1. She then released the CD "Shades" and since its release she has performed in major festivals around the country including Lilith Fair '97, Woodstock '99, Santa Cruz Blues Festival, Montreal International Jazz Festival, and The New Orleans Jazz Festival, where she was selected as one of the ten best acts of the festival.
Nina Storey has also sung the National Anthem for many sports teams across the country including the Chicago Bulls, the Colorado Avalanche and the Denver Broncos including Monday Night Football and the AFC Championship game. She also performed for an audience of 250,000 during the Super Bowl Celebration.
In the winter of 1999 Nina Storey completed a five-city tour with Jonny Lang where she was very well received. She was then featured on CNN "Showbiz Today," MTV "Online" and "Rolling Stone Online." Two of Colorado's largest publications, The Westword and 5280 also awarded Nina as the top vocalist in the state. 5280 featured her on their cover in June of 1999.
"Shades" was re-released nationally in February 2000 with distribution through Navarre and since has received extensive radio airplay throughout the country and rave reviews in magazines such as People, Billboard, Performing Songwriter, Music Connection and Totally Adult.
Nina's presence on the stage and on record is truly unforgettable. Her powerful, yet sultry vocals have been compared to Janis Joplin, Chaka Khan, Tori Amos and Billie Holiday. Yet Nina's eclectic soulful style is one that identifies her as a genuine talent like no other.
Nina Storey has toured and played with artists such as Jonny Lang, Joan Osborne, Meredith Brooks, Etta James, Keb' Mo', Robert Cray, Sarah McLachlan, Junior Wells, INXS, The Young Dubliners and many more!
Available as a solo (keyboard) or with her band. There are two band configurations – a 4 piece that includes Nina on keys, and a 7 piece with background singers.
What others say --
People Magazine
"With a voice like hers, pyrotechnics are redundant."

Denver Post
"...Soulful sparkplug Nina Storey might well be called LA NIÑA …can stir up a storm when she belts out her self-penned soul-funk tunes. She's starting to build an out-of-state audience and her album, "Shades" (on Colorado label Red Lady Records), shows she has what it takes to become a national story."

Performing Songwriter
"Formal training and theory aside, songwriting is at heart a mysterious process that's probably driven by as many different creative impulses as there are composers. In the case of Nina Storey, the desire to write songs was a natural outgrowth of her extraordinary gifts as a vocalist."

Santa Cruz Sentinel
"With a voice of fire and quicksilver, Nina Storey is preparing to announce her arrival."

Monterey County Herald
"The last time she played on the West Coast I described her as 'packing gale-force winds,' now I have to upgrade that storm warning to a level-t hurricane. She puts so much energy, verve and soul into her shows that she can barely whisper when greeting well-wishers after a performance …if there's any justice in the world, she should become a huge star."
Notable songs include -- .
No Man
Dangerous
Left
Coffee and Margaritas
Wanderer
Desperate Eyes
Just Surviving
30 Miles Down the Road
Lonely One
Aggravation
Disease of Suggestion
Nina Storey may be available for your next special event!
Watch videos:
YouTube

Genre: Rock 1
Genre: Blues
Styles:
.Folk-Rock. / FolkRock
.Singer/Songwriter. / SingerSongwriter
.Blues-Rock. / BluesRock
.Vocal Jazz. / VocalJazz
.Torch Songs. / TorchSongs


Years active:
x90s, x00s, x10s, x20s

Born: ..in Colorado / born nColorado
Born: ..in Denver / born DenverCO

Based: ..in US
Based: ..in Colorado / based nColorado
Based: ..in Boulder / based BoulderCO