How To Book NINE INCH NAILS For Your Event!
Nine Inch Nails may be available for your next special event!




Hits include: "Down In It", "Hurt",
"Head Like a Hole", "The Perfect Drug",
"The Day The World Went Away",
"The Hand That Feeds", "Only", "Sin",
"Discipline", "March of the Pigs",
"Into The Void", "We're in This Together",
"Piggy", "Every Day Is Exactly The Same",
"Happiness in Slavery", "Wish", "Deep",
"Capital G", "Came Back Haunted",
"Less Than", "Closer", "Survivalism".
How to Hire NINE INCH NAILS For Your Event!
Popular requests:
BOOKING FEE (booking price, booking cost).
GRAMMY AWARD winning Nine Inch Nails, commonly abbreviated as NIN and stylized as NIИ, is an American industrial rock band formed in Cleveland in 1988.
It isn't really accurate to call Nine Inch Nails a group. The only official member is singer/producer/multi-instrumentalist Trent Reznor, who always remained solely responsible for NIN's musical direction. He was supported in concert by a regular backing band. Singer, songwriter, multi-instrumentalist, and producer Trent Reznor was the only permanent member of the band until his frequent collaborator, Atticus Ross, joined in 2016.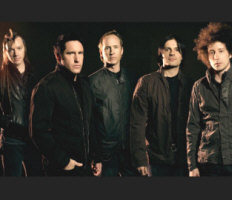 Hire Nine Inch Nails for your festival or concert plans!
"Pretty Hate Machine" gave a comatose rock scene some much-needed electro-shock therapy and Nine Inch Nails' imprint on the genre remains unmatchable. By popularizing electronic music, Nine Inch Nails auteur Trent Reznor rewired the mainstream, inspiring TIME magazine to name him "One of the Most Influential People in America," and SPIN to praise him as "The Most Vital Artist in Music Today."
When touring, Reznor typically assembles a live band to perform with him under the Nine Inch Nails name. This live band has varied over the decades, with various members leaving and returning. The band's concerts are noted for their extensive use of thematic visual elements, complex special effects, and elaborate lighting. Songs are often rearranged to fit any given performance, and melodies or lyrics of songs that are not scheduled to be performed are sometimes assimilated into other songs.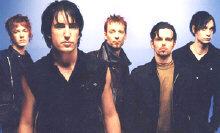 Hire Nine Inch Nails for your very special event or occasion!
In 1991, Nine Inch Nails played the first Lollapalooza with others including Jane's Addiction, Siouxsie and the Banshees, Living Colour, Ice-T & Body Count, Violent Femmes, and Fishbone. Early ideas for The Downward Spiral arose after the Lollapalooza 1991 festival's concerts ended in September. Reznor elaborated the album's themes into lyrics.
In 1994, after the release of, The Downward Spiral's, they performed at Woodstock 94 along with Joe Cocker, Blind Melon, Cypress Hill, Rollins Band, Melissa Etheridge, Crosby, Stills, & Nash featuring John Sebastian, Metallica, and Aerosmith. Enjoying mainstream success thereafter, Nine Inch Nails then performed amid greater production values, adding theatrical visual elements. Supporting acts on tour included The Jim Rose Circus and Marilyn Manson.



Hire Nine Inch Nails!
In 1997, Trent Reznor appeared in Time magazine's list of the year's most influential people, and Spin described him as "the most vital artist in music". The Recording Industry Association of America certified sales for 10.5 million units of the band's albums in the United States, which accounted for roughly half of the band's reported sales worldwide at that time. Time magazine named Reznor one of its most influential people in 1997, while Spin magazine has described him as "the most vital artist in music".
In 2003, Rolling Stone magazine placed The Downward Spiral at No. 200 in a 2003 list of The 500 Greatest Albums of All Time, and by the following year ranked Nine Inch Nails at No. 94 in their The 100 Greatest Artists of All Time list.
In 2004, Rolling Stone placed Nine Inch Nails at No. 94 on its list of the 100 greatest artists of all time. Nine Inch Nails were nominated for induction into the Rock and Roll Hall of Fame in 2014, their first year of eligibility, with nominations coming again in 2015 and 2020 (the latter resulting in an induction).
Nine Inch Nails' earliest influence was the punk rock band, The Clash. Reznor stated that he started out trying to directly imitate them, only to abandon that direction due to his lack of a political message. Other early influences include Ministry and Skinny Puppy, which helped shape 1989's Pretty Hate Machine. The album's liner notes also paid tribute to Public Enemy and Prince.
Another large influence on the band's sound is Gary Numan, which is evident as Reznor once said that "after hearing 'Cars' I knew I wanted to make music with synthesizers". The 2005 single "Only" exemplifies the disco-style beats and synthesizers drawn from Numan's persuasion. Other artists of significance to Nine Inch Nails include acts such as Depeche Mode, Queen, King Crimson, Devo, The Cure, Joy Division, U2, Bauhaus, Adam Ant, Coil, and Soft Cell.
Guns N' Roses singer Axl Rose was influenced heavily by Nine Inch Nails in changing his band's sound to an industrial style in the mid-90's. Bob Ezrin, producer for Pink Floyd, Kiss, Alice Cooper, and Peter Gabriel, described Reznor in 2007 as a "true visionary" and advised aspiring artists to take note of his no-compromise attitude. Nine Inch Nails has been credited by music journalists for popularizing industrial music, despite ambivalence from Reznor.
Nine Inch Nails have sold more than 20 million records and been nominated for 13 Grammy Awards, winning for the songs "Wish" in 1992 and "Happiness in Slavery" in 1996.
Their discography includes 11 studio albums, one live album, three remix albums, two compilation albums, six extended plays, 20 singles, 10 promotional singles, four video albums and 31 music videos.
Hire Nine Inch Nails for your party or event!
Nine Inch Nails may be available for your next special event!
Book Nine Inch Nails, now!
For other great suggestions for booking music acts, look here.

Genre: Rock 2
Genre: Rock 3
Styles:
.Industrial. / xIndustrial
.Alternative Pop/Rock. / AlternativePopRock
.Alternative Metal. / AlternativeMetal
.Industrial Metal. / IndustrialMetal
.Industrial Rock. / IndustrialRock
.Dance-Rock. / DanceRock
.Alternative/Indie Rock. / AlternativeIndieRock


Years active:
x80s, x90s, x00s, x10s, x20s
1988-present

Band --
Formed: ..in Ohio / formed nOhio
Formed: ..in Cleveland / formed ClevelandOH
Formed: in 1989

Michael Trent Reznor --
Born: ..in Pennsylvania / born nPennsylvania
Born: ..in Mercer / born MercerPA
Born: May 17, 1965

Based: ..in US