How To Book the NITTY GRITTY DIRT BAND For Your Event!
Nitty Gritty Dirt Band may be available for your next special event!



How to Hire NITTY GRITTY DIRT BAND For Your Event!
Popular requests:
BOOKING FEE (booking price, booking cost).
Grammy Award winning The Nitty Gritty Dirt Band is an American country rock band formed in 1966. The group has existed in various forms since its founding in Long Beach, California. Between 1976 and 1981, the band performed and recorded as the Dirt Band.
The Nitty Gritty Dirt Band has lasted longer than virtually any other country-based rock group of their era. Younger contemporaries of the Byrds, they played an almost equally important role in the transformation from folk-rock into country-rock, and were an influence on such bands as the Eagles and Alabama.
The Nitty Gritty Dirt Band's beginnings lay with the New Coast Two, a folk duo consisting of Jeff Hanna (guitar, vocals) and Bruce Kunkel (guitar, washtub bass), formed while both were in high school in the early '60s. By the time the two were college students, they were having informal jams at a Santa Monica, California, guitar shop called McCabe's. It was there that they met Ralph Barr (guitar, washtub bass), Les Thompson (vocals, mandolin, bass, guitar, banjo, percussion), Jimmie Fadden (harmonica, vocals, drums, percussion), and Jackson Browne (guitar, vocals).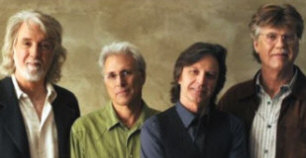 Hire Nitty Gritty Dirt Band for your festival or concert plans.
This lineup became the Nitty Gritty Dirt Band in late 1965, and began playing jug band music at local clubs. At that time, Southern California was undergoing a musical renaissance, courtesy of the folk-rock movement and the Nitty Gritty Dirt Band fit in with these other folkies-turned-rockers. Browne left after a few months to pursue a solo career, and was replaced by John McEuen (banjo, fiddle, mandolin, steel guitar, vocals), the younger brother of the group's new manager, Bill McEuen. With Bill McEuen's guidance, the group landed a recording contract with Liberty Records and released their debut album, "The Nitty Gritty Dirt Band", in April of 1967. Their first single, "Buy for Me the Rain," became a modest hit and got the band some television appearances.
By mid-1968, the group had gone electric, and also added drums to their sound. Their album, "All The Good Times", released in early 1972, had an even more countrified feel.
By 1972, several rock bands, most notably the Byrds and the Beau Brummels, had gone to Nashville seeking credibility from the country music community there, only to be received poorly by that community and to have their resulting work ignored by the press and public. At the suggestion of manager Bill McEuen, however, the Nitty Gritty Dirt Band went to Nashville in 1972 and recorded a selection of traditional country numbers with the likes of Roy Acuff, Earl Scruggs, Mother Maybelle Carter, and other members of country and bluegrass music's veteran elite. Some of the veteran Nashville stars were skeptical and suspicious at first of the bandmembers and their amplified instruments, but the ice was broken when they saw how respectful the band was toward them and their work, and their music, as well as how serious they were about their own music.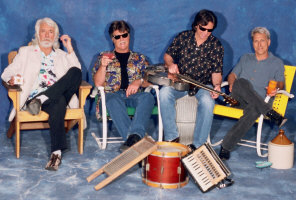 Hire Nitty Gritty Dirt Band for your special event or occasion.
The resulting triple album, "Will the Circle Be Unbroken", released in January of 1973, became a million-seller and elicited positive reviews from both the rock and country music press. The band had, by now, eclipsed the competition as a "crossover" act, reaching country and bluegrass audiences even as their rock listeners acquired a new appreciation for musicians such as Acuff and Carter. The Nitty Gritty Dirt Band succeeded with "Will the Circle Be Unbroken" because they were willing to meet country and bluegrass music on the terms of those two branches of traditional music, rather than as rock musicians.
During July 1974, the band was among the headline acts at the Ozark Music Festival at the Missouri State Fairgrounds in Sedalia, Missouri. Some estimates put the crowd at 350,000 people, which would make this one of the largest music events in history. At another concert, the band opened for the rock band Aerosmith.
Following one more original album, "Dream" (1975), the group received its first retrospective treatment, a triple-LP compilation entitled "Dirt, Silver & Gold", issued late in 1976. Jim Ibbotson left the lineup at around this time, and was replaced initially by session player Bob Carpenter. The remaining trio of Jeff Hanna, John McEuen, and Jimmie Fadden shortened the band's official name to the Dirt Band. In this incarnation, the group became a much more mainstream, pop/rock outfit with a smoother sound, with Jeff Hanna guiding them as producer.
Their records were far less eccentric, although they continued to be popular. The band's next albums were decidedly more laid-back than previous records, and didn't attract nearly as much attention. "An American Dream", released in 1980, did relatively well, as did "Make a Little Magic" (1981). By 1982, however, they were back to their country roots. "Let's Go", released in the middle of 1983, heralded their return to country music, as a largely acoustic band. In 1984, after 17 years with Liberty/UA/Capitol, they switched labels to Warner Bros., and that same year made some headlines as the first American rock band to tour the Soviet Union.
During 1989, Nitty Gritty Dirt Band again returned to Nashville, to record Will the Circle Be Unbroken: Volume Two. Returnees from the first Circle included Earl Scruggs, Vassar Clements, and Roy Acuff. Johnny Cash and the Carter Family, Emmylou Harris, and Ricky Skaggs joined the sessions, as did John Prine, Levon Helm, John Denver, John Hiatt, Bruce Hornsby, and former Byrds Roger McGuinn and Chris Hillman. This album won two Grammy Awards and was named Album of the Year at the Country Music Association Awards for Best Country Vocal Performance (duo or group) and the Country Music Association's Album of the Year Award in 1989.
In 1989, both as a reflection of the changing times, and as though to make sure that everyone got the point that the band was once again mining its country roots, they made "Will the Circle Be Unbroken, Vol. 2" for MCA/Universal Records, reuniting with surviving country and bluegrass veterans from the original album and adding a whole roster of new players, including Johnny Cash, Chris Hillman, and Ricky Skaggs. This album won the Grammy for Best Country Vocal Performance (duo or group) and the Country Music Association's Album of the Year Award in 1989.
By this time, the Dirt Band was working in their field alongside any number of country/bluegrass crossover artists whose career paths were made easier by that first record, including John Hiatt, Mary Chapin Carpenter, and Rosanne Cash. Their next several albums saw them never veering very far from their country/bluegrass roots. The group continued to record a new album every year or so, including a concert album, "Live Two Five", celebrating their 25th anniversary as a band, and the self-explanatory "Acoustic". In 1999, they returned with "Bang Bang Bang". It was followed by the third installment of the "Will the Circle Be Unbroken" trilogy in 2002 and an album of all new material, "Welcome to Woody Creek", in 2004.
In May 2022, the band released a compilation of Bob Dylan covers, Dirt Does Dylan.
Hit songs include --
Fishin' In The Dark
Long Hard Road (The Sharecropper's Dream)
Modern Day Romance
Baby's Got a Hold on Me
High Horse
I've Been Lookin'
Home Again In My Heart
I Love Only You
Workin' Man (Nowhere to Go)
Oh What a Love
Stand a Little Rain
Down That Road Tonight
Partners, Brothers and Friends
Fire in the Sky
Dance Little Jean
Mr. Bojangles
When It's Gone
An American Dream
Shot Full Of Love
Make A Little Magic
Hire Nitty Gritty Dirt Band for your party or event!
Nitty Gritty Dirt Band may be available for your next special event!
Book Nitty Gritty Dirt Band, now!
For other great suggestions for booking music acts, look here.

Genre: Country
Styles:
.Country-Rock. / CountryRock
.Southern Rock. / SouthernRock
.Americana. / xAmericana
.Progressive Country. / ProgressiveCountry
.Progressive Bluegrass. / ProgressiveBluegrass
.Pop/Rock. / PopRock
.New Acoustic. / NewAcoustic


Years active:
x60s, x70s, x80s, x90s, x00s, x10s, x20s
1966-present

Formed: ..in California / formed nCalifornia
Formed: ..in Long Beach / formed LongBeachCA
Formed: in 1965

Based: ..in US