Visit new page >>>
NOFX
How To Book NOFX For Your Event!
NOFX may be available for your next special event!



Hits include: "Bottles to the Ground".
How to Hire NOFX For Your Event!
Popular requests:
BOOKING FEE (booking price, booking cost).
NOFX is an American punk rock band formed in Los Angeles, California, in 1983.
Vocalist/bassist Fat Mike, guitarist Eric Melvin and drummer Erik Sandin are original founding and longest-serving members of the band, who have appeared on every release of the band, although Sandin departed briefly in 1985, only to rejoin the following year. El Hefe joined the band in 1991 to play lead guitar and trumpet, rounding out the current line-up.
The band's sound is diverse, utilizing elements of punk rock, skate punk, melodic hardcore, ska punk, and other music genres. Some of their songs focus on, or reference, topics such as left-wing politics and anarchy, society, racism, xenophobia, sexism, sexuality, misogyny, homophobia and homosexuality, class inequalities, the use of drugs and alcohol, the media and popular culture, religion and schadenfreude, often represented in a humorous manner.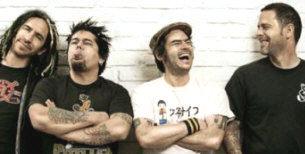 Hire NOFX for your festival or concert plans!
In 1988, NOFX recorded their debut studio album Liberal Animation with Brett Gurewitz of Bad Religion. Although the title and some of the album's lyrics mocked vegetarianism and animal rights, Fat Mike says that he became a vegetarian after writing the Liberal Animation album. The album was re-released in 1991 on Gurewitz's label Epitaph Records. Casillas left the band shortly after the recording of Liberal Animation and was replaced by Steve Kidwiler. The band released its second studio album, S&M Airlines, through Epitaph in 1989.
NOFX's mainstream success coincided with increased interest in punk rock during the 1990s, though, unlike many of their contemporaries (including Bad Religion, Green Day and The Offspring), they have never been signed to a major label. NOFX has released fourteen studio albums, sixteen extended plays and a number of seven-inch singles.
The band rose to popularity with their fifth studio album, Punk in Drublic (1994), which is their only release to receive gold certification by the RIAA.
In a January 2011 interview with The Daily Times, Fat Mike revealed that a new NOFX album was in production, saying "There are some really good songs on Coaster, but after having written 300 songs, I feel lucky I came up with them. That's why there are songs on there about Iron Maiden and Tegan and Sara. I'm reaching, man. Sometimes I grab stuff just to grab stuff, and I'm going in a lot of different directions."
In March 2018, NOFX released a new single "There's No 'Too Soon' if Time Is Relative", in tribute to physicist Stephen Hawking, who had died days earlier. The track had been recorded a month prior to its release. Several days later, they announced the first annual Camp Punk in Drublic Festival in Legend Valley in Thornville, Ohio. The three-day event was to feature NOFX alongside Rancid, Pennywise, the Mighty Mighty Bosstones and Me First and the Gimme Gimmes.
On February 26, 2021, their studio album, Single Album, was released.
The group has sold more than eight million records worldwide, making them one of the most successful independent bands of all time.
The band cites its influences as Bad Religion, Rich Kids on LSD, D.I., SNFU, Operation Ivy, The Dickies, Descendents, Circle Jerks, Dead Milkmen, Ramones, Sex Pistols, Adrenalin O.D., Minor Threat, Germs, Suicidal Tendencies, Black Flag, Dead Kennedys, The Adolescents, Misfits, and Subhumans.
Their discography includes 14 studio full lengths, 17 EPs, and many 7" singles.
Hire NOFX for your party or event!
NOFX may be available for your next special event!
Book NOFX, now!
For other great suggestions for booking music acts, look here.

For more suggestions, proceed to the next page.
Click here --
Alternative Music Roster
Or, click on one of the below links --
Music Menu
Fast Index
Entertainers Directory
Home