Visit new page >>>
NONPOINT
How To Book NONPOINT For Your Event!
Nonpoint may be available for your next special event!



Hits include: "Breaking Skin",
"Bullet With A Name", "The Truth",
"What A Day", "March Of War",
"In The Air Tonight", "Heartless",
"Your Signs", "Generation Idiot",
"Alive And Kicking", "That Day",
"Left For You", "Ruthless", "Miracle",
"Chaos and Earthquakes".
How to Hire NONPOINT For Your Event!
Popular requests:
BOOKING FEE (booking price, booking cost).
Nonpoint is an American rock band from Fort Lauderdale, Florida.
Nonpoint was formed January 30, 1997, emerging from the popular burgeoning South Florida metal scene of the mid-to-late 1990s by drummer Robb Rivera and vocalist Elias Soriano. The name Nonpoint came from a Believer song named "Nonpoint." Soriano recalls: "I dug the name so I started using it around that time. It has no real meaning to us. It has something to do with pollution, but to us it just sounded cool."
The band self-released their first album, Separate Yourself, in late 1997. The band's first commercially released album, Struggle, was released on May 18, 1999, on the now-defunct Jugular Records.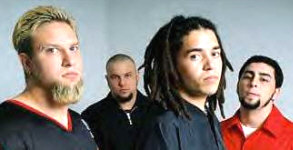 Hire Nonpoint for your festival or concert plans!
Nonpoint have been described as groove metal, hard rock, heavy metal, rap metal, nu metal, and alternative metal. When asked if he viewed Nonpoint as a metal band or a rock band, vocalist Elias Soriano stated "Both, I think. A heavy rock band. Yeah, we're definitely both. We don't try to pigeonhole ourselves."
Originally playing an aggressive style, Nonpoint moved to more melodic sounds with their 2002 album, Development, due to pressure from their record label MCA. The 2004 album, Recoil, marked a return to the band's heavier roots.
In a 2000 interview, Soriano reflected on the band's musical influences, stating "We all have a lot of separate influences. My drummer comes from a more metal/hardcore background. My bass player is from the straight edge hardcore, Earth Crisis, Hatebreed, stuff like that. My guitar player is really into Stevie Ray Vaughan and blues and a lot of industrial stuff, like Nine Inch Nails. Me personally, I grew up on a lot of R&B, a lot of rap. I'm into that smooth, soulful sound."
Hire Nonpoint for your party or event!
Nonpoint may be available for your next special event!
Book Nonpoint, now!
For other great suggestions for booking music acts, look here.
Listen to music:
YouTube Music | Spotify

For more suggestions, proceed to the next page.
Click here --
Metal Music Roster
Or, click on one of the below links --
Music Menu
Fast Index
Entertainers Directory
Home