How To Book THE OFFSPRING For Your Event!
The Offspring may be available for your next special event!


Hits include: "Come Out and Play",
"Gone Away", "Smash It Up",
"Original Prankster", "All I Want",
"Pretty Fly (For a White Guy)",
"Self-Esteem", "Hammerhead",
"Why Don't You Get A Job?",
"I Choose", "Gotta Get Away",
"(Can't Get My) Head Around You",
"You're Gonna Go Far, Kid",
"The Kids Aren't Alright", "Defy You",
"Can't Repeat", "Want You Bad",
"She's Got Issues", "Totalimmortal",
"Kick Him While He's Down",
"The Meaning of Life", "Hit That",
"Million Miles Away", "Hit That",
"Spare Me the Details",
"Next to You", "Half Truism",
"Kristy, Are You Doing Okay?"
"Days Go By", "Turning Into You",
"Crusing California (Bumpin in My Trunk)",
"Coming For You", "Behind Your Walls"
"Christmas (Baby Please Come Home)",
"Let the Bad Times Roll".
The Offspring is an American rock band from Garden Grove, California, formed in 1984.

They have sold more than 40 million records worldwide, making them one of the best-selling punk rock bands in history.

The Offspring has been labeled under multiple genres, such as punk rock, melodic hardcore, pop punk, skate punk, and alternative rock. A signature style of the Offspring are their chorused "whoas", "heys", or "yeahs".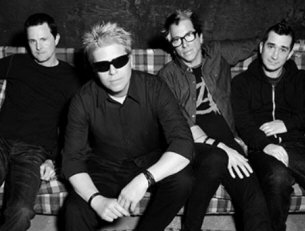 The Offspring's influences include The Dickies, the Sex Pistols, the Misfits, T.S.O.L., Agent Orange, the Adolescents, the Ramones, The Clash, the Dead Kennedys and Suicidal Tendencies
Long before there was The OC, The Warped Tour or even X Games, there was The Offspring, formed by a pair of Orange County high school buddies back in '84 following a show in Irvine by local legends Social Distortion.
After two decades, six albums and 32 million records sold, those two pals, vocalist/guitarist Dexter Holland and bassist Greg K, along with fellow classmate (and school custodian) guitarist Noodles, are still delivering.
"The great thing about being in a band is you're always learning something new," says Dexter.
"We always try to throw in some new sounds or mix things up a little bit," said Greg K. "And then there are the more straightforward, traditional rock and punk songs."
Having sold more than 32 million albums worldwide, one would wonder what continues to drive The Offspring.
After two decades as a punk-rock band that has done things its way, even as it was among the first indie groups to graduate to a major label, Dexter still has the desire to pass the torch to the next generation of fans. Just as he grabbed the torch from idols like TSOL, the Adolescents, Social Distortion, Bad Religion.
"We're just happy to be at the party," says Dexter, who continues to follow his original principle of empowering another generation of young people trying to find their identity in a conformist world. "I know younger kids relate to what we're doing. We're pretty much the same as we ever were. When I was young, I couldn't imagine myself working at a desk 9 to 5 with a suit and tie. I knew there was something better, something that would make me happy and this is better than even I could've imagined."
"There's such pressure on, as you get older, as to whether you should be playing in a rock band anymore. I'm thinking maybe we can do this for a few more years...and that's what I said a few years ago. I feel lucky we're on the radar at all. We've had quite a long run... I want to keep it going."
Hire The Offspring for your party or event!
The Offspring may be available for your next special event!
Book The Offspring, now!
For other great suggestions for booking music acts,
look here.
Watch videos
YouTube

Genre: Rock 3
Styles:
.Alternative Pop/Rock. / AlternativePopRock
.Punk Revival. / PunkRevival
.Post-Grunge. / PostGrunge
.Punk-Pop. / PunkPop
.Ska-Punk. / SkaPunk
.Alternative/Indie Rock. / AlternativeIndieRock


Years active:
x80s, x90s, x00s, x10s, x20s
1985-present

Formed: ..in California / formed nCalifornia
Formed: ..in Huntington Beach / formed HuntingtonBeachCA
Formed: in 1985

Based: ..in US
Based: ..in California / based nCalifornia