How To Book OK GO For Your Event!
OK Go may be available for your next special event!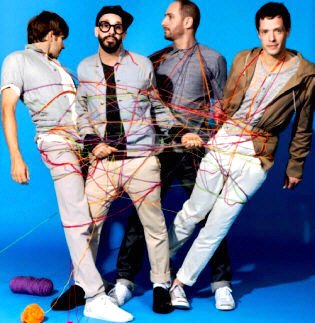 Hits include: "Do What You Want",
"Get Over It", "I Won't Let You Down",
"White Knuckles", "Needing/Getting",
"This Too Will Pass", "Here It Goes Again",
"The Writing's On The Wall".
How to Hire OK GO For Your Event!
Popular requests:
BOOKING FEE (booking price, booking cost).
OK Go, an American rock band from Chicago and Washington DC, is best known for their singles, "Get Over It," "A Million Ways," and "Here It Goes Again." Influenced by artists such as Cheap Trick, Q and Not U, Raspberries, Fugazi, T. Rex and Queen, OK Go shares management with They Might Be Giants, another band with whom they toured before signing to Capitol Records. The band also served as the house band for public radio program, This American Life, on the show's fifth anniversary tour. Ira Glass, the show's host, wrote their first official bio, calling them "living catnip" and describing their songs as "part indie rock, part stadium rock, part straight up pop with the occasional whiff of Weezer or The Cars or Elliott Smith."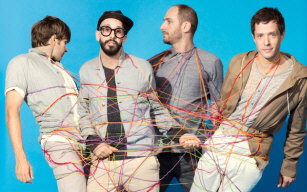 Hire OK Go! for your festival or concert plans.
After OK Go's exposure on This American Life and their relationship with They Might Be Giants, the band released its self-titled debut album in 2002. In the United Kingdom, "Get Over It" debuted at No. 24 in the singles chart on March 16, 2003, and the band performed it on that week's edition of Top of the Pops.
The band's second album, "Oh No", was recorded in Malmö, Sweden and produced by Tore Johansson (The Cardigans, Franz Ferdinand) in the fall of 2004. Released in August 2005, it gained popularity for its first single, "A Million Ways," thanks in large part to its video, which proved to be a viral Internet phenomenon in the fall of 2005.
Hire OK Go for your special event or occasion!
On August 31, OK Go appeared live at the 2006 MTV Video Music Awards performing, complete with treadmills, "Here It Goes Again". Since the VMA performance, sales of the album and single have increased, especially on the iTunes Music Store where, as of September 5, 2006, the single had reached #11 and the album #2.
Because of their success and popularity, on November 7, 2006, OK Go released a deluxe limited edition CD/DVD of their album, "Oh No". The DVD contains their videos (dancing and playing instruments), a video from 180 fans doing the "A Million Ways" dance for a YouTube contest, tour and never-released footage, and a behind-the-scenes look of their treadmill rehearsals for the video and for the VMA's.
In May 2006, they toured with Panic! At the Disco.
Other notable songs include --
A Million Ways
Don't Ask Me
You're So Damn Hot
Oh Lately It's So Quiet
Invincible
Hire OK Go for your party or event!
OK Go may be available for your next special event!
Book OK Go, now!
For other great suggestions for booking music acts, look here.

Genre: Rock 3
Styles:
.Indie Rock. / IndieRock
.Alternative/Indie Rock. / AlternativeIndieRock
.Power Pop. / PowerPop


Years active:
x90s, x00s, x10s, x20s
1998-present

Formed: ..in Illinois / formed nIllinois
Formed: ..in Chicago / formed ChicagoIL
Formed: in 1998

Based: ..in US
Based: ..in California / based nCalifornia
Based: ..in Los Angeles / based LosAngelesCA