How To Book OUR LADY PEACE For Your Event!
Our Lady Peace may be available for your next special event!



Hits include: "Clumsy",
"Somewhere Out There", "Starseed",
"Superman's Dead", "Innocent",
"Is Anybody Home?", "Where Are You",
"4 A.M.", "The End Is Where We Begin",
"Life", "All You Did Was Save My Life",
"Heavyweight", "One Man Army",
"Dreamland", "As Fast As You Can",
"Drop Me in the Water",
"Stop Making Stupid People Famous".
How to Hire OUR LADY PEACE For Your Event!
Popular requests:
BOOKING FEE (booking price, booking cost)
.
Our Lady Peace (sometimes shortened to OLP) is a Canadian rock band formed in Toronto, Ontario in 1992.
The band has sold several million albums worldwide, won four Juno Awards, and won ten MuchMusic Video Awards—the most MMVAs ever awarded to a band (tied with Billy Talent). Nineteen of their singles have reached the Top 10 on one of Canada's singles charts (those being the overall Singles Chart, the Rock Chart and the Alternative Rock Chart). Between 1996 and 2016, Our Lady Peace was the third best-selling Canadian band and the ninth best-selling Canadian artist overall in Canada.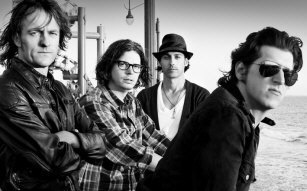 Hire Our Lady Peace to entertain and a company's special event!
Their discography includes ten studio albums, one live album, two compilation albums, and 33 singles to date, ranging from "Out of Here" in 1992, to "Stop Making Stupid People Famous" in 2021.

Our Lady Peace has been described as grunge, post-grunge, alternative rock, and hard rock.

In the band's early years, their overall sound was often compared to alternative rock and grunge bands, including Soundgarden, The Smashing Pumpkins, and Pearl Jam. The band's melodic structure was also said to echo that of bands such as The Beatles and Led Zeppelin. Lead singer Raine Maida expresses much admiration for vocalist Mike Patton and his versatility, calling him "by far one of the best singers and best showmen in rock", while also naming the song "Everything's Ruined" by his band Faith No More among his favorites. Maida's voice was called "erratic" and "truly unrivaled" in his field.
In albums Naveed through Spiritual Machines, Maida sang in a countertenor vocal register and was known for his frequent use of falsetto. This singing method, in combination with the band's melody structure, often gave many songs a surreal sound and effect.
Hire Our Lady Peace for your party or event!
Our Lady Peace may be available for your next special event!
Book Our Lady Peace, now!
For other great suggestions for booking music acts, look here.

For more suggestions, proceed to the next page.
Click here --
Alternative Music Roster
Or, click on one of the below links --
Music Menu
Fast Index
Entertainers Directory
Home