Visit new page >>>
OZOMATLI
How To Book OZOMATLI For Your Event!
Ozomatli may be available for your next special event!



How to Hire OZOMATLI For Your Event!
Popular requests:
BOOKING FEE (booking price, booking cost).
GRAMMY AWARD and LATIN GRAMMY AWARD winning Ozomatli is an American rock band, formed in 1995 in Los Angeles. They are known both for their vocal activist viewpoints and incorporating a wide array of musical styles – including salsa, jazz, funk, reggae, hip-hop, and others. To date, they have released seven studio albums.
Ozomatli is an Aztec word for the God of dance and appears on the Aztec calendar in the form of a monkey. Ozomatli is an eclectic conglomeration, fusing a wild variety of music. At its core, the group is a dance band, blending funk, hip-hop, Latin rhythms, jazz, salsa, reggae, Tejano, and worldbeat into its sound.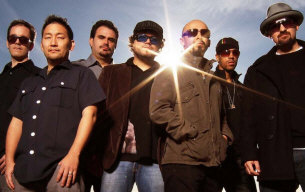 Hire Ozomatli for your festival or concert plans.
Ozomatli began their career in the Los Angeles and San Diego/Mexico border-area club scene. Following an appearance on Vibe!, the group broke into the mainstream, releasing "Ozomatli," their self titled debut album, in June 1998. under the Almo Sounds label. They released "Embrace the Chaos" in 2001, and "Street Signs" in 2004, with Interscope and Concord Jazz, respectively. Eddie Palmieri, who is also on the Concord Jazz label, is a featured performer on "Street Signs."
In 2005, "Street Signs" won the Grammy Award for Best Latin Rock/Alternative Album.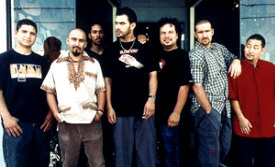 Hire Ozomatli for your very special event or occasion.
During the 2000 Democratic National Convention Ozomatli played a live concert before thousands of protestors across the street from the convention hall. Also performing at the protest was Rage Against The Machine.
The group also received the 2002 Grammy Award for 'Best Latin Rock/Alternative Album'. After playing at Coachella, Ozomatli were featured in Newsweek and on the Univision program Despierta America in June 2004.
In March 2005, Ozomatli played at WOMAdelaide, a world music festival in Adelaide, South Australia. They had two night sets, including a memorable Saturday when, after refusing to leave the stage 15 minutes late, they leaped into the crowd for a remarkable 45 minute encore.
Ozomatli have caused an immediate sensation with their incendiary live shows and hyperkinetic mix of styles that bridge the gap between African, Latin and American music.
Originally, Ozomatli only played political benefits but word spread and kids were appearing on the streets of Los Angeles with 'Ozo' tattoos. "We represent all the ghettos of LA," Wil-Dog says. "We want to make a change in our neighborhoods, show people a positive way to live." He adds, "I knew we had something special the first day we played," says Wil-Dog, "I'd never been in a band that just wanted to party, to have fun and still be about something."
Hit songs include --
It's Only Paper
Cut Chemist Suite
Other notable songs include --
Dos Costos Ciertas
Vocal Artillery
Embrace the Chaos
Cumbia de los Muertos
Chango
Pensando en Mi Vida
Esa Morena
Mi Gente
Believe
Saturday Night
Nadie Te Tira
Hire Ozomatli for your party or event!
Ozomatli may be available for your next special event!
Book Ozomatli, now!
For other great suggestions for booking music acts, look here.

Genre: Latin
Genre: Rock 3
Styles:
.Rock en Español. / RockEnEspañol
.Chicano Rock. / ChicanoRock
.Alternative Rap. / AlternativeRap
Rap-Rock / RapRock
.Latin Pop. / LatinPop
Latin Rock / LatinRock
.Salsa. / xSalsa
World Fusion / WorldFusion
.Alternative Pop/Rock. / AlternativePopRock
.Alternative/Indie Rock. / AlternativeIndieRock
.Funk. / xFunk


Years active:
x90s, x00s, x10s, x20s
1995-present

Formed: ..in California / formed nCalifornia
Formed: ..in Los Angeles / formed LosAngelesCA
Formed: in the mid-90s

Based: ..in US
Based: ..in California / based nCalifornia
Based: ..in Los Angeles / based LosAngelesCA