How To Book OZUNA For Your Event!
Ozuna may be available for your next special event!



Hits include: "Devuélveme",
"Dile Que Tu Me Quieres", "Bebé",
"Te Vas", "El Farsante", "Tu Foto",
"Si No Te Quiere", "Que Va",
"Se Preparó", "Amor Genuino",
"La Fórmula", "Síguelo Bailando",
"La Modelo", "Bipolar", "Solita",
"Casualidad", "Muito Calor",
"Vaina Loca", "Me Dijeron",
"Luz Apaga", "Quiero Más",
"Baila Baila Baila", "Cama Vacía",
"Esclavo de Tus Besos", "Única",
"Vacía Sin Mí", "Te Robaré",
"Te Soñé de Nuevo", "Criminal",
"Cambio", "China", "Adicto",
"Coméntale", "Yo x Ti, Tu x Mi",
"Travesuras", "Tiempo", "SG",
El Mejor", "Somos Iguales",
"Nos comemos", "A La Buena,
"Hey Mor", "Monotonía", Arhbo.
How to Hire OZUNA For Your Event!
Popular requests:
Booking fee, booking price, or booking cost.
LATIN GRAMMY AWARD winning Juan Carlos Rosado Ozuna, known simply by his surname Ozuna, is a Puerto Rican singer and rapper. All five of his studio albums have topped the Billboard Top Latin Albums chart, with Aura (2018) charting at number seven on the Billboard 200. His musical style is primarily reggaeton and trap, but he has collaborated with artists spanning a variety of genres, including reggae, bachata, and moombahton.

Ozuna has sold more than 15 million records, making him one of the best-selling Latin American music artists of all time.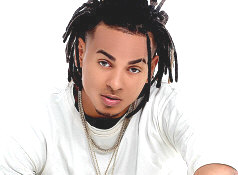 Hire Ozuna for your festival or concert plans.

Despite being primarily a reggaeton and trap artist, Ozuna cites Dominican-Puerto Rican-American bachata singer Romeo Santos as his favorite singer. Ozuna also greatly admires salsa artist Frankie Ruiz. He is also a fan of rock music, and expresses an affinity for the electric guitar. While many of his songs feature explicit sexual lyrics, he has avoided lyrics that explicitly objectify or disrespect women, and Ozuna himself has stated that his music is appropriate for "the whole family". He has compared himself to Canadian artist Drake, explaining that they are both "very careful not to denigrate women or to hurt young people" and that they both often alternate between singing and rapping. His songs often discuss relationships and heartbreak, inspired by the overt sentimentality of the bachata and salsa genres.

His 2018 collaboration with DJ Snake, Cardi B, and Selena Gomez on "Taki Taki" was certified quadruple platinum by the RIAA.
On 1 February 2019, Ozuna had the most one billion-view videos on YouTube of any artist and he has won two Latin Grammy Awards, five Billboard Music Awards, twelve Billboard Latin Music Awards, four Guinness World Records, among other accolades. In 2019, Time included him on their annual list of the 100 most influential people in the world.
In 2020, Ozuna released the singles "Mamacita, with the Black Eyed Peas, as well as "Caramelo". Both songs topped the US Latin Airplay chart, becoming Ozuna's 19th and 20th chart-toppers, respectively, and putting him in a tie with Daddy Yankee for third most number-ones. "Caramelo" was released as the lead single from his fourth studio album ENOC, which was released on September 4, 2020. In November, he won two Latin Grammy Awards for his collaboration with Rosalía "Yo x Ti, Tu x Mi" in the categories Best Urban Fusion/Performance and Best Urban Song.
In 2022, he played the song "Arhbo" for the 2022 FIFA World Cup along with GIMS, which they also performed during the closing ceremony.
His discography includes six studio albums and 98 singles (including 16 as a featured artist).
Hire Ozuna for your party or event!
Ozuna may be available for your next special event!
Book Ozuna, now!
For other great suggestions for booking music acts,
look here.

For more suggestions, proceed to the next page.
Click here --
Latin Music Roster or Rap Music Roster
Or, click on one of the below links --
Music Menu
Fast Index
Entertainers Directory
Home