Visit new page >>>
PARAMORE
How To Book PARAMORE For Your Event!
Paramore may be available for your next special event!



Hits include: "Ain't It Fun", "Ignorance",
"Misery Business", "Careful", "Decode",
"Crushcrushcrush", "Still Into You",
"Brick by Boring Brick", "All I Wanted",
"The Only Exception", "Monster", "Now",
"That's What You Get", "Pressure",
"Hate To See Your Heart Break".
How to Hire PARAMORE For Your Event!
Popular requests:
BOOKING FEE (booking price, booking cost).
Paramore is an American rock band from Franklin, Tennessee, formed in 2004. The band currently consists of lead vocalist Hayley Williams, guitarist Taylor York and drummer Zac Farro. Williams and Farro are founding members of the group, while York, a high school friend of the original lineup, joined in 2007.
Williams was separately signed to Atlantic as she was scouted when she was a teenager, and they were the only label to let her stay in the band instead of going solo, but Atlantic said the rest of the band had to sign to Fueled by Ramen. She is also the only member to appear on all five of Paramore's studio albums.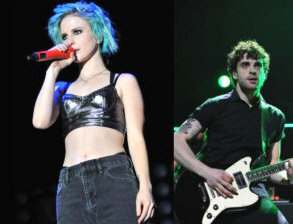 Hire Paramore for your festival or concert plans!
Paramore's music style has generally been regarded as alternative rock, pop punk, pop rock, power pop, emo pop, emo, new wave, punk rock, and pop.
Paramore has expressed appreciation for Failure, Fall Out Boy, Hanson, Panic! at the Disco, Blink-182, Death Cab for Cutie, Jimmy Eat World, MewithoutYou, and Sunny Day Real Estate, as well as Thrice and New Found Glory. Hayley Williams has cited her personal influences as Elvis Presley, the Shirelles, the Angels, the Ramones, Jawbreaker, Radiohead, Green Day, Blondie, NSYNC, Destiny's Child, Aaliyah, The Smiths, Siouxsie and the Banshees, The Cure and Etta James.
Williams named many singers as heroines: "I love Debbie Harry and Siouxsie Sioux. I grew up listening to The Distillers [...] Girl groups are really important to me, but the Shangri-Las especially". Williams also explained that bands such as U2, "who are massive, and do whatever they want, write whatever they want and they stand for something," Jimmy Eat World, "who I don't think ever disappoint their fans," and No Doubt, who "have done amazing things," act as a pattern for the path in which Paramore would like to take their career.
Hire Paramore for your party or event!
Paramore may be available for your next special event!
Book Paramore, now!
For other great suggestions for booking music acts, look here.

For more suggestions, proceed to the next page.
Click here --
Alternative Music Roster
Or, click on one of the below links --
Music Menu
Fast Index
Entertainers Directory
Home