How To Book PAT BENATAR For Your Event!
Pat Benatar & Neil Giraldo may be available for your next special event!



Hits include: "Love Is A Battlefield",
"All Fired Up", "Fire and Ice",
"Everybody Lay Down", "We Belong",
"Shadows of the Night", "Invincible"
"Looking For a Stranger", "The Victim",
"We Belong", "Hit Me With Your Best Shot",
"Just Like Me", "Promises In The Dark",
"Payin' The Cost To Be The Boss",
"Treat Me Right", "Diamond Field",
"Little Too Late", "ooh-ooh Song",
"Heartbreaker", "Sex As A Weapon",
"We Live For Love", "You Better Run",
"Take It Anyway You Want It".
How to Hire PAT BENATAR For Your Event!
Popular requests:
BOOKING FEE (booking price, booking cost).
GRAMMY AWARD winning Patricia Mae Giraldo (née Andrzejewski, formerly Benatar; born January 10, 1953), known professionally as Pat Benatar, is an American rock singer and songwriter.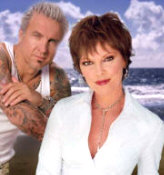 Hire Pat Benatar and Neil Giraldo for your festival or concert plans!
In the United States, she has had two multi-platinum albums, five platinum albums, and 15 Billboard top 40 singles, while in Canada she had eight straight platinum albums, and she has sold more than 35 million albums worldwide. She is also a four-time Grammy Award winner. She was inducted into the Rock and Roll Hall of Fame in November 2022.
True Love was a jump blues record, released in late April 1991, and featured the blues band, Roomful of Blues, backing up Pat Benatar, Neil Giraldo and Myron Grombacher. The album sold more than 339,000 copies without significant radio airplay and limited exposure on VH-1.
Pat Benatar's discography includes 11 studio albums, nine live albums, 27 compilation albums, 39 singles, and 34 music videos.
Hire Pat Benatar for your party or event!
Pat Benatar may be available for your next special event!
Book Pat Benatar, now!
For other great suggestions for booking music acts, look here.

For more suggestions, proceed to the next page.
Click here --
Rock Music Roster
Or, click on one of the below links --
Music Menu
Fast Index
Entertainers Directory
Home