How To Book PAUL ANKA For Your Event!
Paul Anka may be available for your next special event!


Songwriters Hall of Fame
-- inducted 1993
Paul Anka was a hugely successful vocalist from 1957 into the '80's, as well as writer of several venerable pop-music standards. The young native of Ottawa, Canada, took the U.S. by storm in 1957 with his rock-slanted ballad "Diana," a number one smash on ABC-Paramount Records. Dramatic renditions of "You Are My Destiny," "Lonely Boy," "Put Your Head on My Shoulder" and "Puppy Love" elevated the youth to teen-idol status over the next three years.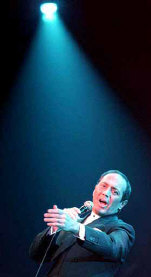 Moving to RCA in 1962, the maturing Paul Anka continued to chart regularly, although some of his most notable '60's copyrights were bequeathed to others. He returned to the top pop slot in 1974 with the controversial million-seller "(You're) Having My Baby," cut in Muscle Shoals and issued on United Artists, and he enjoyed several follow-up smashes, many featuring vocalist Odia Coates.
Beginning his career by entering amateur contests and sneaking into clubs, Paul Anka has gone on to become one of the greatest songwriters in history. He has achieved unprecedented success in every venue: stage, screen, television and recording. His musical compositions are internationally known and have been recorded by the greatest names in the entertainment industry.
He set a milestone by being one of only a few artists in history to have a record on Billboard's Top 50 charts for five consecutive decades (Billboard statistic). He has also been named the 21st most successful artist in Billboard's history (Billboard statistic). He received the honor of being named one of Billboard Magazine's most successful artists in history, putting him alongside music greats Elvis Presley and the Beatles.
With well over 900 songs to his credit, Anka's songs have been performed well over 90 million times (BMI statistic) worldwide. His LP and single sales collectively number more than 42 million (BMI statistic).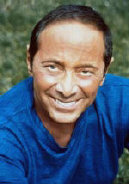 Anka's contributions to the entertainment industry have earned him numerous awards and special recognition. In addition to performing for heads of state, he has been honored by the French government, who awarded him the title: Chevalier In The Order of Arts and Letters. He is among only a handful of Americans to receive this prestigious award. The National Academy of Popular Music elected Anka into The Songwriters Hall Of Fame.
An indication of his versatility shows in his most beloved song "My Way." It has been recorded not only by the likes of Elvis Presley, but also, Sid Vicious, and most notably Frank Sinatra. The list of performers recording Anka's songs is an honor role of some of the most talented artists of all time: Sinatra, Presley, Barbra Streisand, Buddy Holly, Tom Jones, and the Doobie Brothers. Paul Anka has successfully collaborated with songwriters Davis Foster, Carol Bayer Sage, Richard Marx, Michael McDonald, Michael Jackson and many others.
Paul Anka's contribution to television is the most recognized theme song in history. When Johnny Carson made his debut as host of "The Tonight Show" in 1962, the Anka-written theme was there too. Since the debut the theme song has been performed over 1,400,000 times. Many memorable film and television programs bear the hallmark of Anka's unmistakable musical signature. In addition to writing the theme music for "The Longest Day," Anka penned the theme music and the title song for Louis Malle's "Atlantic City" took top honors at the Venice Film Festival.
Throughout the world, the music of Paul Anka is loved and its creator admired, in no small part due to his own adaptability. In addition to a host of American hits abroad, he has recorded more than ten albums in Japanese, German, Spanish, French and Italian, composing songs culturally tailored to each country. Having lived in Italy from 1964 to 1966, Anka claims a special love for that country and its people. To date he has sold more than 15 million albums and more than 3 million singles of the Italian song "Ogni Volta." Seen in this light, his international celebrity is easily understood –- a combination of his own hard work and his music's universal appeal.
Solidifying his position as a top name in the U.S. gaming entertainment industry, Paul Anka signed an unprecedented four-year deal with Bally's Grand Resorts in Atlantic City, and with Native American-owned Foxwoods Casino in Connecticut. In an industry where two-year contracts are the norm, these contracts acknowledge the drawing power of the Paul Anka name on the marquee.
Hit songs include --
(You're) Having My Baby
Diana
Lonely Boy
Times of Your Life
Anytime (I'll Be There)
Goodnight My Love (Pleasant Dreams)
Hold Me 'Til the Morning Comes
Puppy Love
Put Your Head On My Shoulder
(I Believe) There's Nothing Stronger Than Our Love
This Is Love
It's Time To Cry
One Man Woman/One Woman Man
You Are My Destiny
I Don't Like To Sleep Alone
Mi Pueblo (My Hometown)
My Home Town
Dance On Little Girl
Summer's Gone
Love Me Warm And Tender
Paul Anka may be available for your next special event!

Genre: Rock 1
Styles:
.Early Pop/Rock. / EarlyPopRock
.Teen Idol. / TeenIdol
.Brill Building Pop. / BrillBuildingPop
.AM Pop. / AMPop
.Contemporary Pop/Rock. / ContemporaryPopRock
.Soft Rock. / SoftRock


Years active:
x50s, x60s, x70s, x80s, x90s, x00s, x10s, x20s

Born: ..in Canada
Born: ..in Ontario
Born: ..in Ottawa
Born: Jul 30, 1941

Based: ..in US
Based: ..in California / based nCalifornia
Based: ..in Los Angeles / based LosAngelesCA

Tag: .Orchestra charts available. / OrchestraCharts