How To Book PAULINO RUBIO For Your Event!
Paulina Rubio may be available for your next special event!



Hits include: "Amor de Mujer",
"Algo Tienes", "Dame Otro Tequila",
"Ni Una Sola Palabra", "Todo Mi Amor",
"Y Yo Sigo Aqui", "Te Quise Tanto",
"Mio", "Yo No Soy Esa Mujer",
"Don't Say Goodbye", "Si Tu Te Vas",
"Nada Puede Cambiarme", "Mia",
"Abriendo Las Puertas Al Amor",
"Ayudame", "El Ultimo Adios",
"Baila Casanova", "Sexi Dance",
"Tal Vez, Quiza", "Lo Hare Por Ti".
It takes a lot of time to conquer the hearts of the whole world – just ask Mexican singer Paulina Rubio. Over the course of the past two decades, she's seen success as part of the biggest teen act in her homeland, enjoyed popularity as an actress on the big and small screens, and become the reigning golden girl of Spanish pop.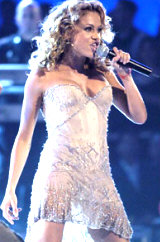 "I think music is like love," sighs the south-of-the-border phenomenon, when asked about her first foray beyond the Latin market. "You kiss someone to give and receive an energy, a connection. I'm trying to connect with people worldwide, to send out my musical kiss around the whole planet." With gold or platinum success in eight different nations, and an infectious English-language debut, "Border Girl," there's only one thing to say: pucker up, world.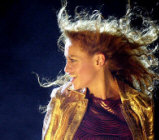 Born to one of Mexico's most celebrated film stars, Susana Dosamantes, and raised in Mexico, Los Angeles, and Spain, Paulina's exposure to her mother's trade made a huge impact on the budding artist at a tender age. "My mom was shooting a lot of films in Europe when I was young, so we were traveling with her around the world, with a lot of artists around: writers, architects, singers, filmmakers," exclaims Rubio. "It made me very independent, and that is when I started making some of my own decisions, at around 7 or 8."
The first personal decision that set her on the road to fame was to begin training in singing and dancing, which led to her enrollment at a prestigious performing arts school at the age of eight. Within two years, Paulina's talents were so evident that she was chosen to be part of the popular children's recording group Timbiriche.

Though she still balanced her schoolwork with her newfound popularity (good grades were a mandate for staying in the group), she says "the real lessons were recording and performing" for rabid audiences throughout South America. Her work with the Mexican pop group made Paulina a star, along with fellow member, Thalia.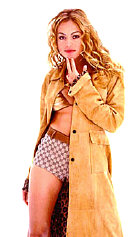 After spending nearly a decade as part of the successful group, Paulina Rubio decided that the time was right to leave Timbiriche, and few were surprised when her much-anticipated solo debut, "La Chica Dorada," spawned three number-one singles and scored platinum sales.
In the interim, she's duplicated that triumph with four more smash hit CDs and taken on another challenge, following in her mother's footsteps as a film and television star. "Acting was like a hobby for me," Paulina Rubio notes modestly of her hit soap opera roles and her film work, "but music is my priority. I love to perform, and to spread my music and my messages."
"My music is in nightclubs, but also in kindergartens and at weddings, and all kinds of places," she says of her broad appeal. "In music, there are no rules. Like painting, you can mix colors and textures. I feel very free to perform dance, rock, and whatever else I want."
"I grew up doing concerts and I'm going to die doing concerts all over the world," affirms the Mexican firebrand. "That's what I'm here for and what I believe in." And no, after spending most of her life entertaining fans throughout the globe, it's time to unleash Paulina Rubio's unique appeal on American audiences and prove once and for all that this girl's popularity has no borders.
Along with the acclaim and popularity she is sure to garner more fans with her dance-infused pop tracks. Paulina amazes audiences and fans with her energetic live performances.
Paulina Rubio may be available for your next special event!
Watch videos:
YouTube

For more suggestions, proceed to the next page.
Click here --
Latin Music Roster
Or, click on one of the below links --
Music Menu
Fast Index
Entertainers Directory
Home