Hits include: "Can You Forgive Her?",
"New York City Boy", "The Pop Kids",
"To Step Aside", "West End Girls", "So Hard",
"What Have I Done to Deserve This?",
"I Wouldn't Normally Do This Kind Of Thing",
"Love, etc.", "It's a Sin", "Minimal",
"Opportunities (Let's Make Lots Of Money)",
"Vocal", "Where The Streets Have No Name",
"Always On My Mind", "Absolutely Fabulous",
"I'm With Stupid", "Left To My Own Devices",
"Go West", "Leaving", "Seriously/Being Bored",
"Sexy Northerner", "Winner", "Home And Dry",
"Thursday", "Domino Dancing", "Somewhere",
"How Can You Expect To Be Taken Seriously",
"I Get Along", "Yesterday When I Was Mad",
"Suburbia", "Love Comes Quickly", "Dreamland",
"Say It to Me", "Before", "Twenty-Something".
How to Hire The PET SHOP BOYS For Your Event!
The Pet Shop Boys are an English synth-pop duo formed in London in 1981. Consisting of primary vocalist Neil Tennant and keyboardist Chris Lowe, they have sold more than 50 million records worldwide, and were listed as the most successful duo in UK music history in the 1999 edition of The Guinness Book of Records.
According to Tennant, he and Lowe would listen to "pioneers of electronic music", including OMD, Soft Cell, Kraftwerk, the Human League and Depeche Mode.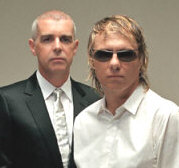 Hire The Pet Shop Boys for your festival or concert plans!
Three-time Brit Award winners and six-time Grammy nominees, since 1984 they have achieved 42 top 30 singles, 22 of these being top 10 hits on the UK Singles Chart, including four UK number ones: "West End Girls" (also number one on the US Billboard Hot 100), "It's a Sin", a synth-pop version of "Always on My Mind", and "Heart".
Other hit songs include a cover of "Go West", and their own "Opportunities (Let's Make Lots of Money)", and "What Have I Done to Deserve This?" in a duet with Dusty Springfield. With five US top ten singles in the 1980s, they are associated with the Second British Invasion.

Pet Shop Boys began 2006 remixing Madonna's single "Sorry", for release in February. The single reached number one in the UK and the Pet Shop Boys remix included new backing vocals performed by Tennant. Also, during 2006, Pet Shop Boys worked with Robbie Williams on his then-new album, Rudebox, producing two tracks.
On 8 October 2007, Pet Shop Boys released Disco 4, the latest in their series of remix albums; the fourth in the set differed in that it was largely made up of remixes, completed by Pet Shop Boys, of other artists' work over the past decade. These include The Killers, David Bowie, Yoko Ono, Madonna, Atomizer and Rammstein.
At the 2009 Brit Awards in London, the Pet Shop Boys received an award for Outstanding Contribution to Music.
In June 2010, Pet Shop Boys headlined the Glastonbury Festival and were heralded as dazzling with "one of the most spectacular Glastonbury moments ever." They performed at the festival with other artists including Gorillaz, Snoop Dogg, Willie Nelson, Muse, Stevie Wonder, Jack Johnson, Norah Jones, The Flaming Lips, Florence and the Machine, The National, MGMT, The Black Keys, Mumford & Sons, Ellie Goulding, and Tegan and Sara.
In 2016, Billboard magazine named the Pet Shop Boys the number one dance duo/group over the 40 years since the chart's inception in 1976.
In 2017, the duo received NME's Godlike Genius Award.
Their discography includes 14 studio albums, five live albums, seven compilation albums, four remix albums, five soundtrack albums, three extended plays and over seventy singles.

Hire The Pet Shop Boys for your party or event!
The Pet Shop Boys may be available for your next special event!
Book The Pet Shop Boys, now!
For other great suggestions for booking music acts, look here.