How To Book PETER FRAMPTON For Your Event!
Peter Frampton may be available for your next special event!



Through his musical composition, guitar genius, and emblematic live performances, very few artists have contributed more to the rock genre than Peter Frampton.
In early '65, Peter Frampton formed the pop band The Herd with Andy Bown, keyboards, Gary Taylor, bass, Andrew Steele, drums. After Parlophone dropped them after flop singles, they signed to Fontana, where songwriters Howard and Blaikley orchestrated a blend of pop and flower power. Their second single 'From The Underworld' reached no. 6 with help from pirate radio, followed by similar 'Paradise Lost', no. 15 early '68.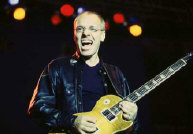 Peter Frampton was dubbed 'The Face of '68' by teen mag Rave. An album named after the second hit included some of the band's writing, but the highest chart placing went to the formula pop of Howard and Blaikley's 'I Don't Want Our Loving To Die' (no. 5). Steele left, replaced by Henry Spinetti. Frampton, dissatisfied with teen idol status and disappointed with the failure of 'Sunshine Cottage,' left for Humble Pie.
(Bown and Spinetti made a flop single 'The Game,' then formed short-lived Judas Jump with Mike Smith and Allen Jones, saxists from Amen Corner, and Welsh vocalist Adrian Williams. Taylor and Steele reunited for a one-off single 'You Got Me Hangin' From Your Lovin' Tree' '71. Taylor became a disc jockey, later worked with Fox/ Steele and Spinetti did session work. Bown joined the folk group Storyteller.)
Humble Pie, with ex-Small Faces leader Steve Marriott, never lived up to the sum of its parts. Peter Frampton left the hard-rocking Marriott, his love of melody persisting from youthful influences (e.g. Kenny Burrell). His first solo LP "Wind Of Change" had melodic pop helped by heavy friends Ringo Starr, Billy Preston, Klaus Voorman, etc. (He had entered the Beatles' orbit sessioning on George Harrison's "All Things Must Pass," as well as Harry Nilsson's "Son Of Schmilsson".)
He formed Camel (which became Frampton's Camel, because of Peter Bardens' Camel) for live work, with Mike Kellie (ex-Spooky Tooth), drums, Rick Wills (ex-Cochise), bass, keyboardist Mickey Gallagher. Early music was high on melody, low on lyrical content. But the band toured widely, making a basis for future success.
Kellie was replaced by ex-Mitch Ryder drummer John Siomos. By '75, the bassist was the returned Bown (who later reverted to keyboards with Status Quo). '76 in different live-takes, the two-disc "Frampton Comes Alive" was one of the decade's best sellers - no. 1 USA for ten weeks, in the chart for nearly two years, the biggest-selling live pop album ever, a reward for years of touring. 15 million-plus sales brought a following, especially girls (as Humble Pie's Performance - "Rockin' The Fillmore" '71 established just before Frampton left. Manager Dee Anthony was behind both ventures).
But Peter Frampton was mishandled by Anthony, who pushed a vapid studio follow-up out of him too quickly: "I'm In You" '77 couldn't be rescued by superstar guests, although the title track was USA no. 2, LP no. 2 (in chart only 32 weeks). He was also pushed into a starring role in flop Robert Stigwood/Bee Gees film "Sgt. Pepper's Lonely Hearts Club Band."
A sabbatical dictated by a near-fatal car crash '78 ended with "Where I Should Be" '79, no. 14 USA hit 'I Can't Stand It No More.' "Breaking All The Rules" '81 and "The Art Of Control" '82 saw his locks shorn for a new image and "Premonition." '86 on Virgin updated his sound with slabs of synth.
Peter Frampton '94 on "Relatively" was an unpretentious gift to fans. His Framptone company manufactured hand-made gadgets for guitarists, such as two-way and three-way amp switchers and the Talkbox, which makes the guitar sound like a voice. The devices were used by people like Dave Grohl (the Foo Fighters) and Richie Sambora (Bon Jovi).
Peter Frampton remained a very successful touring artist, and "Live In Detroit" was recorded '99, an appealing mix of old and new material, Frampton singing as well as ever. The accompanying DVD was one of the first recorded in both high-definition TV format and 5.1 surround sound.
His "Hour Of Need" (using the Talkbox) was featured in Cameron Crowe's charming film "Almost Famous 2000," set in the 1970s and one of the two or three best movies ever made about the rock business. "Now" 2003 was a new studio album, with Bob Mayo on keyboards (played a famous part on 'Do You Feel' in the '70s), John Regan on bass (with the band since '79) and ace Nashville session drummer Chad Cromwell (touring with Frampton since '97).
Peter Frampton described "Now" as 'a very selfish album . . . It's me, doing what I want to do, for the first time in nine years.' Still, 'Hour Of Need' was included, while 'Verge Of A Thing' and 'While My Guitar Gently Weeps' (a tribute to George Harrison and the only cover on the album) were successful singles; and there are still a lot of fans for music from the pre-punk 1970s.
Hit songs include --
I'm in You
Lying
Show Me The Way
Day In The Sun
Do You Feel Like We Do
Baby, I Love Your Way
Breaking All The Rules
I Can't Stand It No More
Signed, Sealed, Delivered (I'm Yours)
Holding On To You
Tried To Love
Peter Frampton may be available for your next special event!
Watch videos
YouTube

Genre: Rock 1
Styles:
.Classic Rock. / ClassicRock
.Album Rock. / AlbumRock
.Arena Rock. / ArenaRock
.Contemporary Pop/Rock. / ContemporaryPopRock
.Pop/Rock. / PopRock


Years active:
x70s, x80s, x90s, x00s, x10s, x20s

Born: ..in England
Born: ..in Kent
Born: ..in Beckenham
Born: Apr 22, 1950

Based: ..in US
Based: ..in Tennessee / based nTennessee
Based: ..in Nashville / based NashvilleTN