How To Book PETER GABRIEL For Your Event!
Peter Gabriel may be available for your next special event!



Hits include: "Steam",
"Digging in the Dirt", "More Than This",
"Shock The Monkey", "Sledgehammer",
"Big Time", "Red Rain", "In Your Eyes",
"That Voice Again", "Kiss That Frog",
"Lovetown", "Kiss of Life", "Secret World",
"Digging in the Dirt", "I Have The Torch",
"Games Without Frontiers", "Solsbury Hill",
"No Self-Control", "Biko", "Lovetown",
"Shakin' the Tree", "Blood of Eden",
"Don't Give Up", "The Book of Love",
"Down to Earth", "Growing Up"
"The Barry Williams Show".
How to Hire PETER GABRIEL For Your Event!
Popular requests:
BOOKING FEE (booking price, booking cost).
GRAMMY AWARD winning Peter Gabriel is an English musician, singer, songwriter, record producer and activist.
He rose to fame as the original lead singer of the progressive rock band Genesis. After leaving Genesis in 1975, he launched a successful solo career with "Solsbury Hill" as his first single.
His 1986 album, So, is his best-selling release and is certified triple platinum in the UK and five times platinum in the U.S. The album's most successful single, "Sledgehammer", won a record nine MTV Awards at the 1987 MTV Video Music Awards and, according to a report in 2011, it was MTV's most played music video of all time.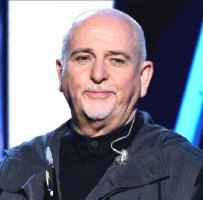 Hire Peter Gabriel for your festival or concert plans!
Born February 13, 1950, Peter Gabriel began playing music as a drummer in rock and soul bands. In 1966 with classmates at the British secondary school Charterhouse, he founded a songwriter's collective initially dubbed the Garden Wall. Soon, however, the band became known as Genesis. The band quickly attained cult status, releasing seven albums.
Gabriel left Genesis in May 1975 to pursue a solo career. His first three albums were each formally titled "Peter Gabriel," but are known as "Rainy Windshield" (1977) which included the hit "Solsbury Hill", "Fingernails" (1978) which featured "D.I.Y.", and "Melting Face" (1980), bearing "Games Without Frontiers" (a Top Five in Great Britain and a No. 11 hit in the United States) and "Biko."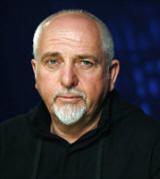 Hire Peter Gabriel for your special event!
Gabriel is known for choosing top-flight collaborators, from co-producers such as Ezrin, Fripp, Lillywhite, and Lanois to musicians such as Natalie Merchant, Elizabeth Fraser, L. Shankar, Trent Reznor of Nine Inch Nails, Larry Fast, Sinead O'Connor, Paula Cole, John Giblin, Phil Collins, Stewart Copeland and OneRepublic.
Peter Gabriel has been involved in a wide spectrum of human rights and environmental issues. His song 'Biko' was the first pop song which talked about the effects of apartheid, and in 1988 and 1990 he was involved in the Nelson Mandela concerts at Wembley. In 1988, he worked with Amnesty International to set up the Human Rights Now! tour, and toured many countries with Sting, Bruce Springsteen, Tracy Chapman and Youssou N'Dour.

Hire Peter Gabriel!
In 1992, in conjunction with the Reebok Human Rights Foundation, Peter Gabriel initiated the 'Witness' program, in the US. The organization aims to arm human rights activists from around the world with handheld video cameras, computers and other tools of communication. To date, they have supplied hundreds of cameras to more than fifty countries and have also set up a bi-weekly Witness web broadcast via Macintosh's Quicktime Channel.
In 1997, Peter Gabriel was invited by Mark Fisher to help create a show for the central space of the London Millennium Dome. 1998 was spent brainstorming ideas on the narrative and visual concept.
In 1999, while continuing to be involved with the show's development, Gabriel composed the music. The show was opened on January 1st, 2000. An album of this music, entitled OVO, was released on Real World/Virgin Records on June 5th.

Hire Peter Gabriel!
In September 2002, Gabriel's 11th studio album, Up, was released. Up is a new cycle of songs about birth, life and death, which elevates the standards for high-concept genre-breaking music the artist is known for. Long time touring band members Tony Levin, Manu Katche and David Rhodes all contributed to the album, as did drummers Ged Lynch (formerly of Black Grape) and Steely Dan alumni, Steve Gadd. The Blind Boys of Alabama chime in on the soul and blues influenced "Sky Blue," which also features Peter Green of Fleetwood Mac fame.
In 2009, Gabriel recorded Scratch My Back, an album of cover songs by various artists including David Bowie, Lou Reed, Arcade Fire, Radiohead, Regina Spektor, and Neil Young.
In November 2014, Gabriel, along with Pussy Riot, and Iron & Wine supported Hong Kong protesters at Hong Kong's Lennon Wall in their efforts.
Gabriel has won numerous music awards throughout his career, including three Brit Awards—winning Best British Male in 1987, six Grammy Awards, thirteen MTV Video Music Awards, the first Pioneer Award at the BT Digital Music Awards, and in 2007, he was honored as a BMI Icon at the 57th annual BMI London Awards for his "influence on generations of music makers".
Hire Peter Gabriel for your party or event!
Peter Gabriel may be available for your next special event!
Book Peter Gabriel, now!
For other great suggestions for booking music acts, look here.

Genre: Rock 3
Styles:
.Classic Rock. / ClassicRock
.Prog-Rock. / ProgRock
.Art Rock. / ArtRock
.Pop/Rock. / PopRock
.Art Pop. / ArtPop
.Contemporary Pop/Rock. / ContemporaryPopRock
.Album Rock. / AlbumRock
.College Rock. / CollegeRock
.Worldbeat. / xWorldbeat
.Alternative/Indie Rock. / AlternativeIndieRock


Years active:
x60s, x70s, x80s, x90s, x00s, x10s, x20s
1967-present

Born: ..in England
Born: ..in London
Born: Feb 13, 1950

Based: ..in England

Tag: FormerMemberOf