How To Book PHIL PERRY For Your Event!
Phil Perry may be available for your next special event!



How to Hire PHIL PERRY For Your Event!
Popular requests:
BOOKING FEE (booking price, booking cost).
The emergence of Phil Perry as a unique and distinctive artist came after years spent honoring his craft, paying dues in the music business. It was singing in his local East St. Louis church that Phil first began using his God-given musical gift. During his junior high school years, he began singing with a local doo-wop group, The Montclairs, recording a couple of albums for the Louisiana-based Jewel-Paula label in the late '60s and early '70s.
With Phil as key member and primary composer and arranger, The Montclairs opened for a bevy of R&B acts including Rufus & Chaka Khan, The Ohio Players, The Miracles and Edwin Starr.
In 1979, Phil Perry moved to Los Angeles, hooking up with producer Chuck Jackson who signed the singer to Capitol with Kevin Sanlin, another original member of the Montclairs to form the duo Perry & Sanlin. The team recorded two albums for the label and after the duo dissolved, Phil began writing and developing a sterling reputation as a background singer.
Hire Phil Perry for your festival or concert plans.
After launching his solo performing career at local L.A. clubs, Phil Perry began a working relationship with guitarist Lee Ritenour, a performing relationship that continues to the present time. A meeting with Quincy Jones through James Ingram led to a stint touring with Jones as a backup singer and the word was out. Phil found himself working with composer Michael Colombier as well as singing on albums by a diversity of artists that included Sérgio Mendes, George Duke, Barbra Streisand and Patti LaBelle.
In addition to singing the theme song for the movie "Arthur II: On The Rocks," Phil toured Japan, SE Asia, Europe and Brazil with Ritenour and it was the JVC Jazz Festival appearance at L.A.'s Hollywood Bowl with the guitarist that Capitol Record's A&R executives heard Phil's powerhouse vocals sound and signed him to the label for the second time.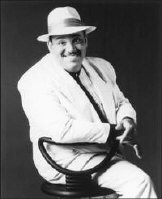 Hire Phil Perry for your very special event or occasion.
Released in February 1991, "The Heart Of The Man" became a consistent seller, thanks in part to the hit single "Call Me," Phil's unmistakable reading of the 1970 Aretha Franklin chestnut. "That Aretha liked it was more than enough for me...but the fact is that record made me known to a lot more people," Phil notes. "That music buyers responded so well to the album shocked me! I love making music and I didn't go into the studio with commercial success in mind. I mean, I knew I didn't fit the mold, I didn't sing hip-hop, I wasn't a young 'new jack.' I was dumbfounded that people got into the album the way they did."
Touring in 1991 with Capitol label-mate Dave Koz, Phil Perry drew rave reviews from audiences and critics alike and he kept the momentum going with further dates overseas with Ritenour. While preparing to record his second album, Phil continued performing with GRP co-founder Dave Grusin and his brother Don and doing jingles. "Hey, I have to pay the bills," the genial singer laughs. "I just feel blessed that I get called..." His other activities included work as a songwriter of the title track for GRP label-mate Patti Austin's "That Secret Place" album and vocal work on supergroup Fourplay's gold-plus "Between The Sheets" set.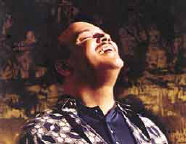 Hire Phil Perry.
Aware that his arrival on the music scene hasn't been without its fair share of ups and downs, disappointments and setbacks, Phil Perry is philosophical about his career, "Before I ever recorded my first song, I used to sneak out of the house to do gigs. I was willing to take the chance that my Dad would be angry with me because I just knew I would have done anything to sing.."
That kind of life-long commitment to music is what distinguishes Phil Perry as a one-of-a-kind artist.
Of his association with MCA/GRP, Phil Perry notes, "My involvement in different musical capacities is encouraged, this is a company that is more receptive to having its artist be self-contained. I get a chance to show what I can do as a writer and producer as well as an artist and that's very important to me."
Hit songs include --
Call Me

Amazing Love

Forever

If Only You Knew

Love Don't Love Nobody

One Touch

Shower The People

You're The Only One
Hire Phil Perry for your party or event!
Phil Perry may be available for your next special event!
Book Phil Perry, now!
For other great suggestions for booking music acts, look here.

Genre: R&B
Genre: Jazz
Styles:
.Urban. / xUrban
.Contemporary R&B. / ContemporaryR&B
.Adult Contemporary R&B. / AdultContemporaryR&B
.Quiet Storm. / QuietStorm
.Soul. / xSoul
.Retro-Soul. / RetroSoul
.Smooth Soul. / SmoothSoul
.Smooth Jazz. / SmoothJazz
.Contemporary Jazz. / ContemporaryJazz


Years active:
x70s, x80s, x90s, x00s, x10s, x20s
1971-present

Born: ..in Missouri / born nMissouri
Born: ..in St. Louis / born StLouisMO
Born: ..in East St. Louis / born EastStLouisMO
Born: Jan 12, 1952

Raised: ..in Missouri
Raised: ..in St. Louis

Based: ..in US
Based: ..in California / based nCalifornia