How To Book PHILIP BAILEY For Your Event!
Philip Bailey may be available for your next special event!

(member of
Earth, Wind & Fire
)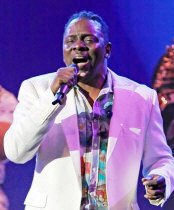 The voice of Philip Bailey is a four-octave wonder, and it's been defying gravity for as long as even his family can remember. Best known to millions around the world as the celebrated lead vocalist with the legendary supergroup Earth, Wind & Fire, Philip has also enjoyed a parallel career as a successful solo artist with six R&B/pop albums and four gospel recordings to his credit.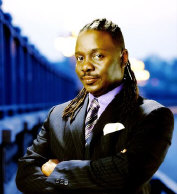 Although Philip Bailey recalls being able to sing before he could talk, as a kid growing up in Denver, Colorado, he was convinced his future lay in the world of percussion. He says, "One of my earliest memories is of being at a parade when I was seven years old and being mesmerized by the drums in the marching band. I remember feeling like my heart was coming out of my body! As I got older, I used to love making as much noise as possible on the tops of overturned trash cans…so much noise that my mom eventually bought me some drums of my own."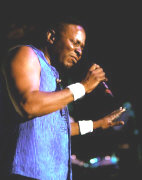 Bailey's fascination with music grew when he was introduced to jazz through an album collection owned by his best friend's mom. "All the other kids in the neighborhood would be outside playing, and I'd be in the house in front of the record player," he notes. "Around that time, my mom took me out to a jazz club to hear my older cousin play saxophone. And I just couldn't get over the sound of that instrument and the whole vibe of the music."
As a teenager, Philip Bailey pursued his dream, playing drums and bass in the high school jazz band, then rushing off to rehearsals with the school choir. In college, he expanded his percussion talents to include marimba and timpani and strongly considered joining a symphony orchestra after graduation.

"But my first love was always jazz," he confides. "Miles and Coltrane, drummers like Max Roach and Art Blakey, have always been icons for me." Not surprisingly, Bailey became a regular on the bill at several local clubs, singing from 9 p.m. to 2 a.m., then playing drums from 3:30 to 6 in the morning. One night, his band supported the embryonic Earth, Wind & Fire, and brief introductions were made. It was an encounter that was to prove vital to Philip's future and to the history of American popular music.
Philip Bailey left college a year later and decided to chance his musical luck in Los Angeles. Once he arrived on the West Coast, it didn't take long to hook up again with Earth, Wind & Fire. The group's founder Maurice White, a former session drummer for such artists as Etta James, Fontella Bass and Billy Stewart, had arrived in L.A. only the year before with visions of creating a truly universal music group – one that was spiritually charged and ambitious in scope, defying boundaries of color, culture and categorization. Those ideas appealed to Philip as well, and his soon-to-be trademark falsetto blended so perfectly with White's charismatic tenor that the young singer was invited to join the band.
As EWF skyrocked to the top of the charts, both fans and critics began championing Bailey's incomparable upper-register flights on such hits as "Shining Star," "Reasons," "All 'N All" and "After The Love Has Gone." Throughout the next decade, Earth, Wind & Fire's astronomical success (six Grammy Awards, four American Music Awards and more than 50 gold and platinum albums) provided the critically-acclaimed singer with the perfect launching pad for a solo career.
In 1982, while continuing his work with EWF, Philip Bailey recorded his first solo project, "Continuation." Soon to follow were the R&B/pop albums "Chinese Wall" (1984), which spawned the worldwide hit duet with Phil Collins, "Easy Lover," and "Inside Out" (1986). During that time, Bailey also began making a name for himself in the gospel world and has since released four gospel recordings, including "The Wonders of His Love" (1984), the Grammy-winning "Triumph" (1986), "Family Affair" (1989) and "The Best of Philip Bailey: A Gospel Collection" (1991).
Shortly after returning to the studio with Earth, Wind & Fire to record the band's Grammy-nominated "Millennium," Philip collaborated with singer Brian McKnight and members of the hit groups PM Dawn and Arrested Development to co-write and record yet another R&B/pop solo project – "Philip Bailey" (1994). In 1998, his album "Life and Love" was released throughout Europe.
Philip's album, "Dreams," gave him an opportunity to focus on his first love – jazz – as he teamed with a veritable Who's Who of contemporary jazz artists, including Gerald Albright, Randy Brecker, Luis Conte, George Duke, Everette Harp, Joe McBride, Pat Metheny, Morris Pleasure (who also co-produced some tracks), Gerald Veasley, the late Grover Washington, Jr., Kirk Whalum and Peter White.
"It really was a dream having all these different musicians involved," notes Bailey, "I'd worked with many of them in the past. George Duke produced my very first solo album. Kirk, Grover, Joe and both Geralds had also played with me before. And, of course, Morris and I met in Earth, Wind & Fire. But it's still so flattering to have all these people giving a hand and creating this album with me."
"When I called Pat Metheny and asked him to write something for this project, he suggested I listen first to 'Something To Remind You,' a song he had written a few years ago with Lyle Mays, because it had been inspired by Earth, Wind & Fire," says Bailey. "I loved the song, so I asked my son Sir, who has often co-written with me, to come up with some lyrics. It's now one of my favorites on the album."
"It's just a great time in my life, and I feel very blessed. I love the fact that as musicians, we get to take a stab at leaving behind something that's pure, preserved for the future. It's a wonderful feeling to be able to do that."
Hit songs include --
Easy Lover
I Know
Trapped
Walking On The Chinese Wall
Photogenic Memory
Here With Me
State of The Heart
Philip Bailey may be available for your next special event!
Watch videos:
YouTube

Genre: R&B
Genre: Gospel
Styles:
.Contemporary R&B. / ContemporaryR&B
.Contemporary Gospel. / ContemporaryGospel
.CCM. / xCCM
.Black Gospel. / BlackGospel
.Urban. / xUrban
.Soul. / xSoul


Years active:
x70s, x80s, x90s, x00s, x10s, x20s
1970-present

Born: ..in Colorado / born nColorado
Born: ..in Denver / born DenverCO
Born: May 8, 1951

Based: ..in US

Tag: MemberOf