Hits include: "Free", "Heavy Things",
"Down With Disease", "The Line",
"Backwards Down The Number Line",
"Breath And Burning".
How to Hire PHISH For Your Event!
Popular requests:
BOOKING FEE (booking price, booking cost).
Phish is an American rock band that formed in Burlington, Vermont, in 1983. The band is known for musical improvisation, extended jams, blending of genres, and a dedicated fan base.
Phish's music blends elements of a wide variety of genres, including funk, reggae, progressive rock, psychedelic rock, folk, country, jazz, blues, bluegrass, electronic music, and pop. The band is part of a movement of improvisational rock groups, inspired by the format of the Grateful Dead's live performances and colloquially known as "jam bands", that gained considerable popularity as touring concert acts in the 1990s.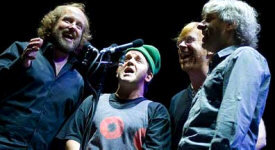 Hire Phish for your festival or concert plans!
Phish has developed a large and dedicated following by word of mouth, the exchange of live recordings, and selling more than 8 million albums and DVDs in the United States.
The music of Phish is "oriented around group improvisation and super-extended grooves". Their songs draw on a range of rock-oriented influences, including funk, jazz fusion, progressive rock, bluegrass, and psychedelic rock. Some Phish songs use different vocal approaches, such as a cappella (unaccompanied) sections of barbershop quartet-style vocal harmonies.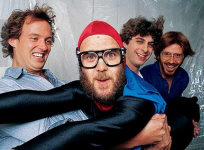 Hire Phish for your company's special event!
In 1998, Rolling Stone described Phish as "the most important band of the '90s." Phish have been named as an influence by other acts in the jam band scene, including Umphrey's McGee and the Disco Biscuits. Other musicians have also counted Phish as an influence, including Adam Levine and James Valentine of Maroon 5, Ed O'Brien of Radiohead, Brandon Boyd of Incubus, and reggae musician Matisyahu.
In 2009, Phish performed at the Banaroo Music Festival along with other artists including Nine Inch Nails, Snoop Dogg, Elvis Costello, Erykah Badu, Yeah Yeah Yeahs, Band Of Horses, MGMT, The Decemberists and Bon Iver.
The BBC listed Phish as one of "Eight smash US acts that Britain never understood" along with fellow jam bands Dave Matthews Band and Blues Traveler.
Hire Phish for your party or event!
Phish may be available for your next special event!
Book Phish, now!
For other great suggestions for booking music acts, look here.
Listen to music:
YouTube Music | Spotify