How To Book THE PINK FLAMINGOS For Your Event!
The Pink Flamingos may be available for your next special event!



"Corporate Entertainment That Works!"
Four hours of non-stop party music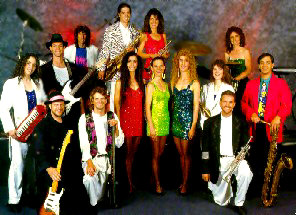 It's the magic of The Pink Flamingos! Imagine elegant dinner music, a live Broadway show, and an incredible dance party – all in the same evening!
One of the nation's most talented and versatile musical troupes, this group is made up of 21 singers, dancers, musicians, and technicians (fully self-contained).
Perhaps nothing so distinguishes The Pink Flamingos as their ability to connect with the audience. Imagine your friends performing on stage with "The Pinks" or winding through the audience with Carmen leading the Conga line.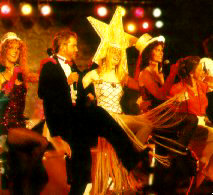 Producing an exciting array of programs that include classic show tunes, interactive entertainment, dance parties, and music from the Big Band era to contemporary music (Harry Connick, Jr., B-52's, Miami Sound Machine, MC Hammer, Garth, Glenn Miller, The Rolling Stones, Stevie Wonder), The Pink Flamingos have performed for some of America's best-known organizations.
The group tailors each entertainment package to your exact requirements and includes dinner music, dance parties, specialty characters, elaborate costumes and interactive programming for one single price. Possible themes include Variety, Broadway, 40's, Mardi Gras, Black Tie, Circus, Americana, 50's/60's/Motown, Las Vegas, Futuristic, International, Country, Beach and many more.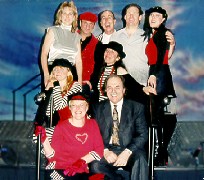 The Pink Flamingos
with Richard De La Font
They fit the ambience of any event, whether formal, high-energy fun, elaborately themed or any combination. It's an all-out, non-stop, get-down, best-ever, out-of-your-seat, unprecedented dance party!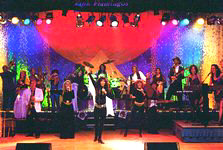 Return engagements are considered to be the greatest compliment to performing artists. The Pink Flamingos consider their greatest achievement to be the friends they've made along the road to becoming the most repeated act in the industry.
What others say --
Coca-Cola:
"Their enthusiasm is contagious and we all caught it!" -- Anita Wiegman

New York Bankers Association:
"Electric, spontaneous, irresistible!" -- Mary Robb

Yamaha:
"A terrific night of entertainment! Classy and fun!" -- Kim A. Jerman, Promotions Coordinator

Washington Post:
"You have to see it to believe it!" -- Jamie Gold

Canon, USA:
"Three hours non-stop! The most incredible dance party I've ever seen!" -- Hiromi Nagata

American Dental Association:
"From the general session to the show and dance party, The Pink Flamingos were no less than superb!" -- Dr. Brian Eck

National Professional Insurance Agents:
"Thanks for making me look like a hero. I think the thing that I like most was the fact that your entire group exuded art in its purest form." -- imo K. Todd, Executive Vice President

Raytheon Engineers & Constructors:
"You are all incredibly gifted and creative performers, but the true magic behind your performance is something I call 'Heart'." -- Jean Calhoun, Manager of Conferences and Events

BASF:
"We had thought that your performance in New Orleans was as good as it could get – then you bettered yourselves in Las Vegas. I suppose, though, that with the enthusiasm your performers have for their work, constant innovation is to be expected. Next year should be fantastic!"
-- Guy Barnes, Marketing Communications Manager

Casey Kasem:
"The Pink Flamingos are fabulous non-stop explosive entertainment, yeah!"

Jessica Kuborn Events: (Bruxelles, Belgium)
"Your Pink Flamingos took Europe by storm... Brussels has never seen anything like it! They say music is the universal language. Well, your performance spoke volumes to our audience!"
-- Jessica Kuborn

NCR:
"The Pink Flamingos did the impossible...I would never have believed that our 90% male audience would have 'demanded' an HOUR ENCORE! You transformed the entire event!" -- Diane Merzel, Assistant VP

IBM/Lexmark:
"In my 25 years with IBM, I've never seen an audience so moved by a single performance."
-- Bob Kendricks

PCMA:
"I wholeheartedly and with great enthusiasm recommend The Pink Flamingos as an absolutely sensational group to entertain your convention attendees!" -- Roy B. Evans, Jr., CEO
Notable clients include --
ADP
Aetna
American Airlines
American Dental Association
American Express
American Pharmaceutical Association
American Truck Dealers Association
AT&T
Blockbuster Entertainment Corp.
Caesars Palace
The Calgary Stampede
California Auto Dealers Association
Canon, USA
Circuit City
Coca-Cola
Digital
Eastman Kodak
FedEx
Ford Motor Company
The Gillette Company
IBM
Inc. Magazine
Intel
International Auto Dealers Association
International Pharmaceutical Assn.
ITT Sheraton
Kellogg's
Konica
Lucent Technologies
The Marriott Corporation
The Mirage
Motorola
National Auto Dealers Association
National Easter Seals
National Football League
National Grocers Association
Nat'l Professional Insurance Agents
New York Bankers Association
Nokia
Northern Telecom
Opryland
Pacific National Exposition
Pitney Bowes
Raytheon
Ritz-Carlton Hotels
Sherwin-Williams Company
Smith Kline Beecham Pharmaceuticals
Tandem
Universal Underwriters
US Air
US West
Yamaha
Young Presidents Organization
.....and many more!
The Pink Flamingos may be available for your next special event!
Watch videos.
YouTube

(For smaller budget events, we can provide a smaller version of this group, The Flamingo Express.)
Genre: Party
Styles:
.Party. / xParty
.Classic Rock. / ClassicRock
.Show Band. / ShowBand
.Contemporary Country. / ContemporaryCountry
x40s
x50s
x60s

Based: ..in US
Based: ..in New Mexico / based nNewMexico