Visit new page >>>
PINK
How To Book P!NK For Your Event!
P!nk may be available for your next special event!



How to Hire PINK For Your Event!
Popular requests:
BOOKING FEE (booking price, booking cost)
.
GRAMMY AWARD winning Alecia Beth Moore Hart (born September 8, 1979), known professionally as Pink (stylized as P!nk), is an American singer, songwriter, actress and dancer. She was originally a member of the girl group, Choice.
Calling upon Janis Joplin, The Supremes, Shirley Murdock, Donna Hathaway and Madonna for inspiration, Pink laid down her first self-written song at fourteen.
Hire Pink! for your festival or concert plans!
Pink began writing songs to display her vocal ability and love of the pop side of R&B at a feverish pace. When she approached L.A. Reid with her songs, he was floored. "I kept playing him my songs and going, What about this one? What about these?" she remembers. "And he was like, 'Yeah, I like that one. Yeah, that's a single.' He looked at me as a self-contained unit, which he thought was interesting. It has always been really cool with him." Reid signed Pink up as a solo artist and hooked her up with various writing partners – from She' kspeare to Babyface and 112.
Her R&B-influenced debut studio album, Can't Take Me Home (2000), was certified double-platinum in the United States and spawned two Billboard Hot 100 top-ten songs: "There You Go" and "Most Girls". She gained further recognition with the collaborative single "Lady Marmalade" from the Moulin Rouge! soundtrack, which topped many charts worldwide. Refocusing her sound to pop rock with her second studio album, Missundaztood (2001), the album sold more than 13 million copies worldwide and yielded the international hit songs "Get the Party Started", "Don't Let Me Get Me", and "Just Like a Pill".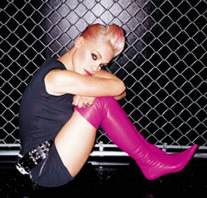 Hire Pink! for your very special event or occasion.
Pink collaborated with several other artists in 2006 and 2007, when she opened for Justin Timberlake on the American leg of his FutureSex/LoveShow Tour. She sang on the Indigo Girls album, Despite Our Differences. She was featured on India.Arie's song "I Am Not My Hair" from the Lifetime Television film Why I Wore Lipstick to My Mastectomy.
"Outside of You", another song she co-wrote, was recorded by dance-pop singer Hilary Duff and released on her 2007 album, Dignity. Pink recorded a song with Annie Lennox and twenty-two other female acts for Lennox's fourth solo studio album, Songs of Mass Destruction.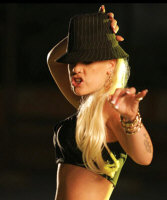 Hire Pink!
She collaborated on the 2010 Herbie Hancock album, The Imagine Project, in which she sang Peter Gabriel's "Don't Give Up" with John Legend and contributed vocals to John Lennon's "Imagine" with Seal, India.Arie, Jeff Beck, Konono Nº1, Oumou Sangaré, and others. The last collaboration earned Pink a Grammy Award for Best Pop Collaboration with Vocals.
She was featured on a track titled "Won't Back Down" for Eminem's 2010 album, Recovery; Eminem explained that he included Pink because he "felt like she would smash this record."
In addition to her work for The Truth About Love, Pink appeared on the track "Guns and Roses" on T.I.'s album, Trouble Man: Heavy Is the Head. The song has been certified Gold by the ARIA for sales of 35,000 digital downloads shipped in Australia. She also wrote two songs, "I Walk Alone" and "Lie to Me", for Cher's album, Closer to the Truth.
It was announced in September 2014, that Pink and Dallas Green, lead singer of City and Colour, worked together on a collaborative album, under the band name You+Me.
Pink has named Madonna and Janis Joplin as her biggest musical influences.
CNN has said that Pink is known for singing "with the right level of emotion". Fellow artist Kelly Clarkson has called Pink's voice "the best of our generation". Troy L. Smith, writing for Cleveland.com, called Pink one of her generation's most underrated vocalists, writing that she is capable of "sing[ing] anything, from rock and pop to folk and R&B." Smith named her 2006's second best vocalist, runner-up to Carrie Underwood.
Entertainment Weekly said: "She essentially invented the whole modern wave of Pop Diva Domination: You can draw a straight line from "Get This Party Started" to Katy Perry, Kesha, pre-messianic Lady Gaga, and post-weird Rihanna."
Pink's work has inspired many other artists, including Christina Aguilera, Demi Lovato, Kelly Clarkson, Katy Perry, Tegan and Sara, Ashley Tisdale, Alessia Cara, Victoria Justice, Adele, Julia Michaels, Ben Hopkins of Pwr Bttm, Dua Lipa, Bebe Rexha, Halsey, Anne Marie, Kehlani, and Daya.
According to Nielsen SoundScan, Pink's record sales stand at more than 16 million copies in the United States. Pink has sold more than 40 million albums and 50 million singles worldwide, making her one of the world's best-selling music artists.
Hit songs include --
Glitter In The Air
Raise Your Glass
Please Don't Leave Me
Don't Let Me Get Me
Get the Party Started
Most Girls
There You Go
U + Ur Hand
Who Knew
Just Like a Pill
Stupid Girls
Who Knew
You Make Me Sick
Family Portrait
Feel Good Time
Trouble
God Is A DJ
Dear Mr. President
Hire Pink for your party or event!
Pink may be available for your next special event!
Book Pink, now!
For other great suggestions for booking music acts, look here.

Genre: Rock 1
Styles:
.Teen Pop. / TeenPop
.Club/Dance. / ClubDance
.Dance-Pop. / DancePop
.Pop. / xPop
.Pop/Rock. / PopRock


Years active:
x90s, x00s, x10s, x20s
1995-present

Born: ..in Pennsylvania / born nPennsylvania
Born: ..in Doylestown / born DoylestownPA
Born: Sep 8, 1979

Raised: ..in Pennsylvania
Raised: ..in Philadelphia / PhiladelphiaPA

Based: ..in US
Based: ..in California / based nCalifornia
Based: ..in Los Angeles / based LosAngelesCA

Tag: Jewish Musical Artists, xJewish