Richard De La Font Agency, Inc.
Legendary 5-Star Service and Reputation
Providing Excellence in Entertainment Since 1970

Booking Pink, Pink! - book rock music artists
Book Pink, Alecia Moore
Teen Pop, Club/Dance, Dance-Pop, Pop/Rock, Pop

Booking Information
About This Company
Rock Music Roster | Music Menu
Fast Index | Home | Search
Printable Page
---
How To Book P!NK For Your Event!
P!nk may be available for your next special event!



Pink is a woman with the experience of many lifetimes. "I'm a very extreme person. I went through a lot of phases growing up, and for every one, I was extreme," confides Pink. "From skateboarder to hip-hopper to rave child to lead singer of a rock band – I did it all, and all at the same time."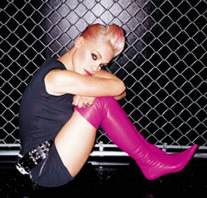 Looking at Pink, it's easy to believe that she skillfully mastered each of her extremes. With a shock of pink hair, sharply focused blue eyes hinting of a rebellious streak and an abundance of self-confidence, she is also a bewildered girl who is finding her place on this planet, a strong person with a million lessons to teach and even more to learn. She has seen a lot and done a lot.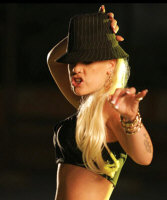 Pink is filled with self-discovery, having written more than half of the dozen songs on her self-titled album herself, Pink offers insight into her tumultuous world where life is not always flowers and chocolate.
"I decided at 15 that I didn't want to be one of those artists that gets up and sings love songs they don't mean," Pink explains of the songs that appeared on her debut album. "I decided that I was going to be me to the fullest extent, that my songs were going to reflect relationships I've had, things I've been through, and even the stuff I'm embarrassed about."
"My dad always played guitar and taught me songs by Dylan and McLean," Pink recalls. His love of music left an indelible mark on Pink. "Ever since I can remember, I think before I could talk, I sang," she continues. "I just ran around the house making up my own fantasy world."
By the time she was barely a teen, Pink had navigated the precarious waters of the Philly club scene. Any time not spent testing authority at high school was spent tearing up the dance floor, and eventually, the stage.
"I met this guy named Skratch, who was the best dancer in Philly, she says of her thirteenth year. I started dancing with him and eventually I was singing hooks in the background for his rap group, Schools of Thought. I wrote some of my own stuff, about the way it was growing up in Philly. We would just get up on the stage at clubs, and hang out in studios hoping to get some songs down on tape. At the time, making music was medicine."
Calling upon Janis Joplin, The Supremes, Shirley Murdock, Donna Hathaway and Madonna for inspiration, Pink laid down her first self-written song at fourteen. But she really got her groove on not in the studio, but in clubs. "I went regularly on Friday nights to Club Fever, where the DJ gave me a guest spotlight," Pink laughs. "My little five minutes on Friday night was all I wanted out of life. I loved the thrill of being on stage. It was the only place that I felt like, okay, I'm cool now." Being heckled only boosted Pink's ambitions.
One late Friday night, a rep from MCA came around the club, looking for a singer to fill out her new R&B group. She liked Pink's sound, and asked her to audition for a group called Basic Instinct. She got the gig practically on the spot, but the group fizzled quickly. "I didn't fit in," quips Pink. "But I didn't care. You have to laugh at stuff like that. And anyway, I don't see myself as belonging to any group."
Nonetheless, another group instantly snapped up Pink as one of three female leads. This one, named Choice, made a ten-cent demo and was immediately signed to LaFace Records. The group didn't last – one wanted to sing Broadway tunes, the other wanted to make alternative records and Pink wanted to do it all – but Pink's place in the LaFace stable was solidified. In fact, it was during studio time with Choice in Atlanta that Pink rediscovered her writing abilities and hooked up Darryl Simmons. "He asked me to write the bridge for 'Just to be Loving You.' I thought that was so cool, because no one had even asked me if I wrote. So I just closed my eyes and out it came. I wrote that – and it was the beginning of my career."
It was also the emergence of Pink's powerful soprano, which is capable of taking sharp dives and hairpin turns through multiple octaves. "I had gotten really good at emulating other people's sounds, from singing at the clubs," she says. "But the day we recorded 'Just to Be Loving You' for Choice in the studio, that song was so beautiful, I just sang. I didn't care what I sounded like. It just came out and shocked me."
Pink began writing songs to display her vocal ability and love of the pop side of R&B at a feverish pace. When she approached L.A. Reid with her songs, he was floored. "I kept playing him my songs and going, What about this one? What about these?" she remembers. "And he was like, 'Yeah, I like that one. Yeah, that's a single.' He looked at me as a self-contained unit, which he thought was interesting. It has always been really cool with him." Reid signed Pink up as a solo artist and hooked her up with various writing partners – from She' kspeare to Babyface and 112.
If this is just the surface, we can't wait to see what mysteries lurk below.
Hit songs include --
Glitter In The Air
Raise Your Glass
Please Don't Leave Me
Don't Let Me Get Me
Get the Party Started
Most Girls
There You Go
U + Ur Hand
Who Knew
Just Like a Pill
Stupid Girls
Who Knew
You Make Me Sick
Family Portrait
Feel Good Time
Trouble
God Is A DJ
Dear Mr. President
P!nk may be available for your next special event!

Genre: Rock 1
Styles:
.Teen Pop. / TeenPop
.Club/Dance. / ClubDance
.Dance-Pop. / DancePop
.Pop. / xPop
.Pop/Rock. / PopRock


Years active:
x90s, x00s, x10s, x20s

Born: ..in Pennsylvania / born nPennsylvania
Born: ..in Doylestown / born DoylestownPA
Born: Sep 8, 1979

Raised: ..in Pennsylvania
Raised: ..in Philadelphia / PhiladelphiaPA

Based: ..in US
Based: ..in California / based nCalifornia
Based: ..in Los Angeles / based LosAngelesCA

Tag: Jewish Musical Artists, xJewish
---
Concert Schedule – by Live Nation
Concert Schedule – by Ticketmaster

---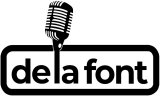 Booking Information
Music Menu
Fast Index | Home | Search
Frequently Asked Questions About How To Hire PINK for a private party or special event.
HOW TO BOOK PINK?
(i.e., how to hire PINK for an event)
You are currently on the official site of De La Font Agency. For more than 50 years, we have successfully helped official talent buyers around the world secure quality talent.
We welcome the opportunity to be of service to you. Let's do this the right way! Let's save you time and frustration!
Simply click on the "Let's Get Started!" link found on this page. Then, send us your request for booking information.
Include information about your plans for your event and how taking steps to hire PINK (or someone similar) might be of special interest.
If you decide you want to look at other names, simply include your talent-fee budget range and indicate that you want to see who else you might be able to afford with such a budget. We can send you a list of names that are affordable and in the style of music you prefer. We hope to save you time and frustration!
HOW MUCH DOES IT COST TO BOOK/HIRE PINK?
(i.e., what is the booking fee to hire PINK for an event?)
(i.e., what is PINK booking fee to perform at an event?)
Official booking fees for PINK, or any other celebrity, are determined based on a number of factors and may change at anytime without prior notice.

Factors influencing pricing vary and may include date, location, type of event, whether a private party or a public concert, the artist's calendar, whether the artist is on tour or not, how well tickets are selling at the artist's concerts, the current demand for the artist's music, market activity, etc.

As you might expect, the more in-demand the artist is, the more buyers are prepared to pay. Of course, this causes the artist's price to increase as the artist becomes more popular or decrease when becoming less popular.

Exclusive agents with exclusive representation frequently quote a range instead of a specific price, since changes can occur at anytime. Generally, the artist's manager has a role in the decision to accept any particular offer from a talent buyer.

To learn the most current artist's pricing, or the estimated artist's fee for your particular event, simply click on the "Let's Get Started!" link found on this page. Then, send us your request for booking information.
IS PINK AVAILABLE TO WORK MY EVENT?
(i.e., what is PINK's availability?)
To learn the artist's current availability for your special event, simply click on the "Let's Get Started!" link found on this page. Then, send us your request for booking information.

Once we have your event/party information, we will be better able to assist you with putting your entertainment talent booking plans in place as your entertainment consultant. Let's get this done right! We look forward to working with you!
---