Visit new page >>>
PLACEBO
How To Book PLACEBO For Your Event!
Placebo may be available for your next special event!



Hits include: "Pure Morning",
"Meds", "Running Up That Hill",
"Song To Say Goodbye",
"Infra-Red", "For What It's Worth",
"The Never-Ending Why", "B3",
"Bright Lights", "Too Many Friends",
"Ashtray Heart", "Loud Like Love",
"A Million Little Pieces".
How to Hire PLACEBO For Your Event!
Popular requests:
BOOKING FEE (booking price, booking cost)
.
Placebo are a British rock band, formed in London in 1994 by vocalist–guitarist Brian Molko and bassist–guitarist Stefan Olsdal. Drummer Robert Schultzberg joined in late 1994 but left in 1996 shortly after the release of the band's eponymous debut album due to conflicts with Molko, and was replaced the same year by Steve Hewitt.
Placebo's influences include David Bowie, Can, Iggy Pop and the Stooges, Pixies, Depeche Mode and Nine Inch Nails. The New York Times compared them to bands of the "first wave of post-punk rock, particularly New Order, The Cure, early U2 and Talking Heads".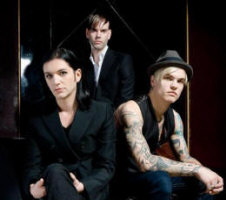 Hire Placebo for your festival or concert plans!
Placebo have been cited as an influence on such bands as My Chemical Romance and Panic! at the Disco.

Following the release of a demo, a split single, and their eponymous debut album, Placebo gained exposure in 1997 after the single "Nancy Boy" became popular in the UK, a song notorious at the time for its gender-bending content. The band stood out amongst the Britpop scene they were associated with at the time for their androgynous appearance and musical content, and lyrics which openly discussed sexuality, mental health, and drug use.
In 2007, Placebo joined Linkin Park, My Chemical Romance, Taking Back Sunday and various other acts for the annual Projekt: Revolution tour.

Placebo's music has typically been labeled as alternative rock. They have, however, also incorporated different sounds in their music throughout their career. Critics have also described the band's sound as pop punk, industrial rock, Britpop, glam rock, gothic rock, electronic rock, post-punk revival, and experimental rock. Progressive rock elements in the band's earlier works along with grunge and punk rock influences were also noted.

Lyrically, Placebo's music contains many references to drugs and sexuality.
Their discography includes six extended plays, and 33 singles.
Hire Placebo for your party or event!
Placebo may be available for your next special event!
Book Placebo, now!
For other great suggestions for booking music acts,
look here.

For more suggestions, proceed to the next page.
Click here --
Alternative Music Roster
Or, click on one of the below links --
Music Menu
Fast Index
Entertainers Directory
Home