How To Book POINT OF GRACE For Your Event!
Point of Grace may be available for your next special event!



Point of Grace has twenty-one consecutive #1 radio singles, one platinum record, four gold records, high-profile television appearances, a major book deal with Pocket Books (a division of Simon & Schuster), consistent Billboard charting action and Grammy and Dove Award accolades. Point Of Grace's dedication to their music, lives and their faith has resulted in one of the most highly profiled careers of any group, in or outside the Christian music arena.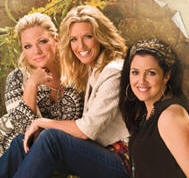 After making a splash with a debut album that garnered an unprecedented 6 #1 singles (history making success as verified by R&R and Billboard magazines), Point Of Grace has continued to reach the top spot with each album and song released, resulting in their current four #1 albums and 21 consecutive #1 singles. The response remains phenomenal for the foursome (called the "hottest" group in Christian music by The New York Times Magazine), and one of the brightest success stories in recent musical history.
The group's high profile runs the gamut from packed concert itineraries, including the Steady On tour and a Christmas tour with Amy Grant, special guest performances with the nation-wide Women Of Faith conferences for three years, to television appearances on "Live! with Regis and Kathie Lee," "CNN Showbiz," VH-1, "CBS This Morning," "ABC World News Tonight," "ABC's Prime Time Live," "The View with Barbara Walters," "The Donny & Marie Show," "Access Hollywood," "Entertainment Tonight," and "Good Morning America" to coverage in The New York Times magazine, Ladies' Home Journal, USA Today Weekend, Time magazine, The London Times and The Saturday Evening Post. And in 1999, Point Of Grace was also named "Official Tennessee Ambassadors" by the Governor's Office for their work on behalf of Mercy Ministries of America.

Point Of Grace has sold more than 3 million records and has garnered Grammy Award nominations along with an astounding sweep of Dove Awards and nominations including: Group of the Year, Artist of the Year, Pop Album of the Year, Pop Song of the Year, and Special Event Album of the Year. Throughout their record breaking run of number one singles and sold out concerts from coast to coast, Point Of Grace has indeed proven themselves as one of the most exciting, original and inspiring arrivals in contemporary Christian music, the fastest growing form of music in America today.
But wherever Point Of Grace appears or what awards might be obtained, the story remains the same – four girls with a simple story to tell and an enormous amount of talent with which to tell it. The group's impact extends far beyond charts and numbers. The faith, honesty, integrity and authenticity of these four young women have touched a common chord with audiences across the country, setting a standard as America's role models in today's Christian Community. It's that outspoken quality, that genuine connection that shines through the music, the message and the ministry of Point Of Grace.
"When Jesus prayed in the garden," Denise explains, "He prayed that we all would be one. That was His most important thought and prayer – that we would love Him and love others. I believe wholeheartedly that our biggest struggle and most important calling is to love each other."

What's behind Point Of Grace's extraordinary appeal is a lifetime of making music that communicates truth, and celebrates the triumph, of Jesus Christ. Formed in 1991, on the campus of the Arkansas college where they attended together (three of the girls attended the same high school), Point Of Grace has gone from a do-it-yourself labor of love – with the foursome handling everything from setting up their own equipment and booking their own shows – to a certified multi-media sensation.

These "hometown girls" have found that their greatest strength is in their bonds together. Shelley defines the relationship as a closeness that comes from being together so often and for so long.
Hit songs include --
How You Live (Turn Up The Music)
I Wish
The Love of Christ
Breath of Heaven
It's The Most Wonderful Time of The Year
Who Am I?
Day By Day
I Choose You
All The World
Santa Medley
Let There Be Light
Other notable songs include --
Steady On
I'll Be Believing
One More Broken Heart
Faith, Hope and Love
Jesus Will Still Be There
Keep the Candle Burning
Great Divide
Circle of Friends
Saving Grace
Point of Grace may be available for your next special event!
Watch videos:
YouTube

Genre: Gospel
Styles:
.CCM. / xCCM
.Inspirational. / xInspirational
.Contemporary Gospel. / ContemporaryGospel
.Praise & Worship. / Praise&Worship

/ Praise and Worship



Years active:
x90s, x00s, x10s, x20s
1991-present

Formed: ..in Arkansas / formed nArkansas
Formed: ..in Arkadelphia / formed ArkadelphiaAR
Formed: in 1991

Based: ..in US
Based: ..in Tennessee / based nTennessee
Based: ..in Nashville / based NashvilleTN