How To Book THE POINTER SISTERS For Your Event!
The Pointer Sisters may be available for your next special event!



June Pointer died April 11, 2006. She was 52.
Bonnie Pointer died June 8, 2020. She was 69.
How to Hire THE POINTER SISTERS For Your Event!
Popular requests:
Booking fee, booking price, or booking cost.
GRAMMY AWARD winning The Pointer Sisters are an American girl group from Oakland, California, which achieved mainstream success during the 1970s and 1980s.
The Pointer Sisters have never been easy to categorize, with roots in Country, R&B, Gospel, Jazz, Soul, and Pop. In 1995 they starred in a dazzling all new production of the multi-award winning hit Broadway musical "Ain't Misbehavin'" to critical acclaim. This was just another of the many firsts these extraordinary vocalists have experienced in their phenomenal career of more than twenty-five years.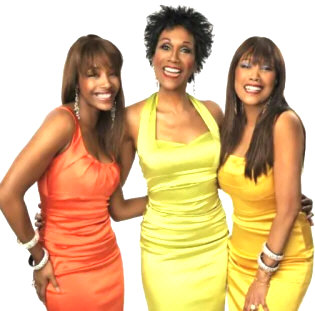 Hire The Pointer Sisters for your festival or concert plans.
In 1994, The Pointer Sisters burned up the country charts with "Chain of Fools," their smash duet with Clint Black, which went platinum and was nominated for Best Song of The Year by the Country Music Association. In September of 1994, The Pointer Sisters received two great honors. They were awarded a star on the Hollywood Walk Of Fame as a tribute to their continued success and they were invited to perform a special concert at the White House for the President and Mrs. Clinton.
The Pointer Sisters had the honor of performing in the Macys Thanksgiving Day Parade, which was wet but fun! In 1996 they had a ball with some of their fellow legends like Stevie Wonder, Gloria Estefan and many others performing for the closing ceremonies of the 1996 Summer Olympics in Atlanta.
They also performed in three television specials: "Up All Night" for NBC, "A Gospel Christmas with The Pointer Sisters" and the "Atlanta Symphony Orchestra" (A&E), and "Pop Goes the Fourth" with the Boston Pop's (A&E). "Pop Goes the Fourth" was nominated for a Cable ACE Award in the category of Best Performing Arts Special or Series.
Continuously in demand as international musical superstars, The Pointer Sisters headlined a hectic schedule of worldwide concert dates, which took them to Germany, Austria, France, Thailand and Australia. The Pointer Sisters have also performed in concert with some of the world's most prestigious symphony orchestras including the Atlanta Symphony, the San Francisco Symphony, the Louisville Symphony, the Knoxville Symphony, and The Boston Pops which was also aired as a musical special on A&E.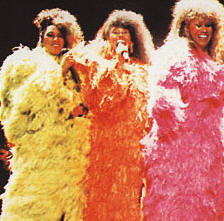 Hire The Pointer Sisters for your very special event or occasion.
One look at their Grammy Awards confirms that The Pointer Sisters have always been mavericks. Nominated ten times, they've taken home three in widely varied categories: Best Country Vocal Group (for "Fairytale"), Best Pop Performance by a Group or Duo (for "Jump") and Best Vocal Arrangement (for "Automatic").
Growing up and singing together in Oakland, California, The Pointer Sisters, Ruth, Anita, and Bonnie, honed their set-the-house-afire technique at the West Oakland Church of God, where their father was the minister. But unlike most rhythm & blues performers whose expertise is limited to gospel style testifying, The Pointer Sisters proved themselves of a wider range of musical mastery that included jazzy scat singing and country crooning.
It wasn't long before their versatility was noticed and music luminaries like Dave Mason, Elvin Bishop, Boz Scaggs and Grace Slick were soliciting their vocal services. Soon, The Pointer Sisters began making their own mark on popular music with a long string of hits starting with their funky interpretation of Allen Toussaint's "Yes We Can Can." "Fairytale," a tune penned by Anita and Bonnie, was a crossover country hit and the group became the first black female group to perform at The Grand Ole Opry.
Continuing their groundbreaking tradition, The Pointer Sisters were also one of the first black female groups to headline in Las Vegas. Their smash hit, "How Long (Betcha Got A Chick On The Side)," established The Pointer Sisters as a musical force to be reckoned with.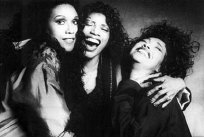 Hire The Pointer Sisters.
The Pointer Sisters have won three Grammy Awards and received a star on the Hollywood Walk of Fame in 1994. They were inducted into the Vocal Group Hall of Fame in 2005.
In a February 25, 2016, interview with News.com.au, Ruth Pointer said of The Pointer Sisters recent live performance history: "I'm almost inclined to call pop-up engagements, not tours. We don't do the tours like we used to do back in the day. We'll leave that to the young folks, out on the road in buses for months at a time....We still have a good time, we do a lot of corporate dates, a lot of casinos, special events, fundraisers, that's our audience.
In September 2021, they performed at the Naperville Music Festival along with others, including, Kool & The Gang, Village People, Peter Beckett, John Ford Coley and Orleans.
Hit songs include --
Dare Me
How Long (Betcha' Got A Chick On The Side)
Automatic
Fire
I Need You
Slow Hand
Jump (For My Love)
Neutron Dance
Goldmine
American Music
I'm So Excited
Yes We Can Can
Fairytale
Should I Do It
You Gotta Believe
Twist My Arm
Going Down Slowly
Happiness
All I Know Is the Way I Feel
Mercury Rising
Be There
He Turned Me Out
I'm in Love
Friends' Advice (Don't Take It)
Insanity
Christmas in New York
Hire The Pointer Sisters for your party or event!
The Pointer Sisters may be available for your next special event!
Book The Pointer Sisters, now!
For other great suggestions for booking music acts, look here.
Watch videos:
YouTube | Vimeo

Listen to music:
YouTube Music | Spotify

Genre: R&B
Styles:
.Adult Contemporary. / AdultContemporary
.Contemporary R&B. / ContemporaryR&B
.Dance-Pop. / DancePop
.Soul. / xSoul
.Soft Rock. / SoftRock
.Post-Disco. / PostDisco


Years active:
x70s, x80s, x90s, x00s, x10s, x20s
1971-present

Formed: ..in California / formed nCalifornia
Formed: ..in Oakland area / formed OaklandCA
Formed: in 1971

Based: ..in US
Based: ..in California / based nCalifornia

Tag: .Orchestra charts available. / OrchestraCharts