Visit new page >>>
PRIMUS
How To Book PRIMUS For Your Event!
Primus may be available for your next special event!




Hits include: "My Name is Mud",
"Wynona's Big Brown Beaver",
"Jerry Was a Race Car Driver",
"N.I.B.", "Making Plans for Nigel".
How to Hire PRIMUS For Your Event!
Popular requests:
BOOKING FEE (booking price, booking cost).
Primus is an American rock band formed in El Sobrante, California, in 1984. Over the course of various lineup changes, Les Claypool is the only remaining original member left in Primus.
Primus is characterized by its irreverent, quirky approach to music distinguished by Claypool's bass-first songwriting style and eccentric lyrical themes. In 1993, Robert Christgau remarked: "[Primus is] quite possibly the strangest top-10 band ever, and good for them."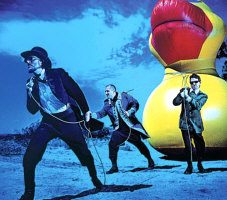 Hire Primus for your festival or concert plans!
The music of Primus has been described as "thrash-funk meets Don Knotts, Jr." and "the Freak Brothers set to music". Also, Primus has been categorized as alternative rock, alternative metal, experimental rock, funk rock, funk metal, progressive rock, and "thrash-funk".
Primus' influences include King Crimson, the Residents, Rush, Pink Floyd and Hillel Slovak-era Red Hot Chili Peppers.
The band have been credited as an influence to the nu metal genre, with bands such as Deftones, Korn, Limp Bizkit, Pressure 4-5 and Pleymo all having been inspired by Primus.
In 2005, they performed at Lollapalooza along with others including Billy Idol, CAKE, Dashboard Confessional, Hard-Fi, The Black Keys, Weezer, Arcade Fire, Death Cab for Cutie, Drive-By Truckers, Kasabian, Tegan and Sara, The Killers, and Widespread Panic.
In 2011, Primus performed at The Bonaroo Music Festival with Eminem, Arcade Fire, Widespread Panic, The Black Keys, My Morning Jacket, Lil Wayne, Mumford & Sons, The Strokes, The Decemberists, Ray Lamontagne, Iron & Wine, Florence and the Machine, STS9, Gogol Bordello, Beirut, Wiz Khalifa, Cold War Kids and Amos Lee.
Primus is also known for their unique live performances that feature extended solos and improvisation. Many of their songs have been upgraded significantly with changed lyrics, added solos, and general alterations in musical composition. Claypool often plays the whamola during drum solos.
Hire Primus for your party or event!
Primus may be available for your next special event!
Book Primus, now!
For other great suggestions for booking music acts, look here.

For more suggestions, proceed to the next page.
Click here --
Metal Music Roster or Alternative Music Roster
Or, click on one of the below links --
Music Menu
Fast Index
Entertainers Directory
Home