How To Book PUBLIC ENEMY For Your Event!
Public Enemy may be available for your next special event!



"Rock 'N Roll Hall of Fame"
Hits include: "911 Is A Joke",
"Shut 'Em Down", "He Got Game",
"Welcome To The Terrordome",
"Black Steel In The Hour of Chaos",
"Can't Do Nuttin For Ya Man",
"Shake Your Booty", "Nighttrain",
"Hazy Shade of Criminal",
"Do You Wanna Go Our Way???",
"Fight The Power", "Can't Truss It",
"Give It Up".
How to Hire PUBLIC ENEMY For Your Event!
Popular requests:
Booking fee, booking price, or booking cost.
GRAMMY AWARD winning Public Enemy is an American hip-hop group formed by Chuck D and Flavor Flav on Long Island, New York, in 1985. The group rose to prominence for their political messages including subjects such as American racism and the American media.
Public Enemy's first four albums during the late 1980s and early 1990s were all certified either gold or platinum and were, according to music critic Robert Hilburn in 1998, "the most acclaimed body of work ever by a hip-hop act". Critic Stephen Thomas Erlewine called them "the most influential and radical band of their time".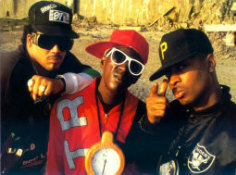 Hire Public Enemy for your festival or concert plans.
In 2013, they were inducted into Rock and Roll Hall of Fame. They were honored with the Grammy Lifetime Achievement Award at the 62nd Grammy Awards.
Also in 2013, they performed at the Glastonbury Festival with others, including Smashing Pumpkins, Arctic Monkeys, The Rolling Stones, Elvis Costello & The Imposters, Portishead, Mumford and Sons, Alt-J, Of Monsters and Men and The Lumineers.
Public Enemy was a revolutionary hip-hop act whose entire image rested on a specified political stance. With the successes of Public Enemy, many hip-hop artists began to celebrate Afrocentric themes, such as Queen Latifah, the Jungle Brothers, and A Tribe Called Quest.
Public Enemy made contributions to the hip-hop world with sonic experimentation as well as political and cultural consciousness, which infused itself into skilled and poetic rhymes. Critic Stephen Thomas Erlewine wrote that "PE brought in elements of free jazz, hard funk, even musique concrète, via producing team the Bomb Squad, creating a dense, ferocious sound unlike anything that came before."
Members of the Bomb Squad produced or remixed works for other acts, like Bell Biv DeVoe, Ice Cube, Vanessa Williams, Blue Magic, Peter Gabriel, L.L. Cool J, Paula Abdul, and Third Bass.
Their discography includes 15 studio albums, two live albums, four compilation albums, two remix albums, one soundtrack album, four video albums, 39 singles, four promotional singles and 39 music videos.
Hire Public Enemy for your party or event!
Public Enemy may be available for your next special event!
Book Public Enemy, now!
For other great suggestions for booking music acts, look here.

For more suggestions, proceed to the next page.
Click here --
Rap Music Roster
Or, click on one of the below links --
Music Menu
Fast Index
Entertainers Directory
Home