How To Book PUDDLE OF MUDD For Your Event!
Puddle of Mudd may be available for your next special event!



Puddle of Mudd is an American rock band formed in Kansas City, Missouri, in 1992. They have sold over seven million albums and have had a string of No. 1 mainstream rock singles in the United States.
The original line-up, formed in 1993 around Wes Scantlin, named themselves after a rehearsal room next to a river, which became a swamp overnight after a flood.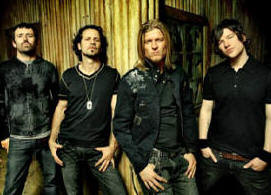 Hire Puddle of Mudd for your festival or concert plans.
Puddle of Mudd struck lucky when Scantlin went to a concert on KoRn's Family Values tour and passed his band's demo tape to a security guard during Limp Bizkit's set, requesting that his tape be passed to the band's singer, Fred Durst.
The rapper liked what he heard and contacted Scantlin, who had, however, just lost all his band members, his outfit having decided to part ways in the interim. Even the phone call from Durst failed to persuade the musicians to re-form, but Durst flew Scantlin over to Los Angeles, a city that he knew was bursting at the seams with budding musicians.
Recruiting Paul Phillips (guitar), Douglas Ardito (bass), and Greg Upchurch (drums; some early sessions were handled by A Perfect Circle drummer Josh Freese), Scantlin and Durst negotiated a contract with the Limp Bizkit frontman's own Flawless label and commenced recording sessions for an album.
The result, 2001's "Come Clean," replicated the success of one of Durst's other discoveries, Staind, selling more than 100,000 copies in a few weeks. A performance by Scantlin, Durst and Jimmy Page at the MTV Europe Awards in 2001 saw the Puddle of Mudd profile rise still higher.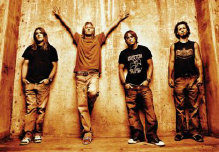 Hire Puddle of Mudd for your very special event or occasion.
In 2015, the band started recording a new album with Cameron Webb at Grandmaster Studios. The following year, they took part in the Make America Rock Again super tour with other artists, who had success throughout the 2000s, including Trapt, Saving Abel, Alien Ant Farm, Crazy Town, 12 Stones, Tantric, Drowning Pool, P.O.D. and Fuel.
In July 2019, a new single, "Uh Oh", was released, with the full album, Welcome to Galvania, following in September.
In 2022, Scantlin stated a new album was in the works, and was ''basically pretty much done''. No release date has been announced, but Scantlin later noted that he plans on releasing it by the end of 2022. The band's sixth album, titled Ubiquitous, was released on September 8, 2023.
Their discography includes one independent and six studio albums.

Hit songs include ---
Away From Me
Blurry
Drift & Die
Psycho
She Hates Me
Famous
Control
Heel Over Head
Spin You Around
Livin' On Borrowed Time
We Don't Have To Look Back Now
Spaceship
Stoned
Gimme Shelter
Uh Oh
Other notable songs include ---
Out of My Head
Basement
Never Change
Bring Me Down
Said
Nobody Told Me
Hire Puddle of Mudd for your party or event!
Puddle of Mudd may be available for your next special event!
Book Puddle of Mudd, now!
For other great suggestions for booking music acts, look here.
Watch videos:
YouTube | Vimeo

Listen to music:
YouTube Music | Spotify

Genre: Rock 2
Genre: Rock 3
Styles:
.Heavy Metal. / HeavyMetal
.Hard Rock. / HardRock
.Alternative Metal. / AlternativeMetal
.Post-Grunge. / PostGrunge
.Nu Metal. / NuMetal

Years active:
x90s, x00s, x10s, x10s, x20s
1993-present

Formed: ..in Missouri / formed nMissouri
Formed: ..in Kansas City / formed KansasCityMO
Formed: in 1993

Based: ..in US
Based: ..in California / based nCalifornia
Based: ..in Los Angeles / based LosAngelesCA