How To Book QUEENS OF THE STONE AGE For Your Event!
Queens of the Stone Age may be available for your next special event!





Hits include: "No One Knows",
"Go With The Flow", "Little Sister",
"The Lost Art of Keeping A Secret",
"Sick, Sick, Sick", "3's & 7's",
"In My Head", "Burn The Witch",
"My God Is The Sun",
"I Sat By The Ocean",
"The Way You Used to Do",
"The Evil Has Landed".
How to Hire QUEENS OF THE STONE AGE For Your Event!
Popular requests:
BOOKING FEE (booking price, booking cost)
.
Grammy Award winning Queens of the Stone Age (commonly abbreviated QOTSA) is an American rock band formed in 1996 in Palm Desert, California. The band has earned a reputation as an amazing live act and has toured extensively with has toured with The Foo Fighters.
The band was founded by vocalist and guitarist Josh Homme, who has been the only constant member throughout multiple line-up changes. The band also has a large pool of contributors and collaborators.
Queens of the Stone Age are known for their blues, Krautrock and electronica-influenced style of riff-oriented and rhythmic hard rock music, coupled with Homme's distinct falsetto vocals and unorthodox guitar scales.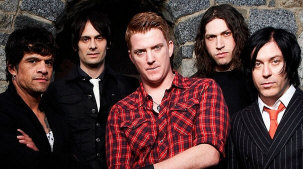 Hire Queens of the Stone Age for your festival or concert plans!

Formed after the dissolution of Homme's previous band Kyuss, the band originated from the Palm Desert music scene. Their self-titled debut album was recorded with former Kyuss members Alfredo Hernández on drums and Homme on all other instruments. Nick Oliveri and Mark Lanegan joined as additional vocalists for Rated R, which was commercially and critically successful, and featured their breakout single "The Lost Art of Keeping a Secret".
In 2002, Songs for the Deaf was released to universal acclaim and commercial success, and featured Dave Grohl on drums and contributions from Alain Johannes and Natasha Shneider.
Also in 2002, Queens of the Stone Age performed at the Glastonbury Festival along with Alabama, Bush, Carl Cox, Coldplay, Dropkick Murphys, Garbage, Nelly Furtado, Stereophonics, No Doubt, Robert Plant, Fatboy Slim and Manu Chao.
Following Oliveri and Lanegan's departures, Homme was the primary singer for 2005's Lullabies to Paralyze and 2007's electronic-influenced Era Vulgaris.

In 2013, Like Clockwork was released and Villains in 2017 with Mark Ronson as producer for the latter, both of which received critical acclaim.

The band have been nominated for Grammy Awards seven times: four times for Best Hard Rock Performance, twice for Best Rock Album, and once for Best Rock Performance.

Throughout its career, the band has been described as alternative rock, stoner rock, alternative metal, hard rock, and occasionally nu metal. Homme has described the band's self-titled debut album as driving music, angular and recorded dry, with the album featuring solid and repetitive riffs in its song structure. Rolling Stone magazine also noted a "connection between American meat-and-potatoes macho rock of the early 1970s, like Blue Cheer and Grand Funk Railroad, and the precision-timing drones in German rock of the same period."
Their discography includes seven studio albums, one live album, three extended plays, fourteen singles, three promotional singles and twenty music videos.
Hire Queens of the Stone Age for your party or event!
Queens of the Stone Age may be available for your next special event!
Book Queens of the Stone Age, now!
For other great suggestions for booking music acts, look here.

For more suggestions, proceed to the next page.
Click here --
Metal Music Roster
Or, click on one of the below links --
Music Menu
Fast Index
Entertainers Directory
Home