How To Book RADIOHEAD For Your Event!
Radiohead may be available for your next special event!



Hits include: "Creep",
"Anyone Can Play Guitar",
"Pop is Dead", "My Iron Lung",
"Nude","Fake Plastic Trees",
"Street Spirit (Fade Out)",
"Just", "Paranoid Android",
"The Bends", "Karma Police",
"No Surprises", "Pyramid Song",
"Knives Out", "There There",
"Go to Sleep", "2+2=5",
"JigSaw Falling Into Place",
"The Daily Mail", "High and Dry",
"Burn the Witch", "Daydreaming".
GRAMMY AWARD winning Radiohead are an English rock band formed in Abingdon, Oxfordshire, in 1985. The band consists of Thom Yorke (vocals, guitar, piano, keyboards), brothers Jonny Greenwood (lead guitar, keyboards, other instruments) and Colin Greenwood (bass), Ed O'Brien (guitar, backing vocals), and Philip Selway (drums, percussion). They have worked with producer Nigel Godrich and cover artist Stanley Donwood since 1994. Radiohead's experimental approach is credited with advancing the sound of alternative rock.

Their popularity and critical standing rose with the release of their second album, The Bends (1995). Radiohead's third album, OK Computer (1997), brought them international fame. Noted for its complex production and themes of modern alienation, it is acclaimed as a landmark record and one of the best albums in popular music. Kid A (2000) marked a dramatic change in style, incorporating influences from electronic music, jazz, classical music and krautrock.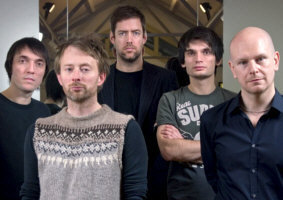 By 2011, Radiohead had sold more than 30 million albums worldwide. Their awards include six Grammy Awards and four Ivor Novello Awards. Seven Radiohead singles have reached the top 10 on the UK Singles Chart: "Creep" (1992), "Street Spirit (Fade Out)" (1996), "Paranoid Android" (1997), "Karma Police" (1997), "No Surprises" (1998), "Pyramid Song" (2001) and "There There" (2003).
"Creep" and "Nude" (2008) reached the top 40 on the US Billboard Hot 100. Rolling Stone named Radiohead one of the 100 greatest artists of all time, and Rolling Stone readers voted them the second-best artist of the 2000s. Five Radiohead albums have been included in Rolling Stone's 500 Greatest Albums of All Time lists, and the band are the most nominated act in Mercury Prize history, with five nominations. They were inducted into the Rock and Roll Hall of Fame in 2019.
Hire Radiohead for your party or event!
Radiohead may be available for your next special event!
Book Radiohead, now!
For other great suggestions for booking music acts,
look here.

For more suggestions, proceed to the next page.
Click here --
Alternative Music Roster
Or, click on one of the below links --
Music Menu
Fast Index
Entertainers Directory
Home