Visit new page >>>
RANCID
How To Book RANCID For Your Event!
Rancid may be available for your next special event!



Hits include: "Time Bomb",
"Fall Back Down", "Ruby Soho",
"Salvation", "Last One To Die",
"Bovver Rock and Roll",
"Roots Radicals".
How to Hire RANCID For Your Event!
Popular requests:
BOOKING FEE (booking price, booking cost).
Rancid is an American punk rock band formed in Berkeley, California in 1991. Founded by Tim Armstrong and Matt Freeman, former members of the band Operation Ivy, Rancid is often credited as being among the wave of bands that revived mainstream interest in punk rock in the United States during the mid-1990s. Over the course of their 3 decade career, Rancid retained much of its original fan-base, most of which was connected to its underground musical roots.
Frederiksen played with the band on its second studio album Let's Go (1994). That year, its then-label-mates, The Offspring, experienced huge success with its album Smash. Rancid supported The Offspring's 1994 tour, which helped Let's Go reach number 97 on Billboard's Heatseekers and the Billboard 200 charts, respectively.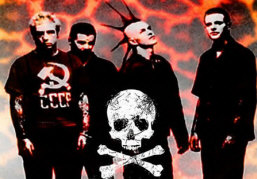 Hire Rancid for your festival or concert plans!
Let the Dominoes Fall became the band's most successful album on the Billboard 200, peaking at number 11. Rancid toured North America in the summer of 2009 in support of Let the Dominoes Fall, with Rise Against, Riverboat Gamblers, and Billy Talent as its opening bands. The tour began on June 4, 2009, in Vancouver, British Columbia and ended in Toronto, Ontario on July 31.
Rancid did a small US tour supporting Blink-182 from August 25 through September 4, 2011, to enable them to warm up before entering the studio in September 2011 to record their eighth album.
In 2016, Rancid performed at Coachella with artists such as LCD Soundsystem, Ellie Goulding, The Kills, Of Monsters and Men, Guns N' Roses, Ice Cube, CHVRCHES, Sia, Major Lazer, Flume, and The 1975.
On March 25, 2017, Rancid played for the first time in Brazil at the Lollapalooza Săo Paulo in front of an audience estimated in 100,000 people who attended that first of 2 days festival. Line up of that Saturday included also acts like Criolo, The xx and Metallica.
Also in 2019, they headlined the traveling craft and beer festival The Bash, and toured North America in September, with support provided by Pennywise, Suicidal Tendencies, the Aquabats, Turnstile, Iron Reagan and Angel Du$t.
Rancid announced in June 2021 that the band co-headlined the Boston to Berkeley II North American tour with Dropkick Murphys from August to October 2021.
Their discography includes nine studio albums, two extended plays, two compilations and seventeen singles.
Hire Rancid for your party or event!
Rancid may be available for your next special event!
Book Rancid, now!
For other great suggestions for booking music acts, look here.

For more suggestions, proceed to the next page.
Click here --
Alternative Music Roster
Or, click on one of the below links --
Music Menu
Fast Index
Entertainers Directory
Home