How To Book RED HOT CHILI PEPPERS For Your Event!
The Red Hot Chili Peppers may be available for your next special event!



GRAMMY AWARD winning Red Hot Chili Peppers are an American rock band formed in Los Angeles in 1983, comprising vocalist Anthony Kiedis, bassist Flea, drummer Chad Smith and guitarist John Frusciante.
Their music incorporates elements of alternative rock, funk, punk rock, hard rock, hip hop, and psychedelic rock. Their eclectic range has influenced genres such as funk metal, rap metal, rap rock, and nu metal. With more than 100 million records sold worldwide, Red Hot Chili Peppers are one of the best-selling bands of all time. They are the most successful band in the history of alternative rock, with the records for most number-one singles (14), most cumulative weeks at number one (85) and most top-ten songs (25) on the Billboard Alternative Songs chart.
The Red Hot Chili Peppers' mix of hard rock, funk and hip hop has influenced genres such as funk metal, rap metal, rap rock and nu metal. AllMusic claim that in 1992, "oodles of (mostly horribly bad) funk-metal acts were following in Faith No More and the Red Hot Chili Peppers' footsteps."
Bands who have cited the Red Hot Chili Peppers as an influence include Incubus, Mr. Bungle, Primus, Rage Against the Machine, System of a Down, Papa Roach, 311 and Sugar Ray. The members of KoRn, who were formerly in the funk metal band L.A.P.D., have also cited them as an influence.

The Red Hot Chili Peppers were inducted into the Rock and Roll Hall of Fame In April 2012. The band received a star on the Hollywood Walk of Fame on March 31, 2022. George Clinton, Woody Harrelson and Bob Forrest unveiled the star at the ceremony.
These engaging Hollywood ruffians' mixture of funk, punk and rock encouraged a legion of other bands to regurgitate the formula. Led by "Antwan The Swan", the band's original line-up also featured "Flea" (Michael Balzary) on bass, Hillel Slovak on guitar and Jack Irons on drums.
They began life as garage band Anthem before Balzary departed for seminal 80's punks Fear. When Irons and Slovak moved on to join the less notable What Is This?, the nails appeared to be firmly in place on the Anthem coffin.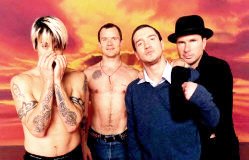 However, under their new name, the Red Hot Chili Peppers, with Flea back on board, the group acquired a speculative recording contract with EMI Records America. Unfortunately, as Irons and Slovak were under contract with their new band, their debut album had to be recorded by Kiedis and Balzary with Jack Sherman on guitar and Cliff Martinez (ex-Captain Beefheart, Weirdos) on drums. Production was handled, somewhat surprisingly, by the Gang Of Four's Andy Gill.
The band set about building their considerable reputation as a live outfit, much of which was fuelled by their penchant for appearing semi-naked or worse. Slovak returned to guitar for the second album, this time produced by George Clinton. Also featured was a horn section comprising Maceo Parker and Fred Wesley, veterans of James Brown, among others. Martinez returned shortly afterwards to reinstate the original Anthem line-up, and their third album saw a shift back to rock from the soul infatuation of its predecessors.

In 1988, Red Hot Chili Peppers released the "Abbey Road EP," featuring a pastiche of the famous Beatles album pose on the cover (the band were totally naked save for socks covering their genitalia). However, the mood was darkened when Slovak took an accidental heroin overdose and died in June. Deeply upset, Irons left, while the band recruited John Frusciante for guitar and Chad Smith for drums.
After the release of "Mother's Milk," the single "Knock Me Down" was released as a tribute to Slovak. For the commercially successful "Blood Sugar Sex Magik" they accurately diagnosed their motivation, and much of their attraction: "Just recognizing that I was a freak, but knowing that was a cool place to be." Producer Rick Rubin, usually associated with the harder end of the metal and rap spectrum (Slayer, Danzig), nevertheless brought out the band's first ballads, including the classic US number 2 hit single "Under The Bridge."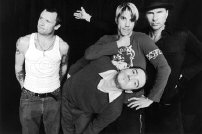 Such sensitivity did little to deter the vanguard of critics who raged at what they saw as the band's innate sexism. Frusciante left in May 1992 and was replaced by a succession of guitarists, before Dave Navarro (ex-Jane's Addiction) joined in time to participate in the recording of "One Hot Minute," released in 1995.
The band enjoyed another transatlantic hit two years later with "Love Rollercoaster," taken from the soundtrack of "Beavis And Butt-Head Do America." Navarro left the band in 1998 and was replaced by ex-member John Frusciante. Having endured various personal upheavals, it was encouraging to hear the band in such good shape on 1999's US/UK Top 5 album, "Californication," featuring stand-out tracks such as "Scar Tissue" (a US Top 10 single), "Parallel Universe," and "Easily." "By The Way" was a collection of mellow and slower paced numbers, very much in the style of "Under The Bridge." Though some critics felt that the band had gone soft, those looking below the surface noticed a balanced maturity and quality songwriting.
The Facts:
Their multi-platinum release "Californication" (06/08/99) produced the smash hits, "Scar Tissue," "Otherside" and "Californication."
Red Hot Chili Peppers was honored with the 2002 Artist Contribution Award at the ESPN Action Sports and Music Awards where they also performed live.
The Red Hot Chili Peppers won the 2000 Grammy award for "Scar Tissue" / Best Rock Song. "Californication" also received nom's for Best Rock Album and "Scar Tissue" / Best Rock Performance by a Duo or Group with Vocal.
In 2000 the band was honored with the Video Vanguard Award at the MTV Video Music Awards. "Californication" racked up five other nominations, taking home Moon Men in the Best Direction category.
"Californication" was nominated for the 2001 Grammy Award for Best Rock Performance by a Duo or Group with Vocal.
Rolling Stone raved, "…tunes that tickle the ear, romance the booty, swell the heart, moisten the tear ducts and dilate the third eye. All this inside of song forms and production that reveal sublime new facets upon each hearing… Not exactly your average white band." 4 out 5 stars
Other hit records on Warner Bros. include the multi-platinum selling "Blood Sugar Sex Magik" (1991) that turned out multiple top songs including "Breaking the Girl," "Give It Away," "Blood Sugar Sex Magik" and "Under the Bridge." "One Hot Minute" released in 1995 is also platinum.
The band received the 1992 Grammy Award for Give It Away / Best Hard Rock Performance with Vocal.
Hit songs include --
By The Way
Californication
Can't Stop
Dani California
Give It Away
My Friends
Otherside
Scar Tissue
Snow (Hey Oh)
Soul To Squeeze
Tell Me Baby
Under The Bridge
Knock Me Down
The Zephyr Song
Around The World
Behind The Sun
Warped
Aeroplane
Fortune Faded
Hump De Bump
Hire Red Hot Chili Peppers for your party or event!
Red Hot Chili Peppers may be available for your next special event!
Book Red Hot Chili Peppers, now!
For other great suggestions for booking music acts,
look here.

For more suggestions, proceed to the next page.
Click here --
Metal Music Roster or Alternative Music Roster
Or, click on one of the below links --
Music Menu
Fast Index
Entertainers Directory
Home